Welcome to Fishmadman and the world of fly fishing with wake, riffling hitch and dry flies
Fly fishing for salmon and steelhead in the surface is probably the most exciting sports humans can venture into – This form of fly fishing has become increasingly popular in the last 60 years – but anglers have most likely been fishing steelhead and salmon on the top since the birth of fly fishing

We collect information about our sport – and design some of the best flies for the job
READ MORE ABOUT OUR MISSION
THINGS WE WORK WITH
On the Fishmadman site, we will try to highlight the essences of surface fly fishing. We hope to do so by showing you technique, know-how and some of the many fascinating flies made for our sport.
SURFACE FLY PATTERNS MADE ON TUBE IS OUR SPECIALITY
Dry fly – Wake fly – Skaters – Riffling Hitch fly tied on the tube will give you a feather-light solution that stays on top and perform better than most of their counterparts tied on long shank hooks. We have multiple pages on Fishmadman showing you how to do such tube flies
THE WORLD OF THE BOMBER FLY
During summer we stay at salmon rivers in Norway – and when the conditions are right we will tie on a dry fly like a salmon Bomber. On our pages, you will find Bombers literally cut into shape at the river bank.
Just like we make flies tuned to the rivers we fish – other anglers will have made trout and salmon Bombers honed just for their district, river and even special pools – We try continuously to collect this information and publish it on our pages and blog. Read more
BOMBER DRY FLY ON TUBE
Our Bomber dry flies are tied on a tube. A design we developed in 1995 and still work to refine and perfect. On our pages, you will find thorough illustrations that could aid you to develop your own surface flies tied on a tube. Read more
RIFFLING HITCH & WAKE FLY ON TUBE
Riffling Hitch as a technique emerged during almost a century of fly fishing traditions. Allegedly the method was generated as a coincidence, by Canadian`s – who in Victorian days would have recycled damaged gut-eye flies and tied them directly to the leaders using a series of hitches – Herby the fly could have trailed to the surface creating the all-important Riffling Hitch wake. Read more
We as many other European anglers will tie Riffling Hitch flies on a tube and on our pages you will find special Riffling Hitch and wake flies done on our Riffling Hitch tube design – See the comprehensive pages on How to work with tube flies on the surface. Read more
THE TUBE FLY – ANOTHER ACE ON YOUR HAND
The tube fly has been part of the European fly box since the 1940s and anglers have ever sins been developing fly patterns on a tube that would suit different rivers and seasons. A fly tied on a tube could look and work like any other fly tied on a single salmon hook – But it can also be
something completely different – with abilities that go beyond any fly you have tried… tap into our vast knowledge base on tube fly know-how – and get another Ace on your hand.
SUPERIOR SALMON AND STEELHEAD FLIES
Passion & curiosity for flies and fishing is what determines our editorial line on Fishmadman – and we have collected some of the most interesting flies on our page: Flies like General Practitioner, Brooks Sunray Shadow, Collie Dog, The Frances Fly, and a Micro Conehead fly like the Kinnaber Killer.
Dry fly regards
The Fishmadman Team
Our 4 main pages on Fishmadman...
A SPECIAL WAY TO CATCH SALMON AND STEELHEAD IN THE SURFACE
THE GREATEST WAY TO CATCH SALMON & STEELHEAD DEADDRIFT A DRY FLY
THE FLY FOR SALMON AND TROUT BELOW THE TOP
SOME INTERESTING ASPECTS FROM THE WORLD BELOW
TOP WATER FLY WITH A ATTITUDE
STEELHEAD, CHAR & SEA TROUT - LOVE WAKE FLIES
Some selected pages from our blog
Much much more information about riffling hitch, salmon dry fly and steelhead wake fly
Fishmadman.com is a pretty big site and we keep on adding information that we find interesting - We do our best to link the information together so you get the ideal experience when you visit our site - Here we have gathered a list of some of the pages salmon and steelhead anglers visit on a regular basis when they come to fishmadman.com
Things to see on Fishmadman
Fishmadman Newsletter - something special
Fishmadman Newsletter is a publication on surface fishing for Atlantic salmon steelhead and various trout, read by many 100 ́s anglers across the Northern Hemisphere, Tierra del Fuego, Novaya Zemlya – Australia and Japan… We try to make a letter worth your time – and our personal interest in top water fishing is what determines the editorial tendency`s
Our newsletter will arrive in your mailbox 3 – 6 times during the season depending much on what interesting stuff we can find for you…
Write us
Write us if you have something that you would like to share with our readers or you want us to look into a aspect of our sport.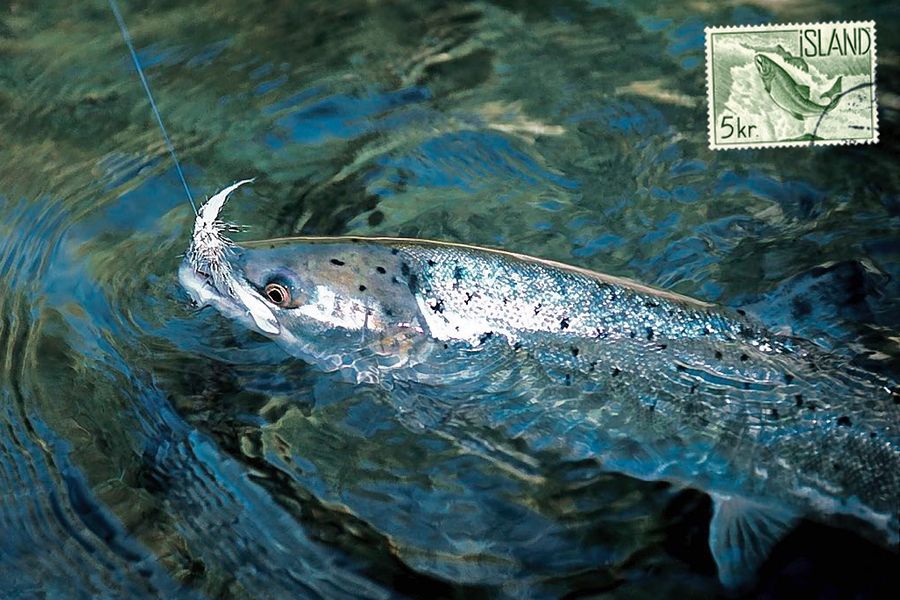 What customers told us....
Bill (Beatle) Abshagen

2018-02-27

Here is a picture of a Sea Run caught on one of the Sun-Rays you sent me for my trip to Despedida Lodge in Tierra del Fuego Argentina a few weeks ago.—Fish were actually eating small Skuds (14 & 16's), but this fish was hungry, and couldn't...

Fraser C. Heston

2018-02-27

These sea-run brown trout are most often caught with a small nymph, a scud pattern in size 14 or even 16 (try landing a 20 pounder on a size 16 nymph hook!). But they will also come to swung flies (like Collie Dogs or Sunray Shadows) or even sk...
Mr. Bill Bryden, NFLD Canada

2015-05-13

Hi Jesper & Per Here is a photo of a 40 inch by 21 inch Atlantic salmon we landed on one of your Monster caddis tube flies the last week. You can see the fly hanging from the fish's mouth (barely). I've hunted large salmon for 20 years thr...

Mr. Håvard Vistnes from Kongsfjord elv

2015-05-17

Salmon season 2013 at the Kongsfjord River Just in time for the start of season 2013 I received my selection of tube dry-flies from you - They were tied perfect and float great - I have had the greatest success with light-coloured Bombers and ...
Mr. Joakim Haugen, Northern Norway

2015-05-13

First fly I tried was the smaller of the Monster Tube Caddis. After just a few casts with this fly a huge fish came for the fly but missed. I did two more casts before it re- appeared – This time it got hooked. Salmon weighed 17.1 kg (37.7 lb.)...

Mr. Keith Chaulk, Newfoundland

2015-05-17

The quality of workmanship and materials used in creating a musical instrument will have a limiting effect on a musicians preforming potential.  I feel the same about the equipment and flies I use when trying to make a receptive audience of the...
Mr. Paul Rogers, NFLD Canada

2017-08-31

Hi Fishmadman,

Photo of a 44 inch Atlantic hooked on a Black Bomber tube fly in August 2017 on the Lower Humber River, Newfoundland. After chasing the fish over 500 yards down river from where it was hooked, she was promptly released a...

Mr. Terry Byrne, NFLD,Canada

2015-05-13

I can tell you this fly and other tube dry flies will definitely be in my arsenal from this point on! Several times I hooked and landed large Atlantic salmon on their creations when my traditional flies and Bombers had no effect on the salmon. ...