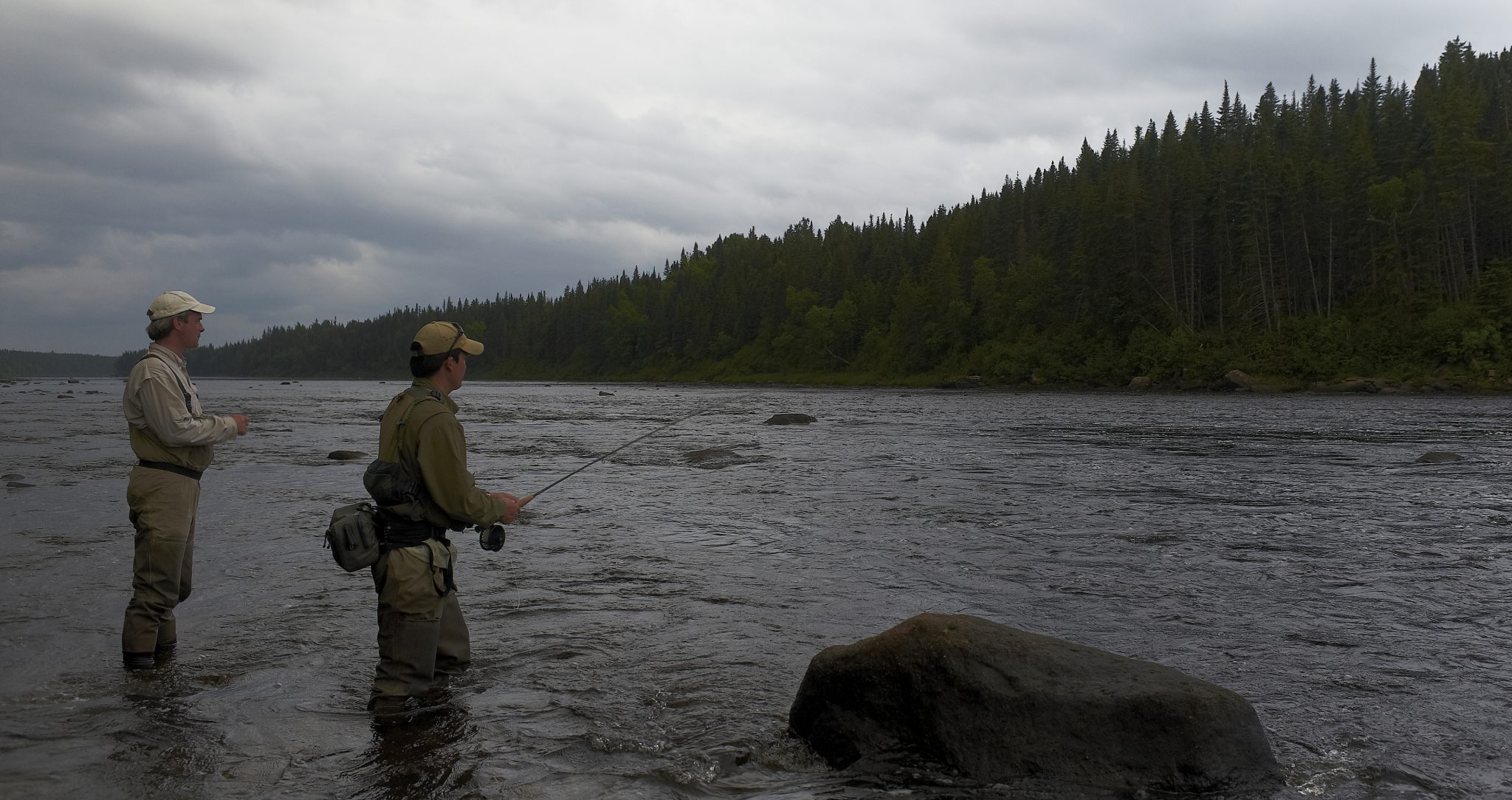 Surface fly fishing and tube fly is the anchor point in Fishmadman – Through our own passion for top water fishing  for salmon and trout we hope we will be able to share some interesting highlight of  this intriguing fly fishing sport
What is fishmadman.com?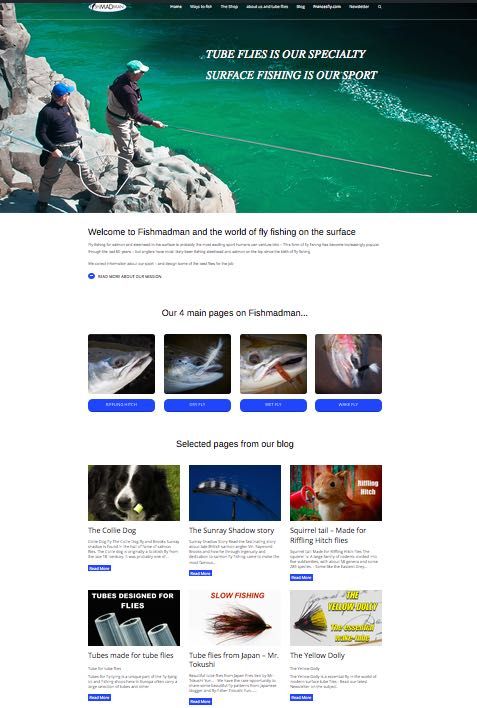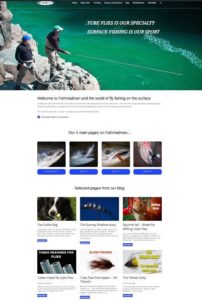 Fishmadman is a company made by anglers for anglers.
We started out in 2008 as an Internet page collecting information on surface fishing for Atlantic salmon and steelhead.
Our goal was to make surface fishing and particularly dry fly fishing for salmon popular in Scandinavia. We also aim to make the tube fly part of the North American anglers range of fly patterns
Top water creativity – From our shop
Today Fishmadman manufacture a broad selection of flies mainly for surface fishing. We also design and make tubes for tube fly fishing along with other special fly tying material.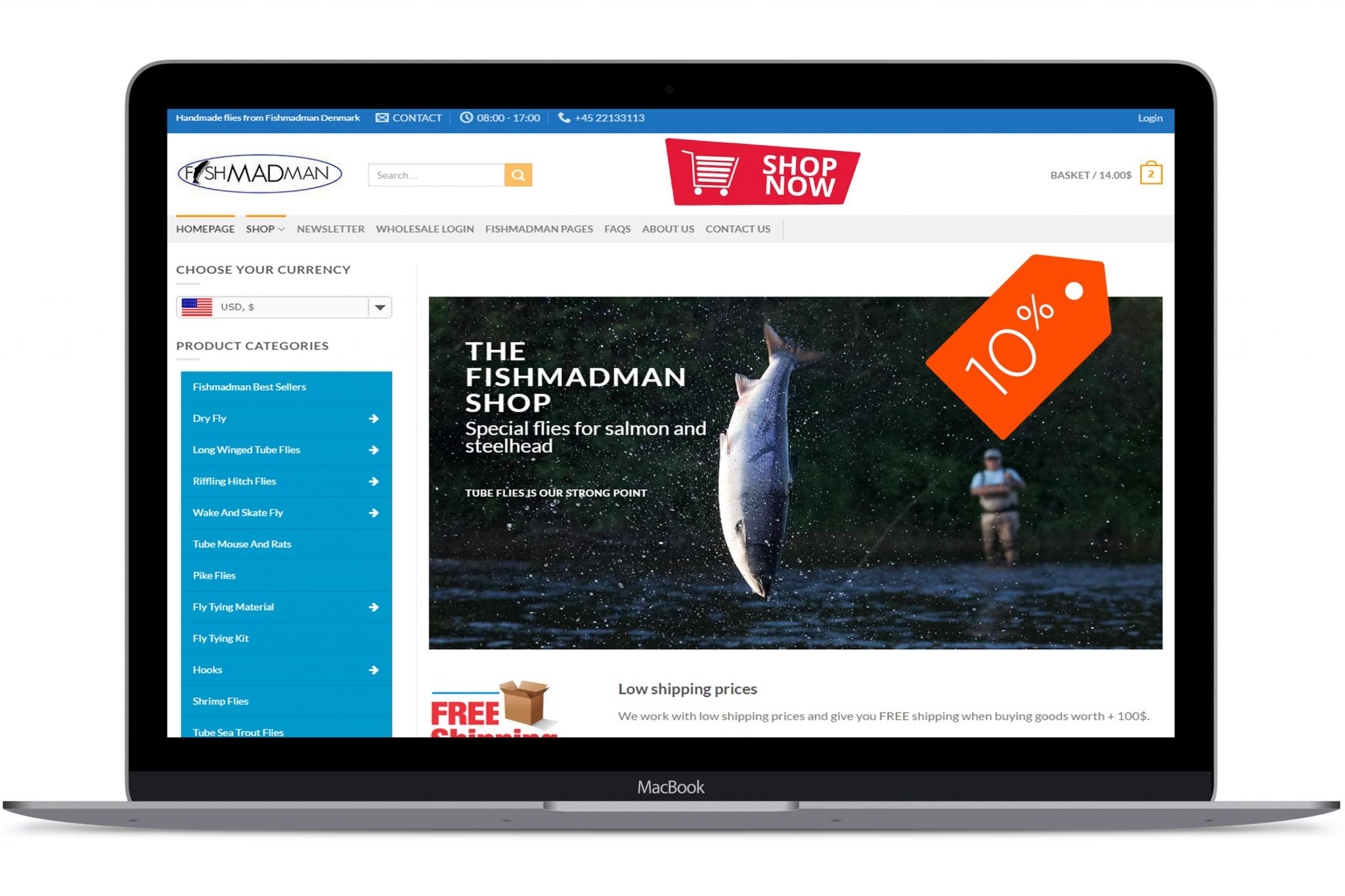 Our products are sold through our internet shop – and through 28 shops from Oregon in the USA to Skaidi in the North of Norway
Fishmadman has a big range of super designed flies that will give you new possibilities in your fishing.
We have some of the best people in the business tying flies with us – Why? Because top water flies has to be perfect to perform well on the surface – Visit our shop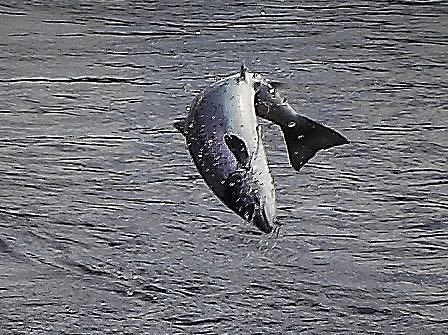 Do you want to sell our products in your shop ?
If you got a shop or run a guiding business and would like to sell our products please fill out the form and we will get in contact with you as soon as possible
If you become our business partners we will make sure you get all necessary product photos, individual product information, fact boxes and a large portfolio of fishing photos to use in your marketing of our products.
To see shops that carry our flies please look here
Contact us to get information on wholesale
Things we have worked with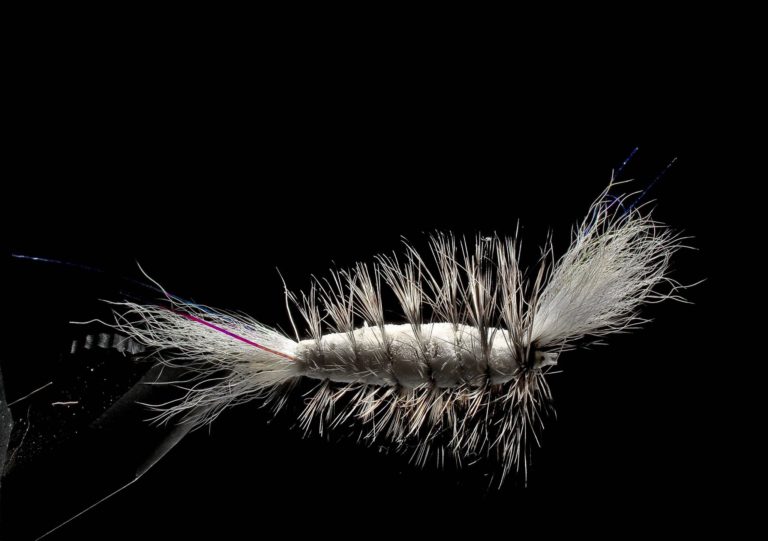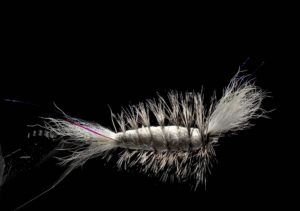 1995 The first floating tube fly
We fished the rivers of Scandinavia with conventional dry flies every year but in the mid 90´s Jesper Fohrmann designed a new set of dry flies tied on tube – The design was made as a consequences of the problems he was having with drowning dry flies fished on a big turbulent river in Northern Norway.
Here: Bomber dry fly tied on a plastic tube – a very different tube fly !

Different tube fly designs
We developed a long line of salmon dry flies that would suit the many different rivers in Scandinavia.
Contact with anglers from the East coast of Canada meant that we also made versions of Tube Bombers that would fit North American rivers.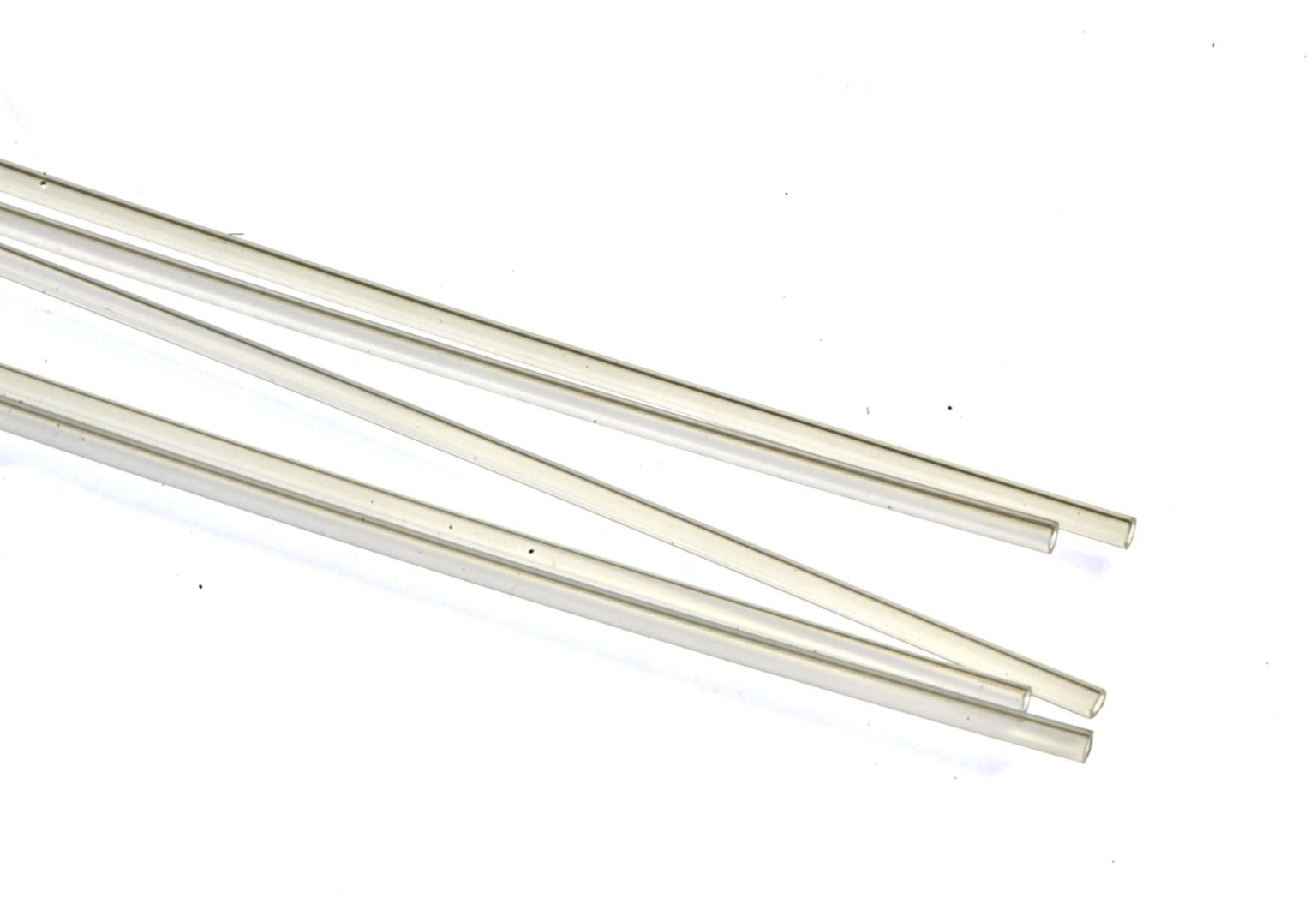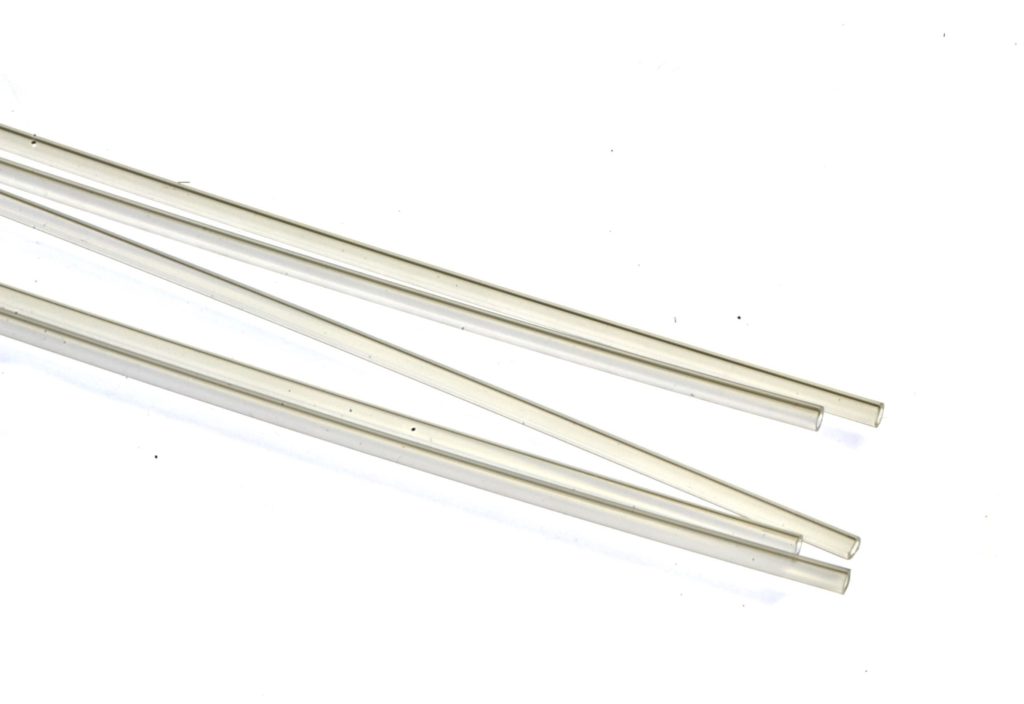 Tube fly products – a matter of dedication
2009 Designing our own tube for fly tying
Tube used for tube fly is rarely produced for fly tying and fishing flies – Often it is a by-product made for something completely different.
Tying big dry flies on tube we were pushing the limit to what run of the mill tubes could be used for, and not even the best tubes weren't good enough for our production.  Ultimately we started designing our own hard tube in 2009 – A expensive but rewarding project that inspired us to take things even further:
2011 We made the ultimate tube for Riffling Hitch and Wake flies
Fishmadman Riffling Hitch Tube  Is yet another specialized tube fly tube we have designed for our Riffling Hitch and wake flies – Again we regard this as the best tube on the market – nothing less.. The tube is strong but still soft enough to withstand anglers inserting hooks in the rear of the tube fly.
Absolutely "low-memory" properties within the plastic compound ensure that the tube will fall back into place after hook has been removed
(our hitch fly design does not involve a hook guard – the hook goes straight into the tube)
The special plastic formula used for the tubes also prevent the tube from cracking up in challenging temperatures.

2012 we launch our wake fly series
In 2012, we launched our wake fly series for steelhead and salmon.
Small dens wake flies for salmon fishing and bigger wake flies for steelhead fishing, all tied on our fantastic Riffling Hitch tube 3.2 millimetres –
Together with steelheaders and guides from steelhead lodges in Oregon and BC We had been working on these tube flies for some seasons prior to launching them – We had to make sure that the transition from regular hook-patterns to patterns tied on tube would work – They worked better than we could ever have dreamed of and we hope that many anglers will try this new way of skating a tube fly patterns for salmon and steelhead
See our page on wake flies
See the comprehensive shop page on wake flies

For 2014 a new type of Iridescent closed-cell foam for bug´s
In correlation with the development of wake flies for steelhead in 2012 we made a new type of closed-cell foam that we also decided to share with other anglers. Softer foam than normally found will enable you to tie very small bugs.
A shimmering attractive back will give your flies a very lifelike look

For 2017 Our series of Pike flies
Pike fly-fishing is a big sport in Scandinavia where the magnificent Baltic Sea run between Finland, Sweden, the Baltic states, Russia, Poland, Germany, and Denmark – 10000´s of keen anglers fish for huge pike with flies made to imitate; whitefish, herring, sprats, juvenile cod and small pike – With the Fishmadman pike fly series our master Pro tier; Jim Jørgensen have done what he does best – and you will get some of the best pike flies available See the flies in our shop

For 2020 Our series of Speed Sunray Shadow
Try a form of salmon fly fishing that will change your sport for good…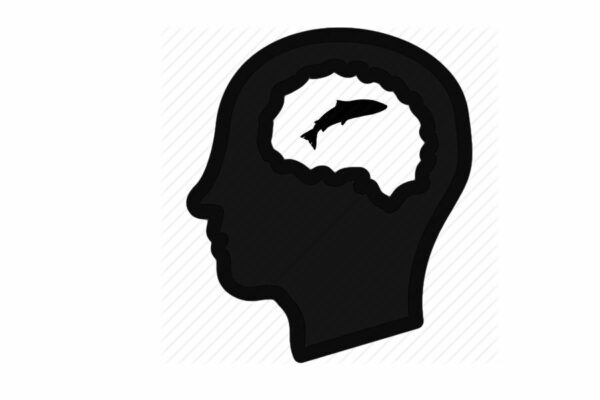 It's quite a bold statement but also something we believe in as we over the last decade have developed this sport and seen salmon behaviour we never have seen before.
This form of speed-fly fishing relates a lot to spinning and the action is heart-stopping great.
Cast the fly across the river or even upstream and rip it in as fast as you possibly can…That is the basics and once you get to know the procedure you will see salmon chasing your fly across the river often hitting it in a great splash.
It's a form of fishing that works great on salmon the first second and 3´rd cast after that…the salmon won't come to the fly that eagerly …so it is worth practising a bit before you visit your favourite known salmon lies.
The series of Speed Sunray flies was the natural development of our series of Iridescent Sunray flies (from 2016) – and in time (when the last of the iridescent Sunray Shadow flies have sold out) the Speed Sunray series will take their place in the shop
See these great flies in our shop

1

995 Caddisfly imitation for Atlantic salmon
The Monster Tube Caddis ™ was designed during the summer of 1995 This summer was a big year for caddisfly of the limnephilidae family.  Normally the Atlantic salmon is not known to eat anything on their way to the spawning grounds – but these fish in the very north of Norway where feasting away on the wealth of insects and an imitation of the caddisfly was needed.
Like Lee Wulff in the late 20´s had designed his White Wulff as a huge version of a may fly – so did Jesper Fohrmann also create a caricature like version of the caddisfly insect. This big caddisfly caricature has ever since proven to be an excellent dry fly for salmon.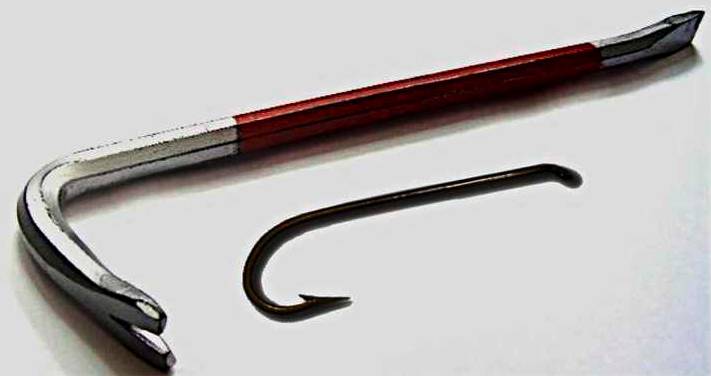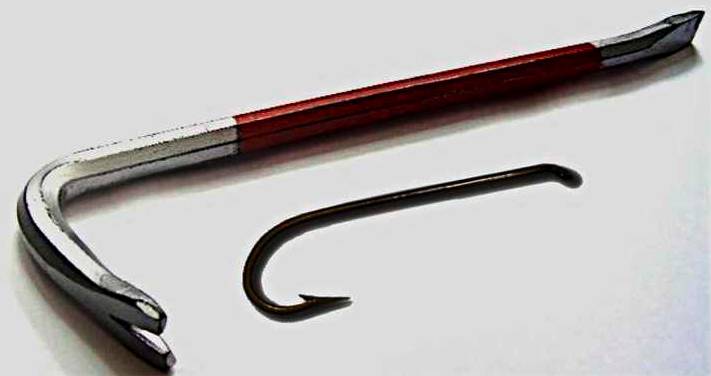 Solving problems with leverage
Using thin tubes instead of long shank hooks for dry flies and other surface flies made the world of surface fishing much different
We use tubes that could be fitted with small short shank wide gape carp hooks that hook the fish perfectly.
The tube does not work as a lever as the long shank hook so often will do – and upon hooking the fish the hook often become detached from the tube – enabling you to unhook the fish with greater ease
Tying dry flies on tube also made dry flies that would perform much different to those tied on a long shank hook making them easier to cast and present  – a decrease in weight by up to + 30 % also made them float better.
2010 We made the best hook guard on the market
In 2010, we designed a new type of hook-guard that wouldn't take in water opposed to the silicone hook-guard we had used so far.
Silicone tubing will take in up to 15 % water – so it was not quite the perfect tube for dry and wake flies. We worked with people producing high-end pharmaceutical equipment and did finally make tubing that would suit all our needs.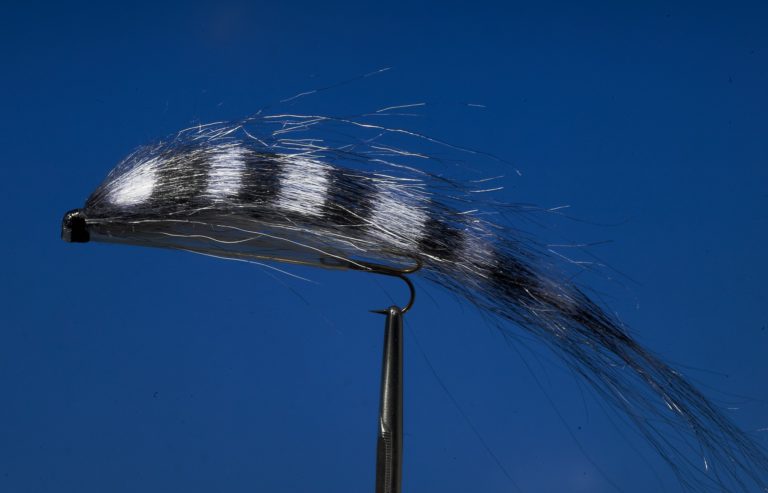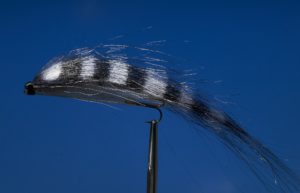 Tube flies below the surface
We also work with tube fly design for sub-fly fishing – it could be big Sunray Shadow flies to pull cross current or tiny tubes to fish in the surface layer…  All in all, we try our best to cover those aspects of salmon and trout fly fishing that we find interesting.
All of our sub-surface flies are tied on our Riffling Hitch tube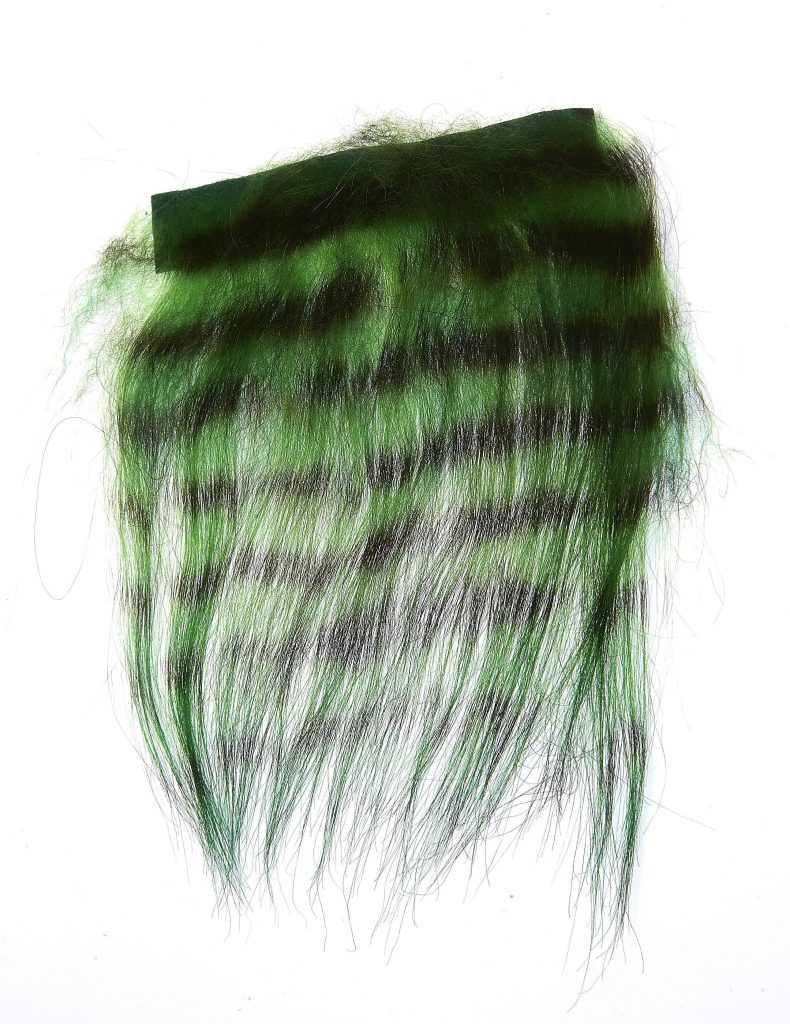 2012 and a new line of fly tying material:  Sunray Zebra Shadow ™
In 2012, we designed a new material for wings on salmon flies. It is Himalayan Goat with bands  – We needed the material for big Sunray Shadow flies and took the time and effort to develop this product to be ready for fly tier's at salmon and steelhead rivers.
See Sunray Zebra Shadow fly tying in our shop
Zebra Goat ™ A new animal – And a new and interesting material to tie on a big tube fly
To see how to work with this exclusive material – See our page on the Sunray Shadow fly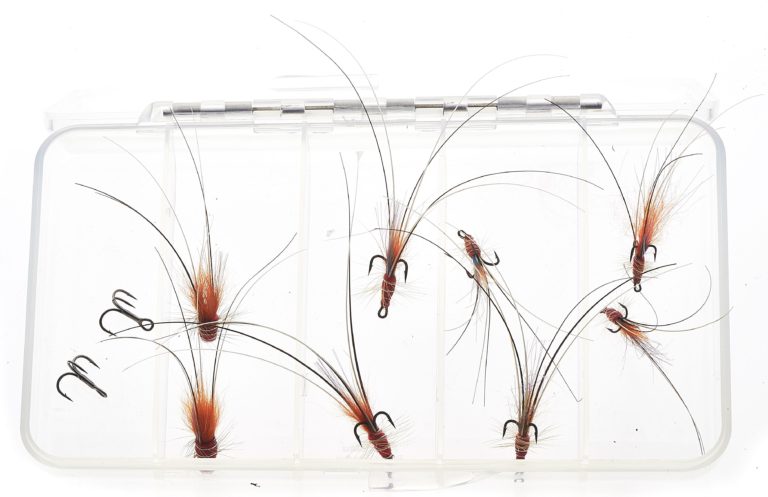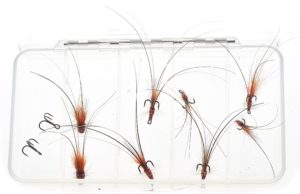 2015 we started our Frances fly project
Doing what we think is best is to develop completely perfect salmon and steelhead flies that we and our friends would tie on the leader. Such flies is the series of micro Frances flies we have made on Partridge hooks – Long crispy feelers – Specially dyed Icelandic wool for body – Silver plated wire for rib – Hair from Tanuki Fox dyed by us….hair is from the paws of the animal to give the best texture – See them in the shop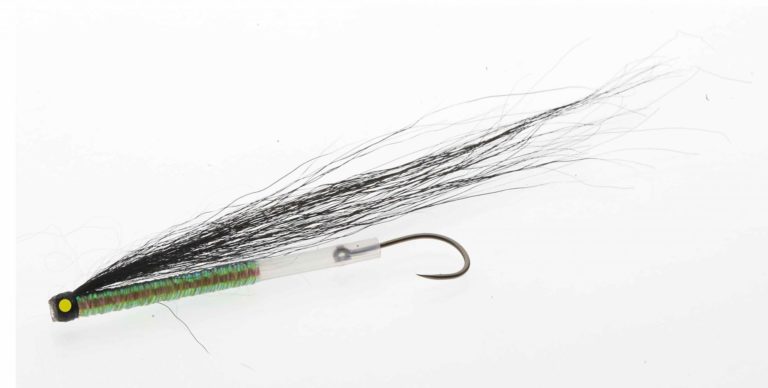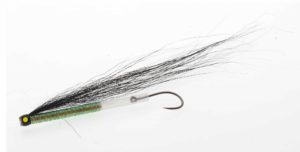 2016 The iridescent Sunray Shadow series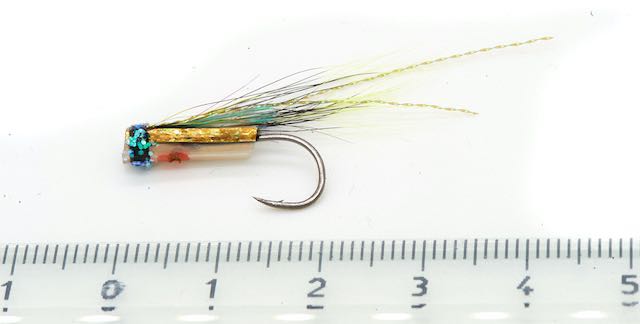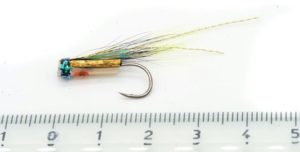 2019 The Hitchman Series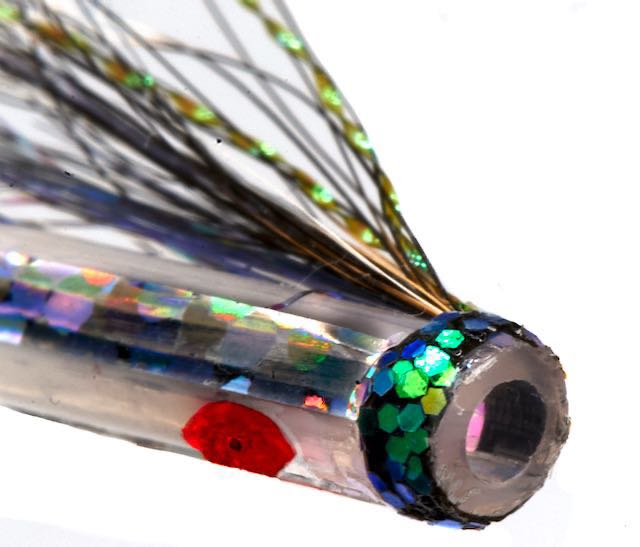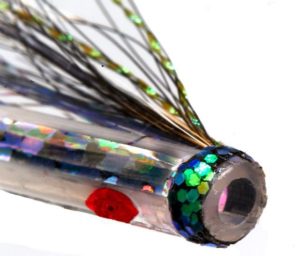 2019 The development of the Pixel-Head

The Pixel-Head technique is an approach to make surface flies looking even better – we use it on our Hitchman fly series and have also used this fly tying detail on Sunray Shadow flies …with great succes


For 2021

Specially designed needles for tube flies
Smart design
Over the years we have happily used normal sowing needles for our tube fly tying – we have also promoted this inexpensive solution through our shop but we have had a problem getting the right sowing needles for the tubing we sell, so we decided to produce our own design of tube fly tying needles.
The Fishmadman tube fly team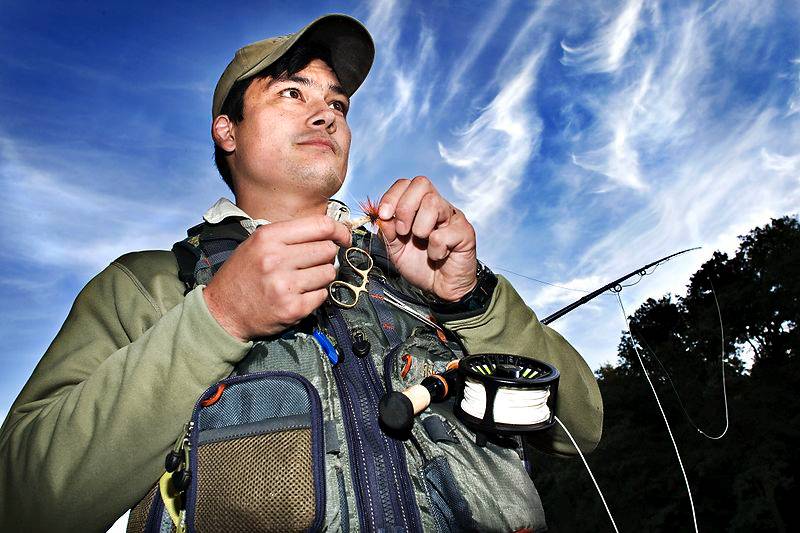 A Fishmadman
Per Fischer: Who has worked as Purchaser and Product Specialist on Rio Fly lines, Simms, Hardy, And Greys
Per Fischer is on Twitter, Facebook, and LinkedIn
I'm here to answer any questions you might have about our products and services. Feel free to contact me using any of the following methods:
Email: fishmadman@gmail.com
Managing director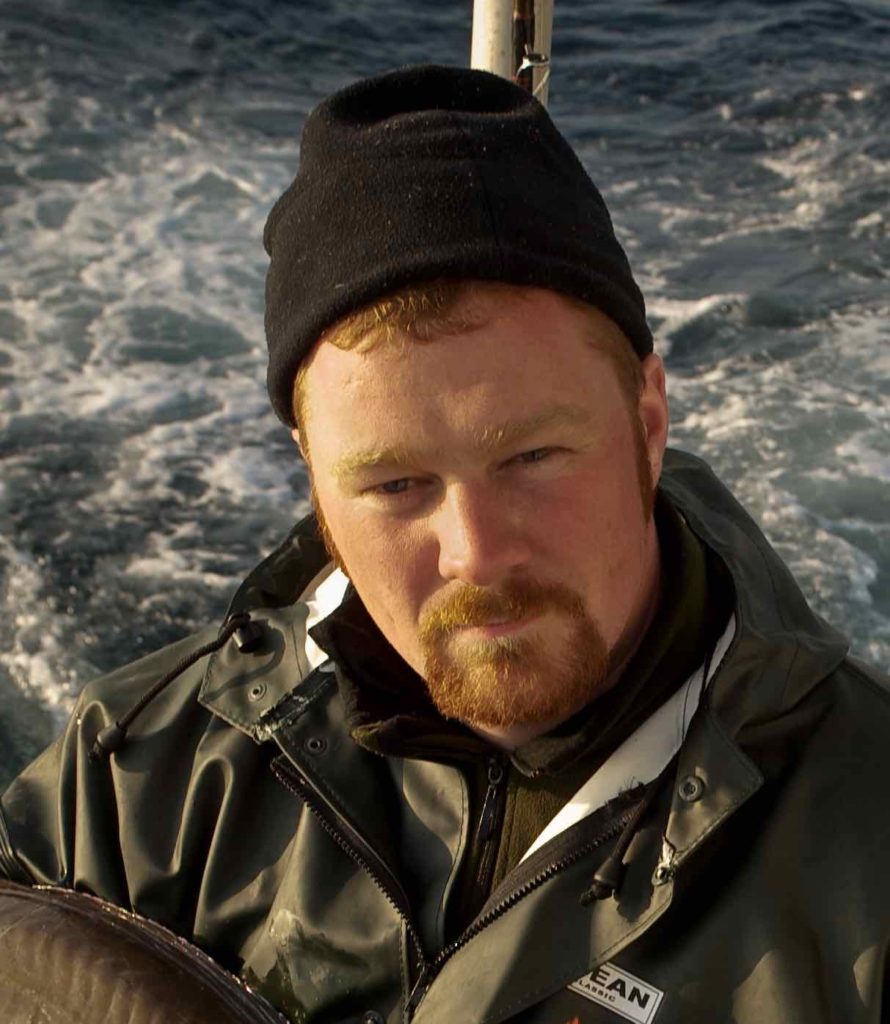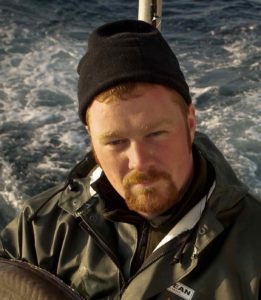 New Fishmadman on the block
Jim is the new guy on the block – But a seasoned angler that prefers dry fly fishing for trout  – Pike fly fishing and weeks of saltwater fishing for GT´s
Jim is now part of Fishmadman as we need his great skills in fly tying, especially those skills that produce some of Scandinavia's best pike flies  – If you in need of advice on pike fly fishing in Scandinavia…jim´s your guy
Responsible for product development
Email: jim@fishmadman.com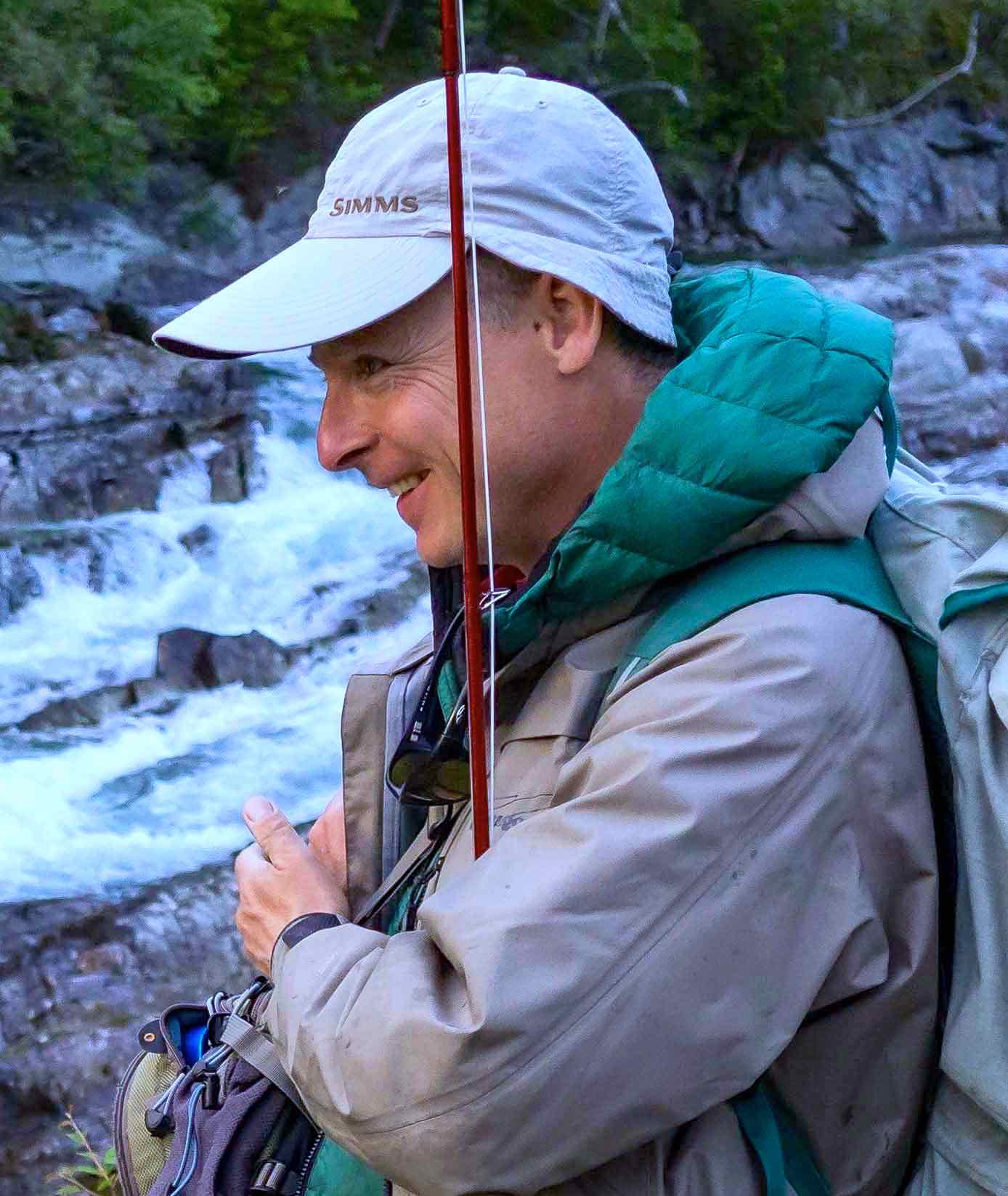 A Fishmadman
Jesper Fohrmann: Who has worked as freelance journalist, photographer sins 1982 and has contributed to numerous books and articles on fly fishing in Scandinavia, Europa,  and the USA. Jesper also does guiding for salmon anglers in Scotland.
Last but not least Jesper Fohrmann does video editing
I'm here to answer any questions you might have about our products and services. Feel free to contact me using any of the following methods:
Email: jesper@fishmadman.com
Skype: Fishmadman
Responsible for product development
Read what the anglers think of Fishmadman