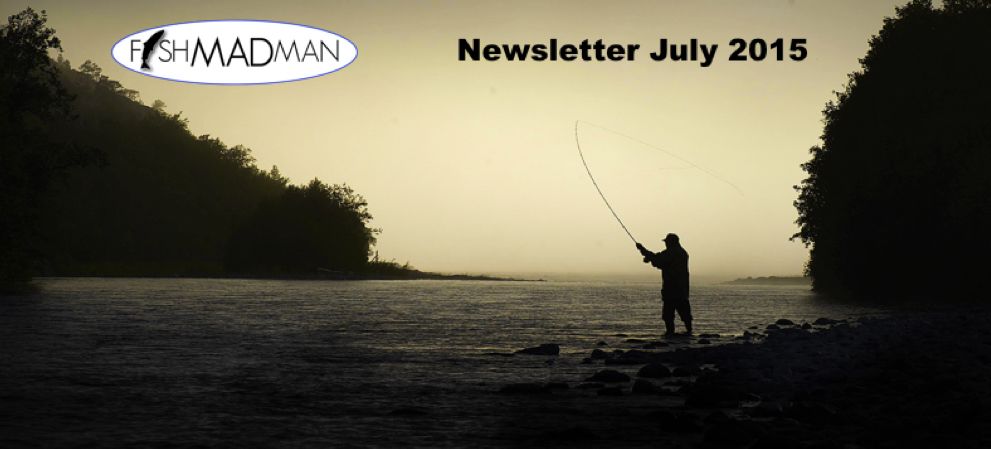 Hello fly fisherman and welcome to another Fishmadman newsletter

This time we are proud to present something quite unique.
Dry fly regards from Per & Jesper
We took the time to collect images and information on the food Atlantic salmon feed on out at high seas. We read different reports on the subject and obtained pictures of the animal salmon would have eaten.
Read about the Native Fish Society, a non-profit organization that advocates for the recovery of wild, native fish in the Pacific Northwest of the United States.
Our NEW page on tubes and how to use them in your fly tying.
What do salmon eat at high seas?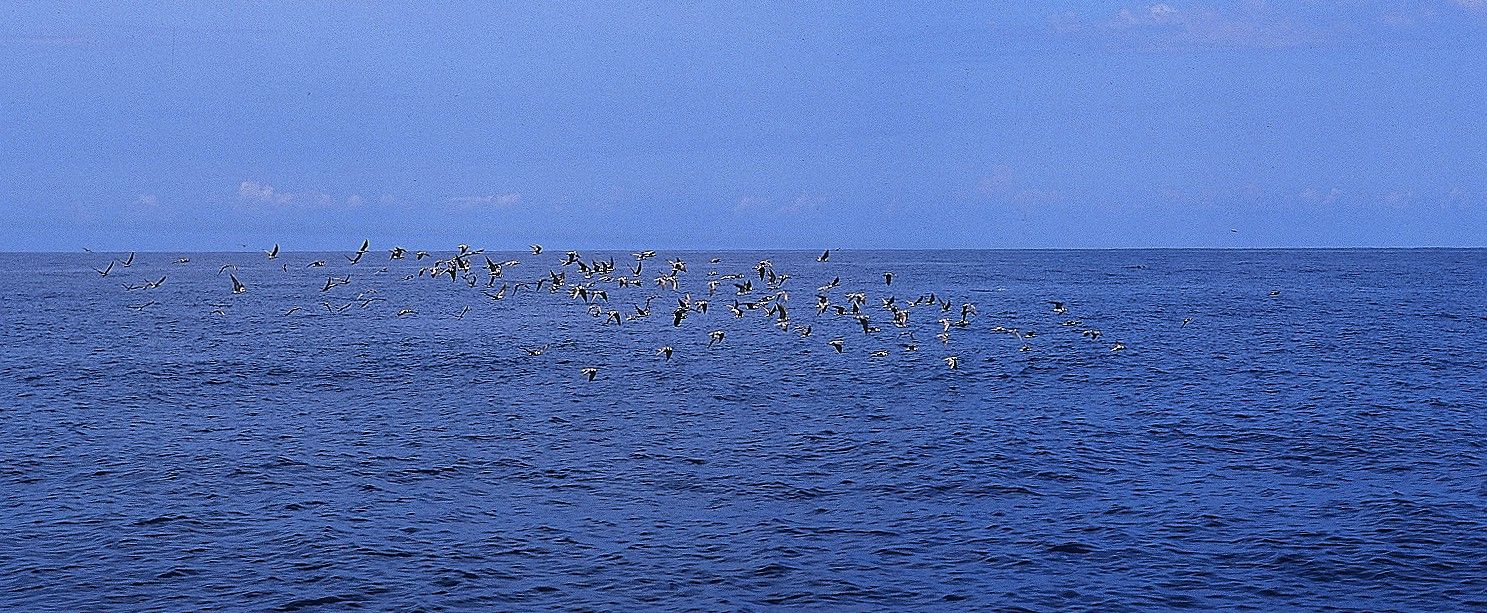 Fly fishing for salmon is to some degree still a riddle – and anglers will spend countless hours fishing over seemingly uninterested fish that have left a greedy, a la carte life at sea to return to their place of birth, fully nourished and with little or no need or desire for sustenance…Suddenly – and with no reasonable explanation – the fish will rise from the bottom to grab your small fly.

Is it hunger, a memory of food or just frustration that triggers this irrational event – We cant really tell but it inevitably has to do with the behaviour and characteristics of the food salmon has been feeding on for millions of years –

Follow us to see the treats on the salmon menu carte as we delve deeper into the mind of this most demanding and frustrating of gastronomes.
Rarely seen images…
It has been a eye-opening experience for us to uncover the information on salmons feeding behaviour at sea – and we think that you will be equally entertained when you see the images of these rarely seen critters.
Salmon are opportunistic feeders
A common denominator in all the evidence we have read about salmon feeding behavior has been that Atlantic salmon is opportunistic feeders that will eat the food that is present at a given location and time.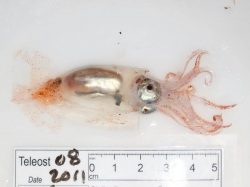 Gonatus fabricii or Boreoatlantic gonate squid. Is to be found in the northern Atlantic Ocean from Canada to the Barents Sea.
Photo with curtsey of Mr. Claude Nozères, World Register Of Marine Species.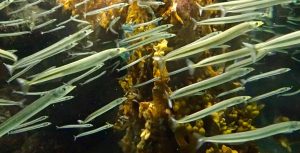 Shrimps are popular with salmon – but fish was the main source of protein
One of the surveys done by scientists in the North Atlantic showed that fish could be the bulk diet in weight – but shrimps could account for a staggering 95% of the food in numbers.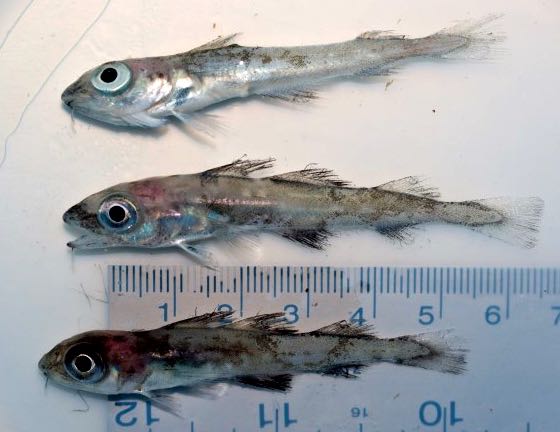 Common cod is on the menu
In the coastal waters of Newfoundland salmon feed mainly on herring, capelin and sand eels, while in Labrador young cod was a important part of the diet.
Gadus morhua. Common name: cod.
Here a trio of very small cod.
Photo with curtsey of Mr. Claude Nozères, World Register Of Marine Species.
Native Fish Society - The Steelhead liberator
Over the years of fly fishing, Per Fischer and I have met some very dedicated people working with fish conservation. Mr. Tom Derry is one of them. Tom is a director in a private not for profit foundation that works to restore runs of wild steelhead and the rivers they live in throughout the Pacific Northwest in North America.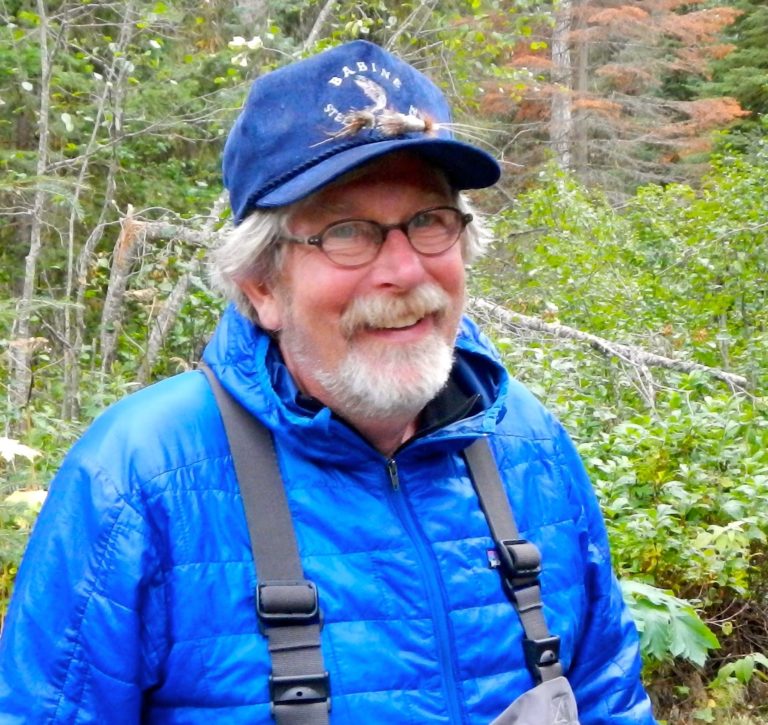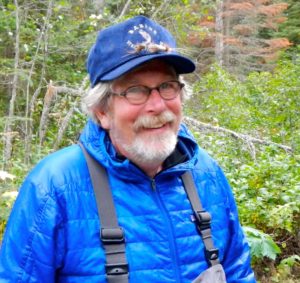 A dedicated angle
We have come to know Tom Derry from Native Fish Society through our mutual passion for surface flies and top-water fishing.
We have been able to recovery some wild fish populations while practising catch and release, it's the right thing to do!
Top-water steelheader Mr. Tom Derry
A passion for fishing
Growing up in Oregon, Tom´s passion for fishing is fierce.
My earliest memories are of fishing with my Dad and Grandpa. Fishing has been
a lifelong passion of mine and in recent years my interest has turned to helping recover wild fish populations throughout the Pacific Northwest. I have worked at the Native Fish Society for twelve years as a River Steward and Director of Wild Steelhead Funding. My job is to secure funding for our River Steward program and for advocacy work. I have met and fished with lots of anglers who want to give back financially for all the pleasure fish and fishing has brought them. A side benefit of my work is that it has allowed me an opportunity to fish some of the best waters in the world. "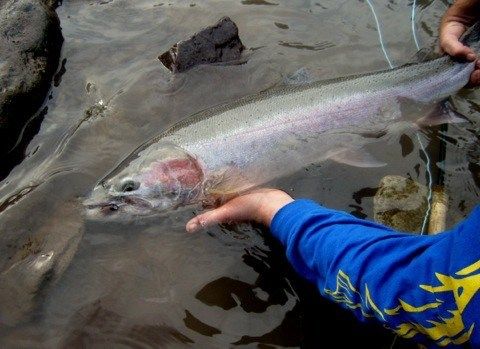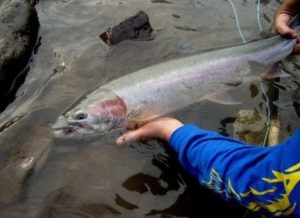 A Fish Is Too Valuable To Catch Just Once
With Salmon and Steelhead populations at less than three percent of historical numbers throughout the Pacific Northwest, Native Fish Society also works to promote and enforce catch and release fishing as a way of ensuring anglers to be able to continue fishing with very little impact on the fishery. A Quote from Lee Wulff says it all, "A Fish Is Too Valuable To Catch Just Once".
A passion for fish

Native Fish Society works to stop habitat degradation before it starts, challenge commercial and sport fisheries that over-harvest, improve passage or encourage the removal of hydroelectric dams, and highlight the negative impacts from hatchery programs. .
Be part of the mission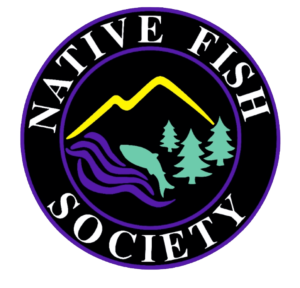 You can participate too – Go to the Native Fish Society homepage, nativefishsociety.org, and learn about the work they do. Help to spread the news about organizations that work to save our fish.
The Micro Frances Fly
A must have fly pattern for salmon!
When you have seen the images and read the story on What do salmon eat at high seas – You might better understand why the Frances fly has become one of the absolutely most popular salmon flies ever made – This special looking fly is used widely on river across the North Atlantic – in both seriously heavy carrot-looking versions and tiny variants – light as insects.
We have been working to get some very small ones ready for the upcoming season – All tied meticulously with a notion for the details we like in this pattern.
Thin, tapered and vibrant antennas
Partridge famous outpoint  * X2B hooks
Crisp hackle from Whiting
The right colour red-wool from Iceland
* The Partridge X2B has unique hooking abilities perfect for the tough skin inside the mouth of salmon.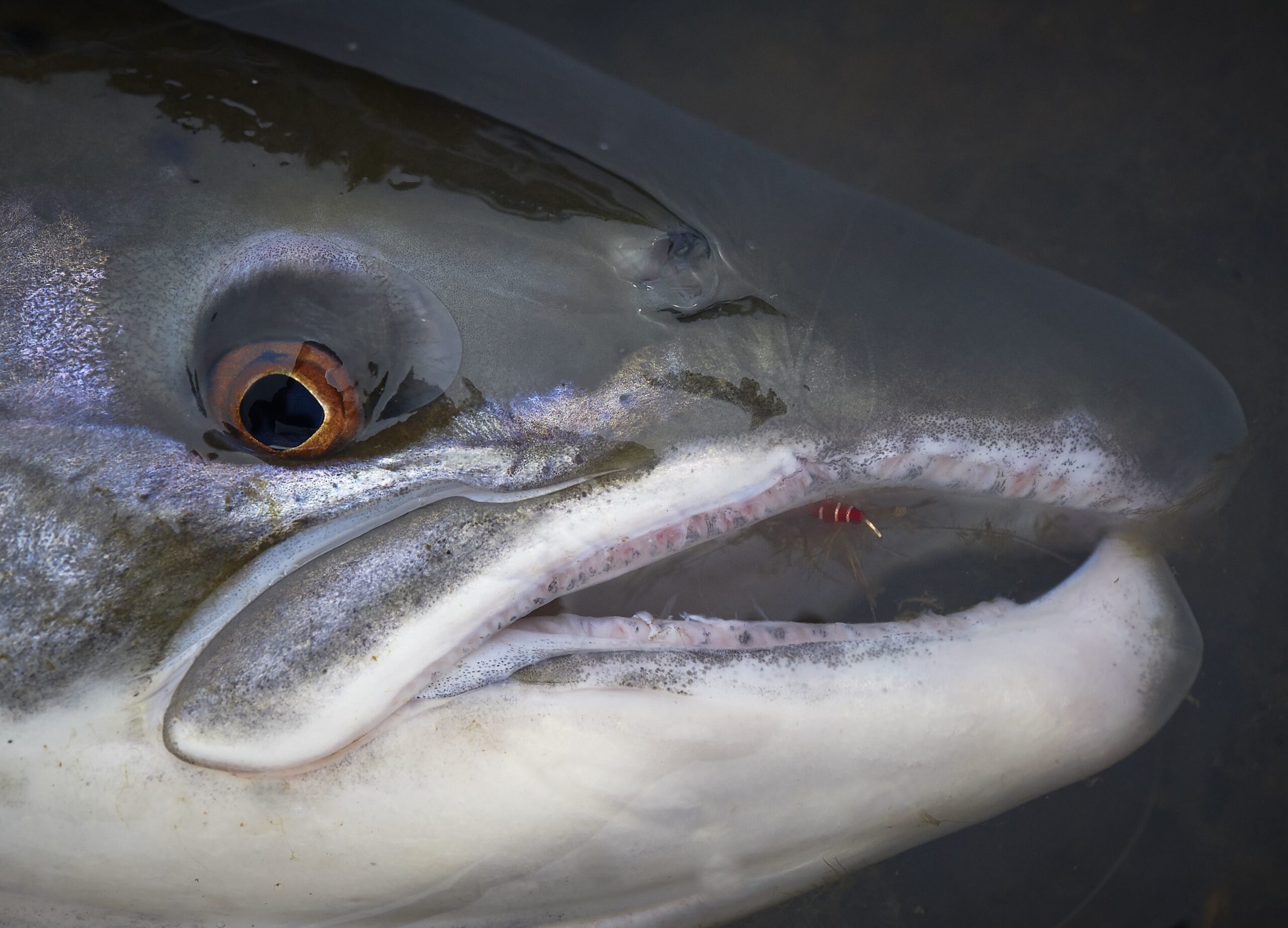 Tiny # 18 Frances fly in the mouth of a October salmon.
We have tied the flies on Partridge X2B # 18 – 16 and 14 hooks and in addition to these feather light flies, we have also made a absolute miniature tube fly version tied on our 3.2 millimeter tube – perfect for small treble or single hooks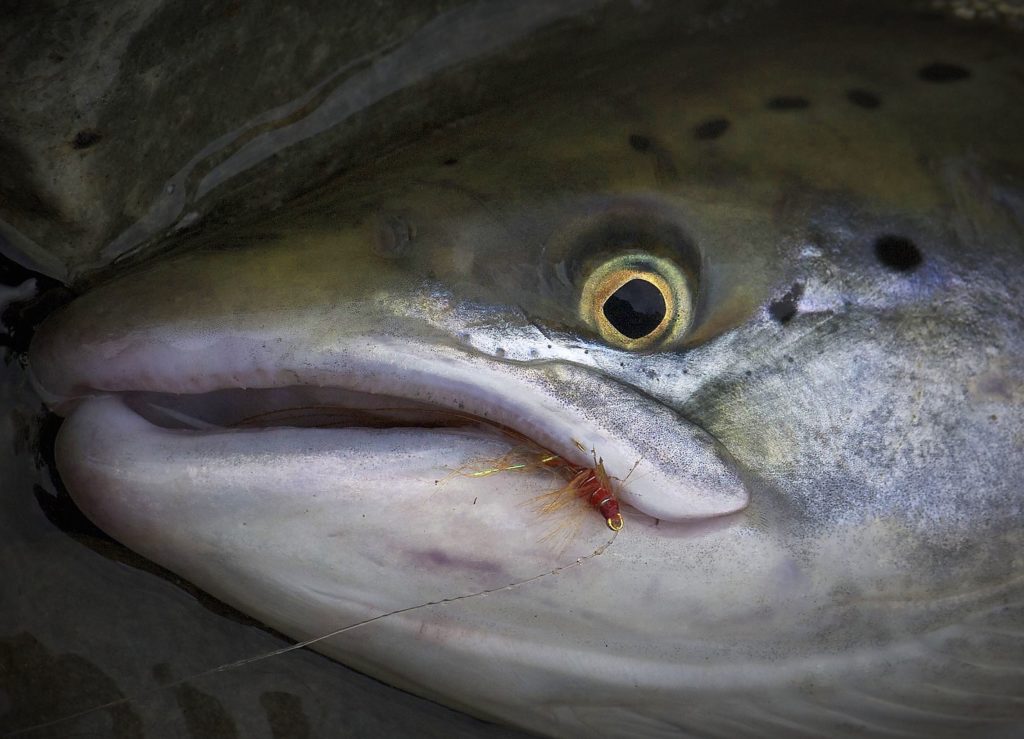 If all else fails
There is something magical about these tiny Frances flies – They seem to evoke the biting behaviour in salmon in such a way that some anglers swear to this dwarf pattern for most of their fishing – Other anglers I know keep a box with this fly as the last resort – if all else fails – I like to use the dwarf Frances flies when the river drops away during summer and fish stop and stay in slowish water – I consistently tie this fly on when I fish autumn salmon in Scottish rivers – Those late silver runners cant resist these tiny shrimp imitations.
Try them out this season –
A selection of Bombers for your summer fishing
A new page on tubes
We try our best to keep our pages on Fishmadman interesting and relevant.
One page we have worked on this spring is our page on tubes used for fly tying
We hope to extend the pages during 2015 with a range of solutions for you who tie salmon and steelhead flies in the Intruder style or with wings build in stages.
If you would like us to display a special technique or style in tube fly tying – Write us and we will get right on it.

Cotton swabs are as different as the fly tying tubes you find in fishing shops – But you may actually find some that could fit your needs.  See the page on Fishmadman