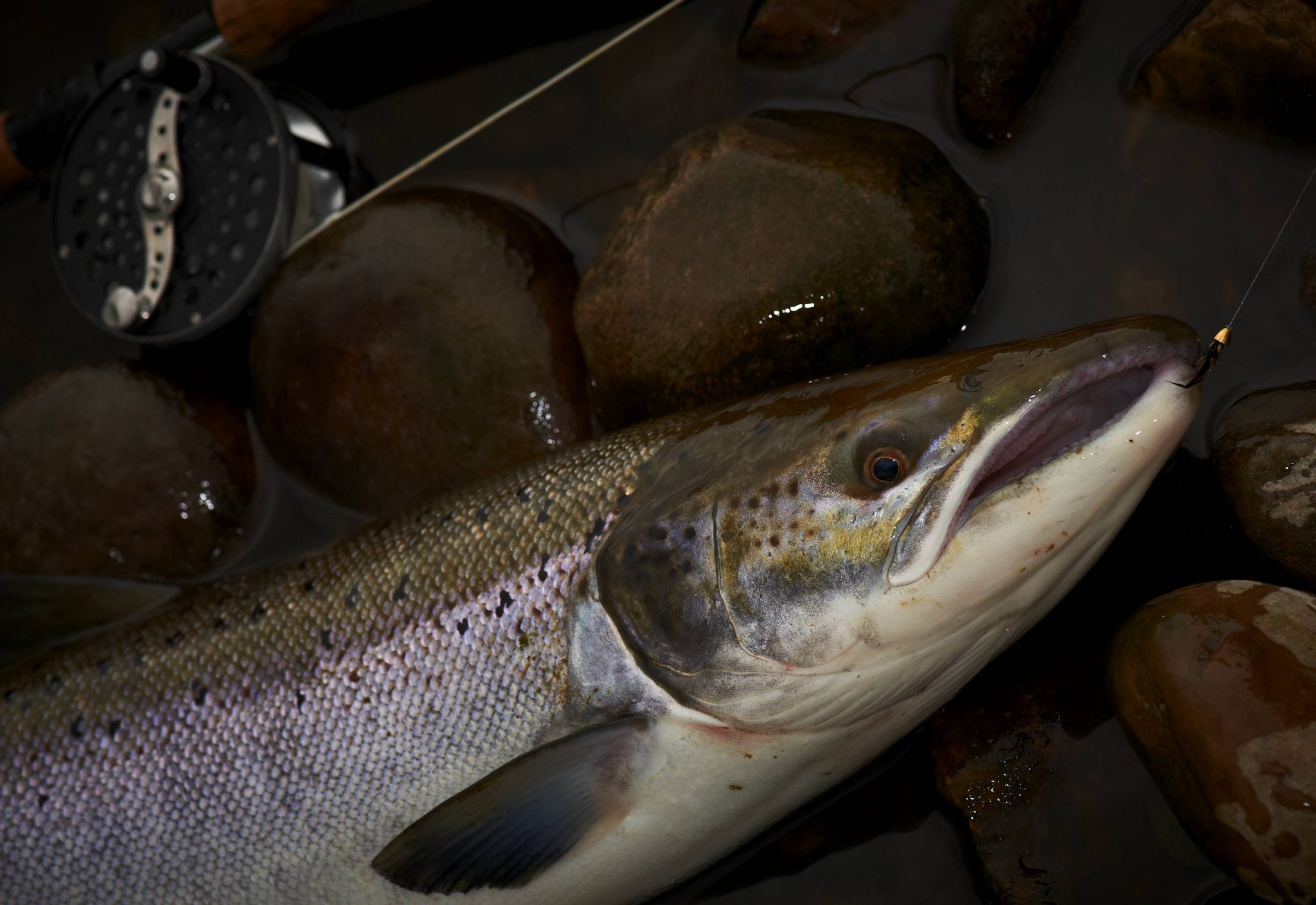 Conehead flies: Late season Atlantic Salmon hooked on a Kinnaber Killer micro conehead fly. Note how the fly is sitting in the kype of the fish – This is quite normal and one of the reasons why the small treble hooks is so popular in the UK where micro tube flies is part of every salmon anglers fly box- The multidimensional aspect of the small treble is definitely an important argument when fishing small tube flies for fish like late runners with hard bony jaws. The general idea is that the tiny hook will find rest in the skin in the jaw and not penetrate the jaw bone
Micro conehead tube flies
Zonker style, prawn flies, conventional patterns. You will find them all done as micro tube flies with a conehead. This special style of tying flies is well-integrated in the world of fly tying here in Europa – and is starting to gain territory in North American on salmon and steelhead rivers. The main asset of this type of conehead fly is that it sinks – and will be fishing almost immediately when it hits the water – something very valuable when fishing smaller rivers or rivers where the fish will be lying close to the bank – The way that flies done with conehead sinks is also of special interest and anglers will use the flies abilities to jig… a bit like a Dog Nobler fly.
The conehead tube fly sit well in fast waters
The micro conehead tubes allows the fly tier to design tiny flies that will sit well in fast water and still keep it´s depth… Something important when the fish is reluctant to go all the way to the top. This could be in late August –  October when floating lines still is popular but the fly need to be fished 10 – 12 inches below the surface. In these periods of transition when summer is flirting with autumn and a relatively warm autumn day turns into the start of the oncoming winter,  it is worth remembering that if the fish seems finicky it could very well be a matter of adjusting the fly depth a few inches up or down.
Tying the Kinnaber Killer a micro conehead fly
The Kinnaber Killer:  I named this fly after the Kinnaber Beat at the North Esk river on the East Coast of Scotland – A place owned by angler par excellence Mr Martin Stansfield –
The fly works perfectly on the North Esk and many other places in Angus – Read about the Kinnaber Beat – Book fishing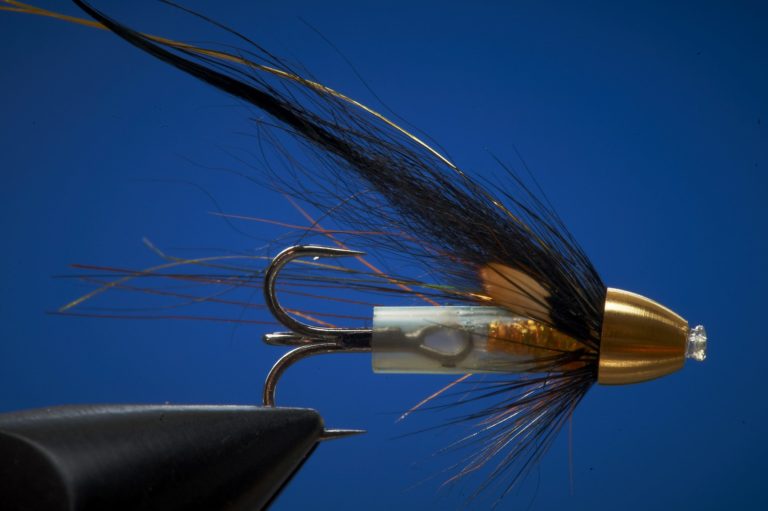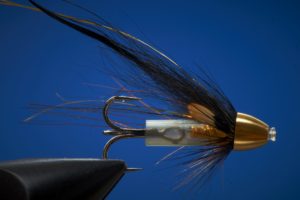 A super micro tube fly I have used for years with tremendous success. The wing and throat hackle is sort of squeezed between; the conehead and the hook-guard. The last doubling as a
see-through  body
on the fly . Fancy and easy to make. here with an Owner St 36 BC # 18 treble hook..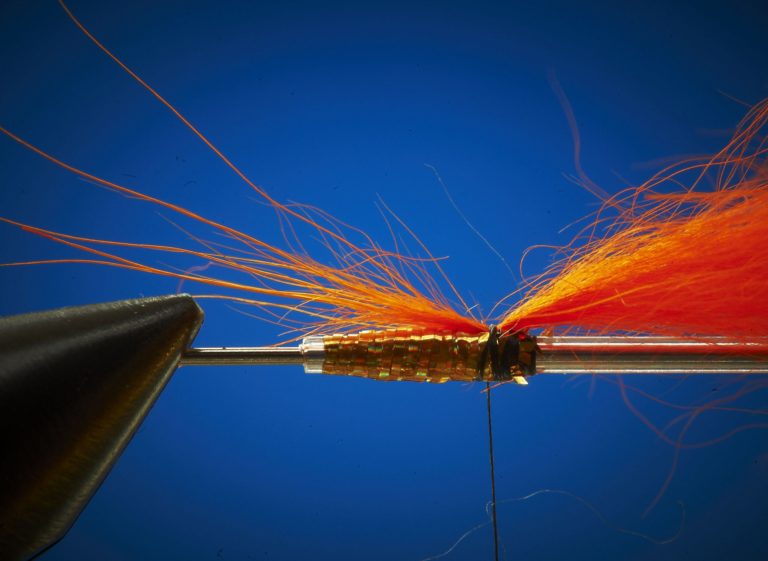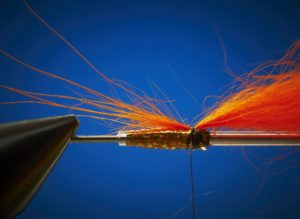 Tie in tiny bunch of soft hot orange hairs from fox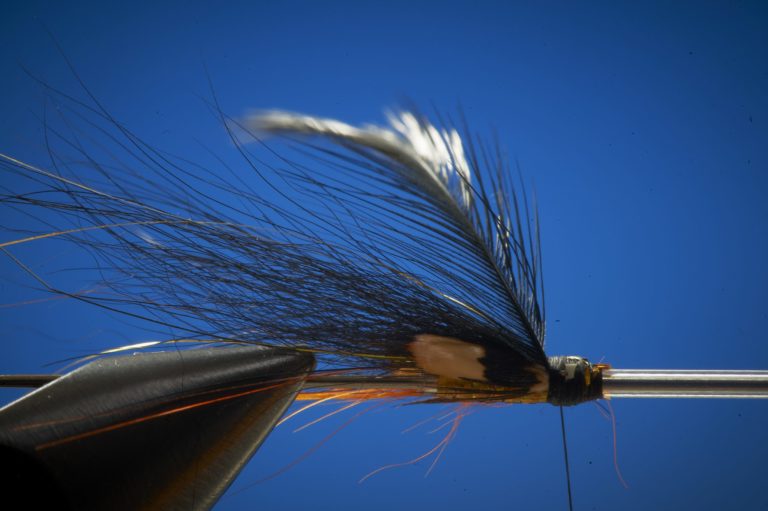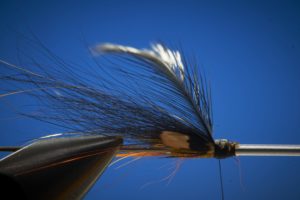 Add hackle and cheeks of Jungle Cock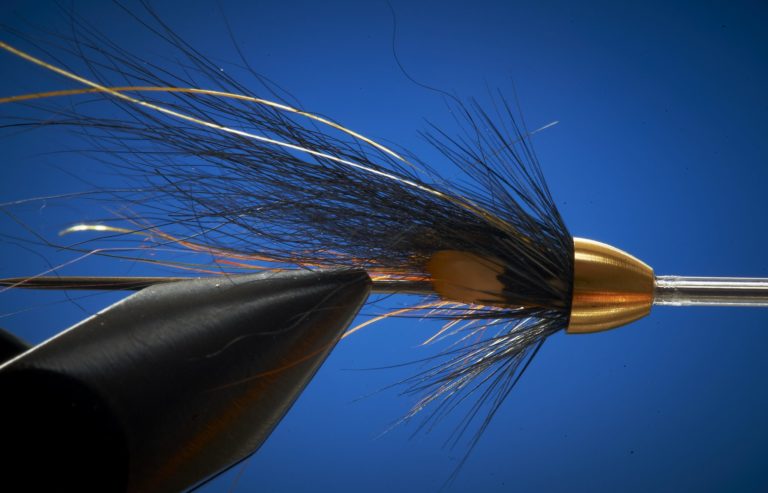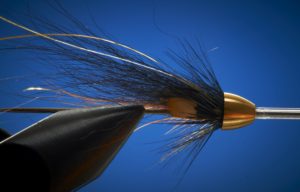 Add a tiny drop of super-glue to the tube and the tying thread in front of the hackle push a golden conehead on to the tube. 
Buy the right hookguard from Fishmadman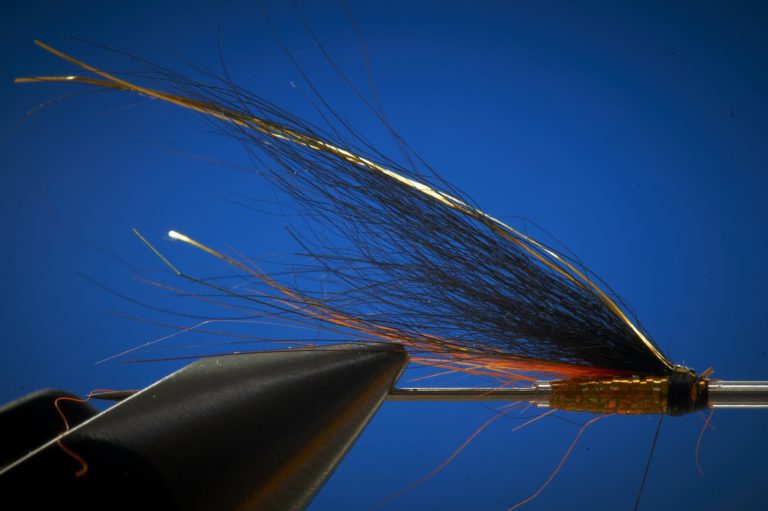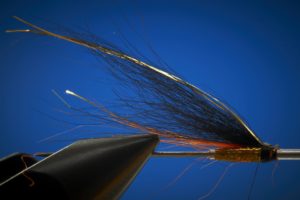 Add a yet another small wing from black fox hair – ad strands of various shimmering material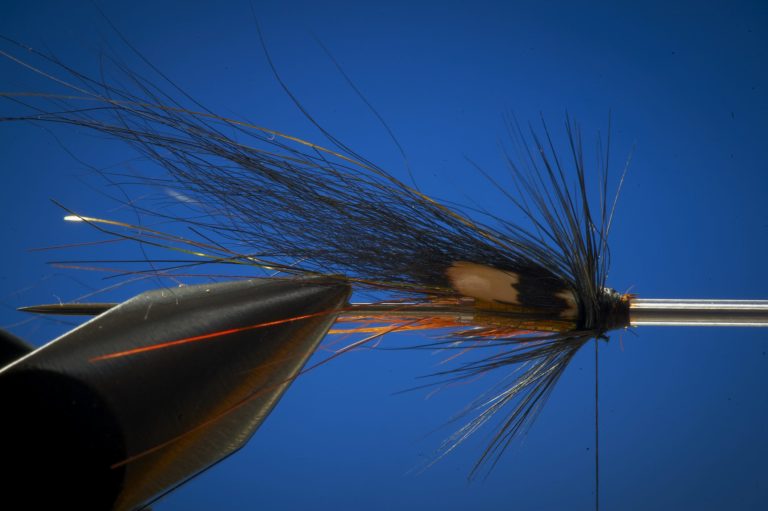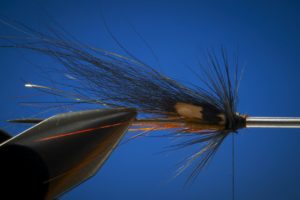 Turn hackel. Keep the hackle close to the wing to make room for the cone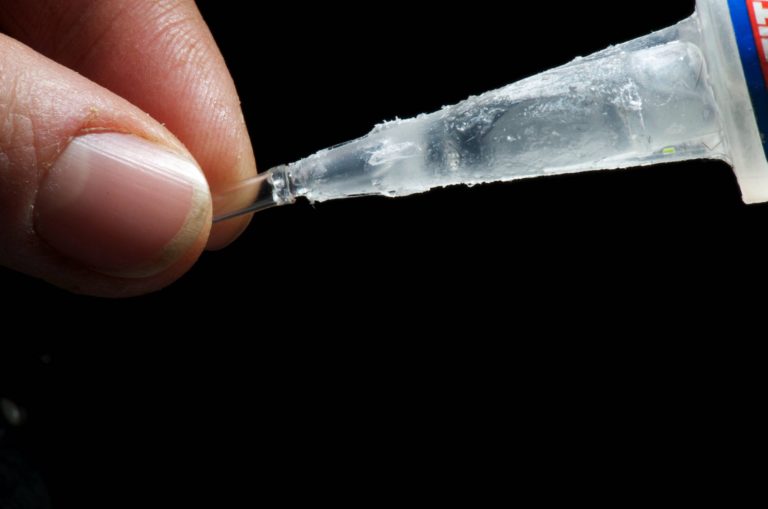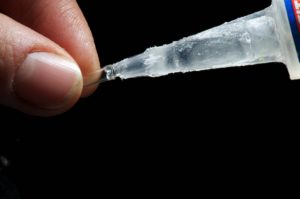 Add tiny amount of super glue to the inside of the hook-guard –
Smear the glue out on the inside of the tube with a tooth pick or needle.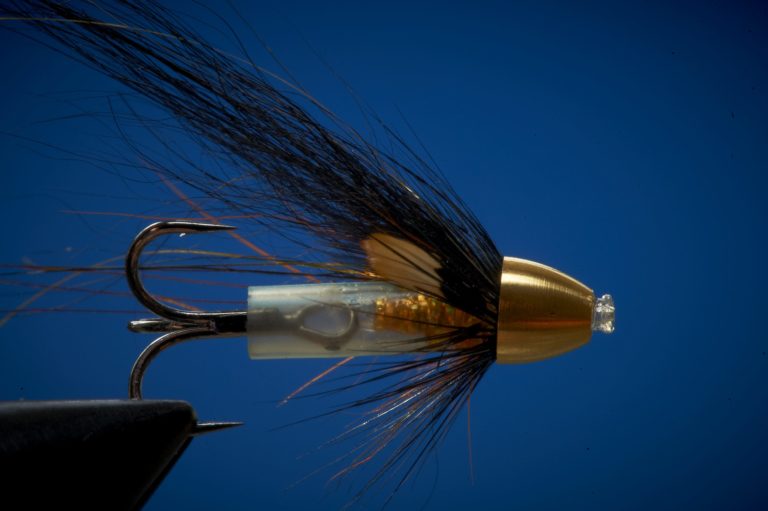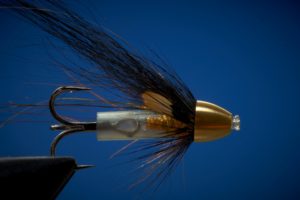 Ready spawned Kinnaber Killer micro conehead fly Push hook guard tube onto the body of the fly – so far forward that you get the angle you want on both the wing and hackle… Make no mistakes the super glue don´t take prisoners
Other versions of the Kinnaber Killer conehead fly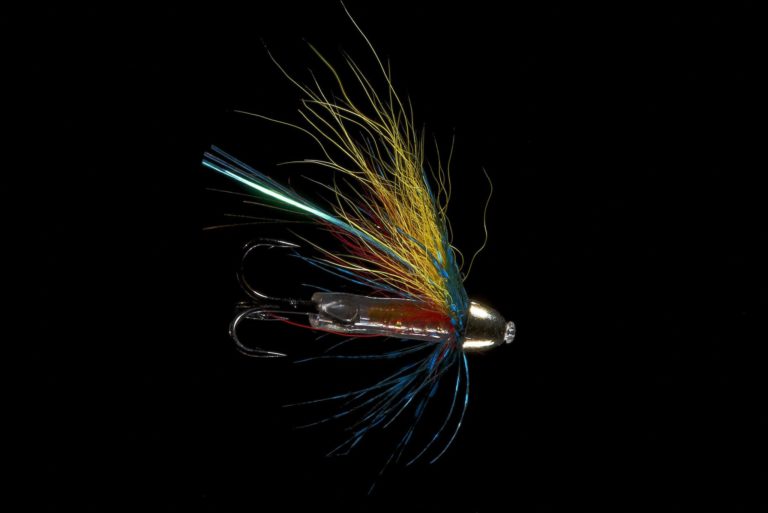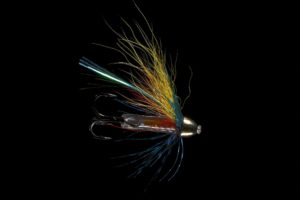 Garry Dog Kinnaber Killer conehead fly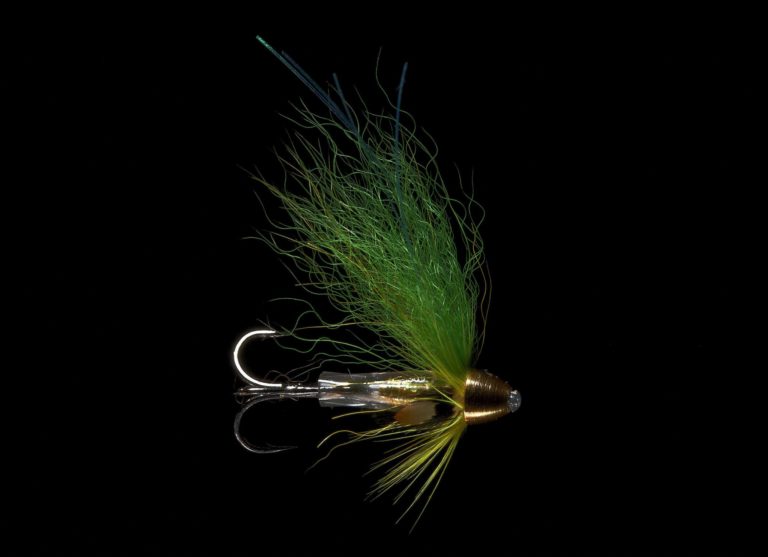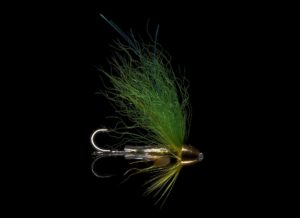 Green Highlander Kinnaber Killer conehead fly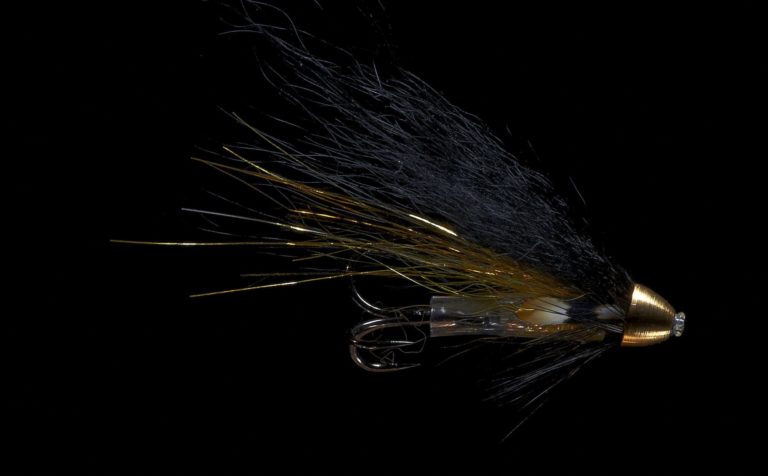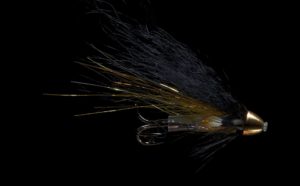 Black & Gold Kinnaber Killer conehead fly