The fly in red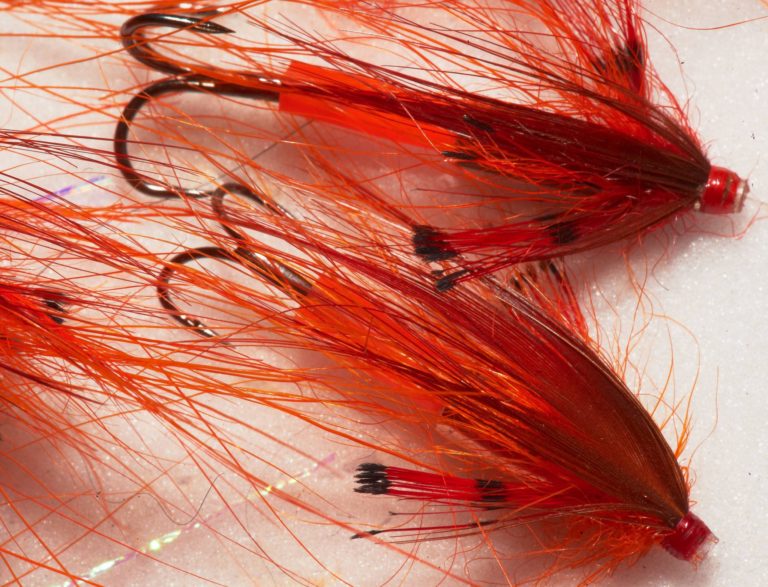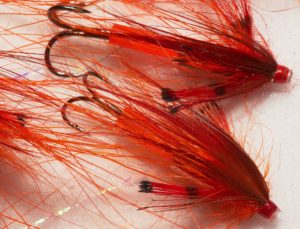 Orange prawn flies like the GP, The Chilimps and Ally's Scrimp just to mention a few – Has a strong effect on sea-trout and salmon living in peaty water – Why? White light (daylight) is dived into all the colors of the rainbow – and the different colors that the light is made up of will disappear through water – in peaty water the last color to disappear is; red
Heavy Metal GP tied on a bullet tube
Tying a Heavy Metal General Practitioner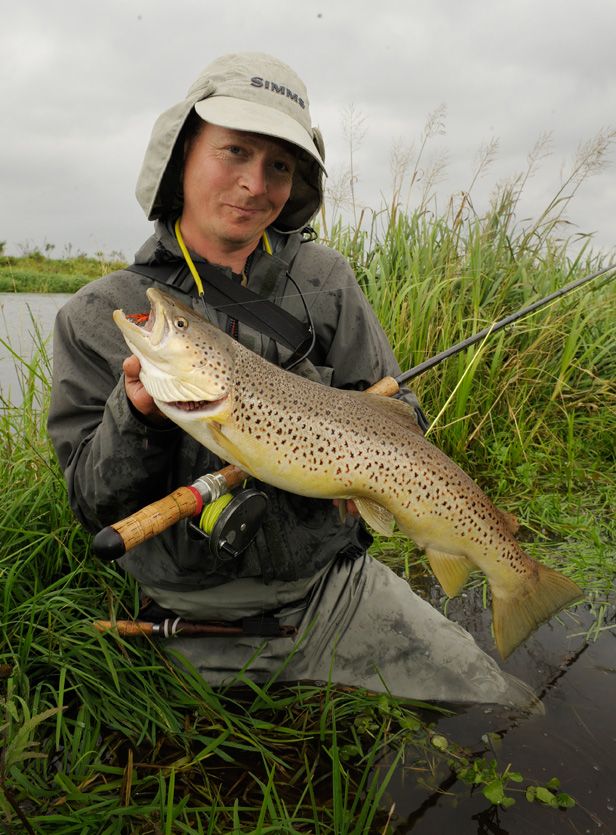 This variant of the General Practitioner is yet another fly designed for a special presentation. It has caught me many fish over the years and has an absolutely specific goal; it is the fly I bring out when the fish is hanging close to the edge of the other river bank of a medium river. A cast straight across could be the only way to cover the specify lie – The General Practitioner will only have few seconds to find the depth of the fish before the fly line starts pulling away. This is the time for the Heavy Metal General Practitioner. If tied correctly this fly looks like a crustacean
Sea run brown (sea trout) Caught on Heavy Metal GP
Picture of a Skjern River sea run brown caught in a small pot hole on the – Other bank – on a Heavy Metal General Practitioner – Picture with courtesy of Mr. Jens Bursell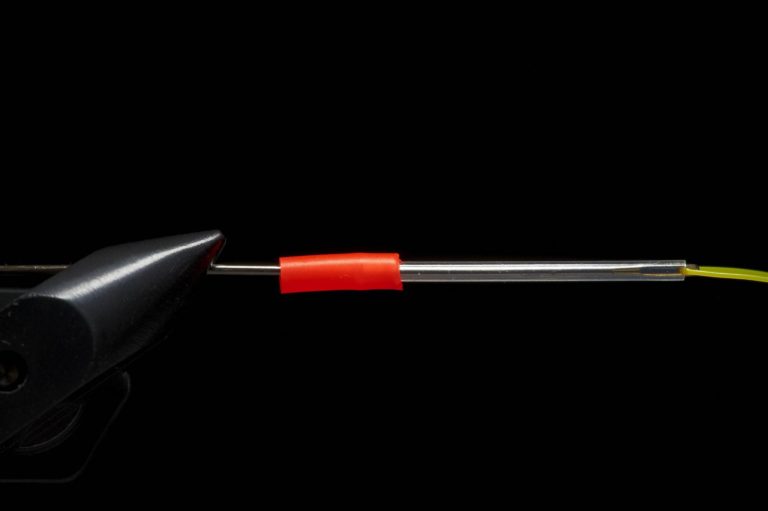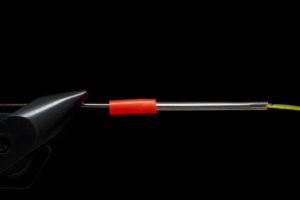 Thin 1, 4-millimetre tubing melted in one end to form a collar. Hook guard in place (here red tubing – clear tubing will also do) – Note the yellow line sticking out of the tube to the right: It is nylon mono 0.40 millimetre. I use it to put through the eye of the needle to wedge the tubing to the needle, preventing it from revolving.
Buy tubing and the needle from the E-shop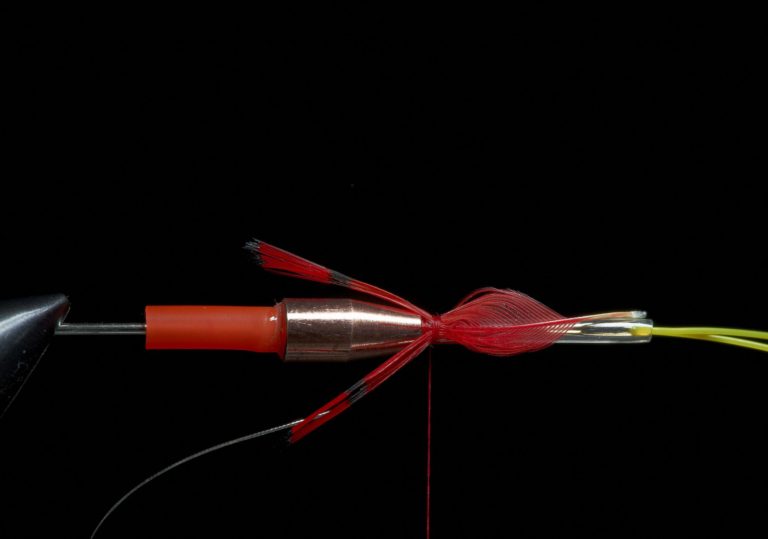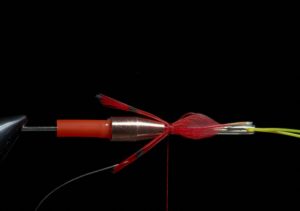 Cut the center out of a hot orange Golden Pheasant tippet feather, to form a V-shaped feather. Place this on top of the fly as seen on photo. Fly seen from above. Tie in a length of silver rib. The tippet feather like many other feathers is a highly efficient salmon attractor worth implementing in all kinds of sub-flies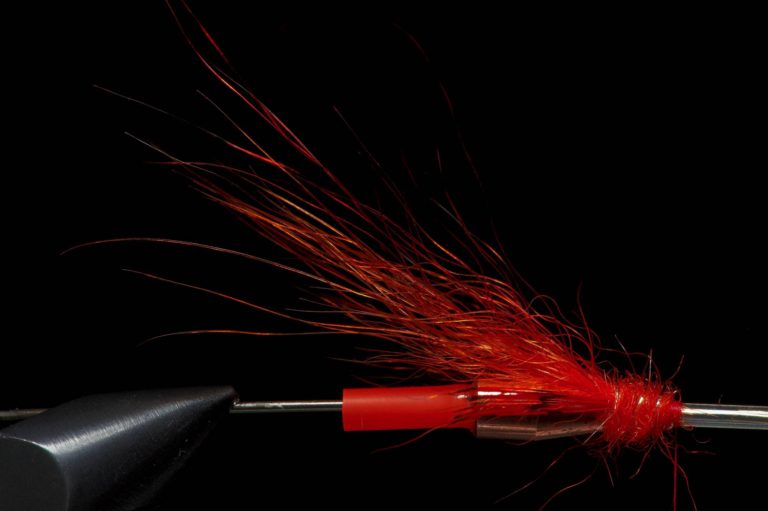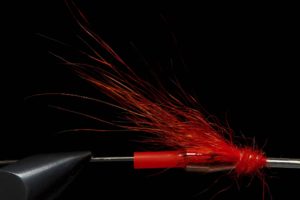 Tie in a body of wool. Here I have used hot orange seals fur Normal wool will also do. Run the ribbing through the body, and plug the hairs out – No hackle is needed in the construction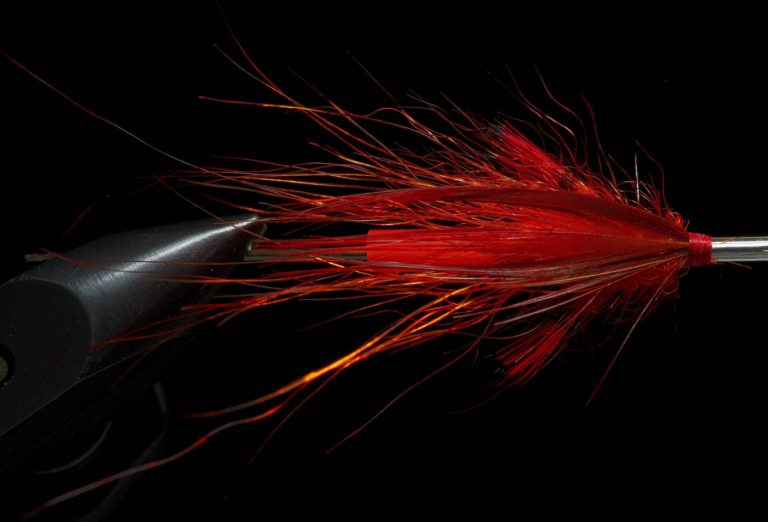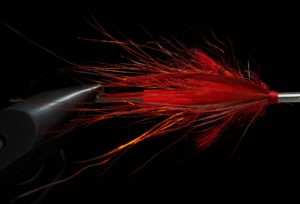 Seen from the side the General Practitioner should look something like this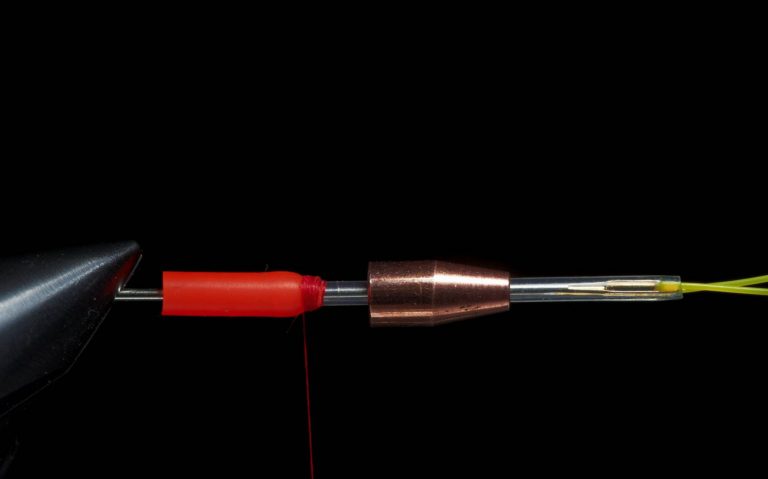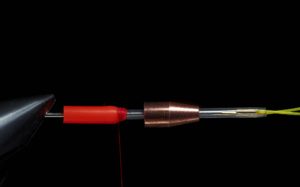 Tie down the hookguard – Apply super-glue or fly tying cement to tie-down and the tube where the metal section is going to sit – Slide down the copper bullet. Bullets like this can be bought in various sizes and colors.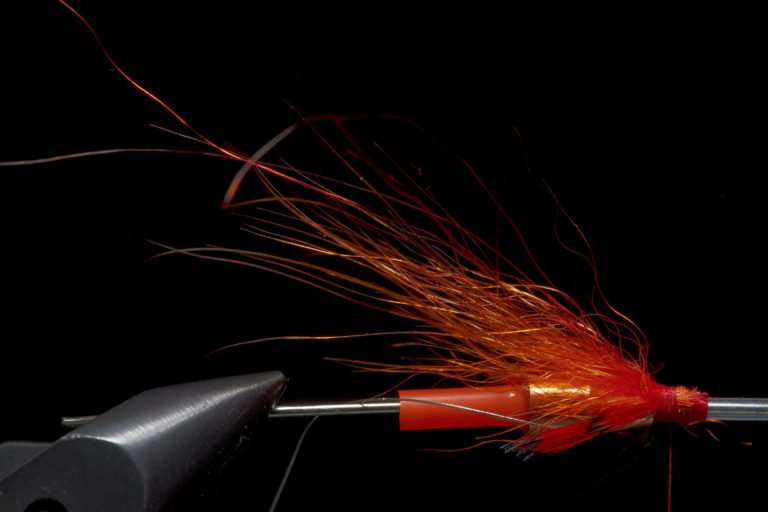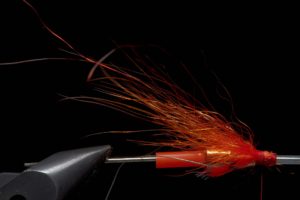 Cut a bunch of hot orange hairs out. Here polar bear. Separate small from long hair, and start by tying in the bundle of short hair. Put the longer hair on top of this bundle. Tying the General Practitioner in this way will prevent the hair from getting caught in the bend of the hook/hooks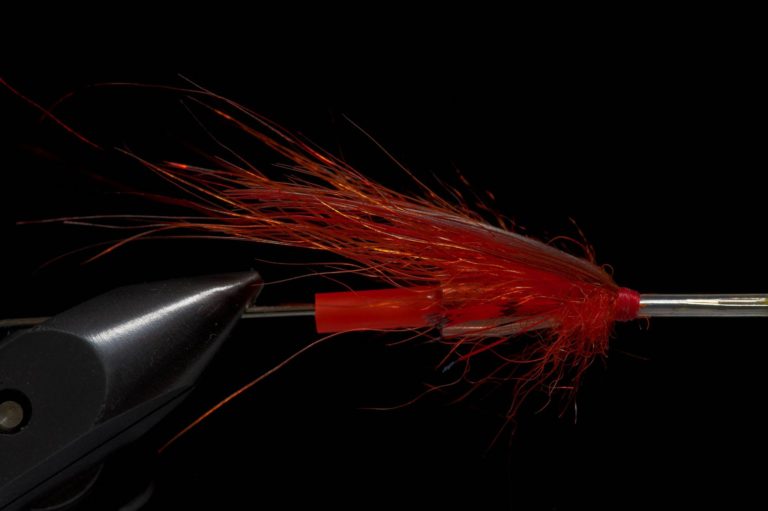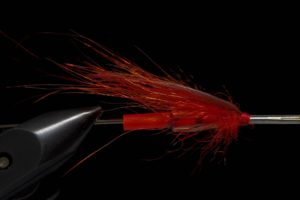 Tie in a uniform Golden Pheasant breast feather, flat on the top of the fly. Here seen from the above. The feather has to be tied in perfect – straight on top. This is the difficult part of this type of fly. If you don't get it right the fly wont work probably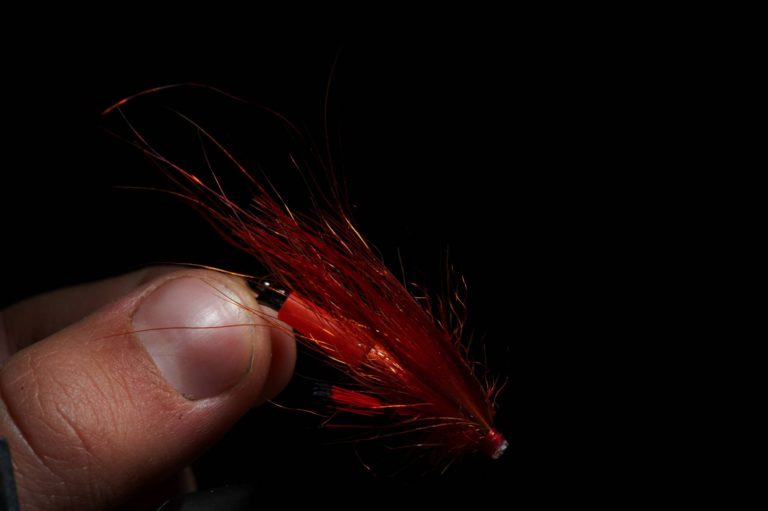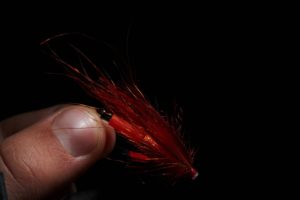 Freshly spawned Heavy Metal General Practitioner
Trim away the execs tube – Add super-glue to the head…Hook and leader and a salmon or trout river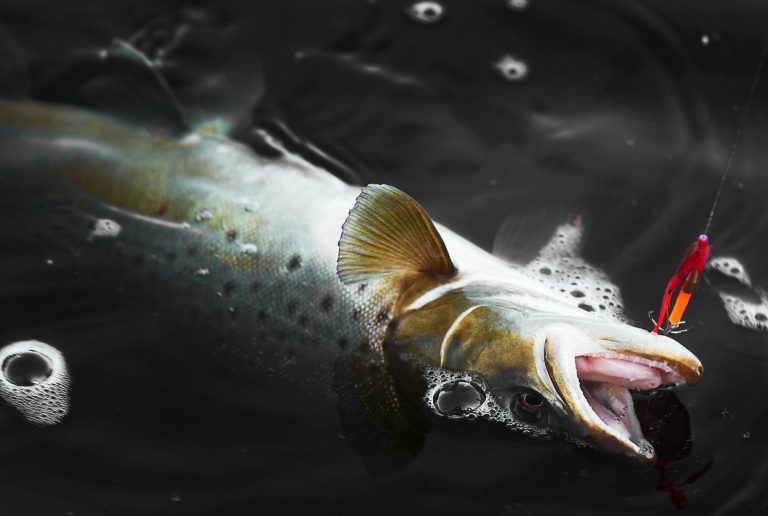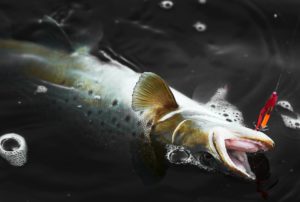 Sea trout hooked on a copper US-tube General Practitioner.
Copper Bottle tube variation – fly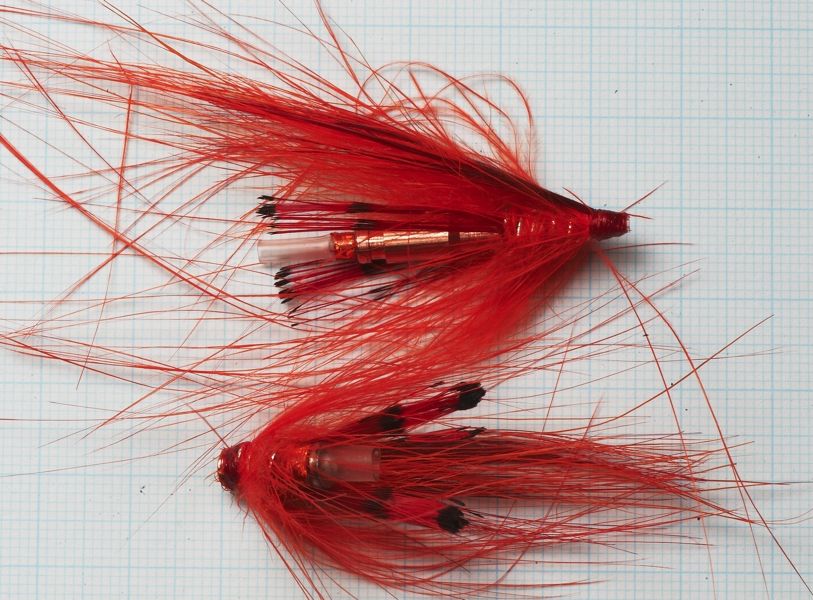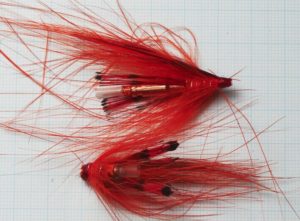 General Practitioner done on Copper Bottle tube
Bottle tube used in the same way as the bullet tube –