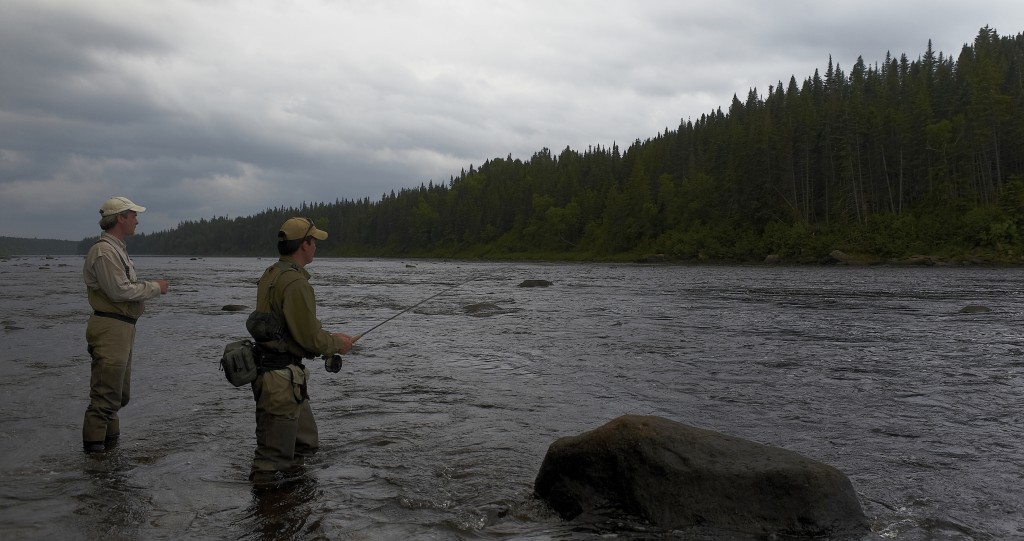 Tube fly fishing and flies tied on tube is our anchor point in Fishmadman - Through our own passion for top water fishing  for salmon and trout we hope we will be able to share some interesting highlight of  this intriguing fly fishing sport -
About Fishmadman.com
Fishmadman is a company made by anglers for anglers. We started out in 2008 as an Internet page collecting information on surface fishing for Atlantic salmon. Our goal was to make surface fishing and particularly dry fly fishing for salmon popular in Scandinavia. We also aim to make the tube fly part of the North American anglers range of fly patterns

1995 The first floating tube fly
We fished the rivers of Scandinavia with conventional dry flies every year but in the mid 90´s Jesper Fohrmann designed a new set of dry flies tied on tube - The design was made as a consequences of the problems he was having with drowning dry flies fished on a big turbulent river in Northern Norway.
Bomber
dry fly tied on a plastic tube - a very different tube fly !
Using long shank hooks for dry flies or other flies for that matter is a old fashion way of  doing flies that we would avoid - We use tubes that can be fitted with small short shank carp hooks with a wide gape that hook the fish perfectly. The tube does not work as a lever as the long shank so often will do - and Upon hooking the fish the hook often become detached from the tube - Tying dry flies on tube also makes dry flies that perform much different to those tied on a long shank hook making them easier to cast and present  - a decrease in weight by up to + 30 % also makes them float better.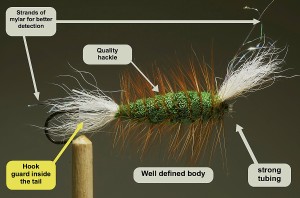 Different tube fly designs
We have a range of tube flies in our shop - We work with many aspects of tube fly design for surface fishing for trout and salmon and on our page you will find a broad variety of flies and technique descriptions  for: Riffling Hitch tube fly - Skating and waking flies and fishing
Tube fly below the surface
But we also work with tube fly design for sub fly fishing - it could be;  Pulling big Sunray Shadow flies cross current or fishing tiny tubes in the surface layer - Or plumping a heavy copper tube fly into a known salmon lie ...  All in all we try our best to cover those aspects of salmon and trout fly fishing that we find interesting - and know you will like to read about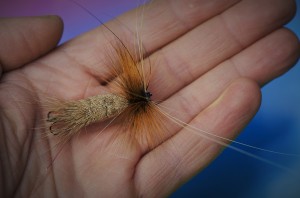 A big dry fly on tube
One fly patterns in the fly box is rarely enough - and sometimes anglers must develop special flies that will fit right into their fishing  - One of the best flies we have designed for this sport is the Monster Tube Caddis ™Big imitation of the Northern caddisfly of the limnephilidae family
1995 Caddisfly imitation for Atlantic salmon
The Monster Tube Caddis ™ was designed during the summer of 1995 This summer was a big year for caddisfly of the limnephilidae family.  Normally the Atlantic salmon is not known to eat anything on their way to the spawning grounds – but these fish in the very north of Norway where feasting away on the wealth of insects and an imitation of the caddisfly was needed.
Like Lee Wulff in the late 20´s had designed his White Wulff as a huge version of a may fly - so did Jesper Fohrmann also create a caricature like version of the caddisfly insect. This big caddisfly caricature has ever since proven to be an excellent dry fly for salmon.
Read more about this big tube fly
Tube fly products - a matter of dedication
2009 Designing our own tube for fly tying
Tube used for tube fly is rarely produced for fly tying and fishing flies - Often it is a by-product for something completely different.
Tying big dry flies on tube we was pushing the limit to what run of the mil tubes could be used for, and not even the best tubes was good enough for our production.  Ultimately we started designing our own hard tube in 2009 - A expensive but rewarding project that inspired us to take things even further:

2010 We made the best hook guard on the market
In 2010 we designed
a new type of hook-guard
that wouldn't take in water opposed to the silicone hook-guard we had used so far.
Silicone tubing will take in up to 15 % water - so it was not quite the perfect tube for dry and wake flies. We worked with people producing high-end pharmaceutical equipment and did finally make a tubing that would suite all our needs.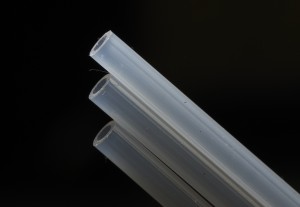 2011 We made the ultimate tube for Riffling Hitch and Wake flies
Fishmadman Flexible Tube  Is yet another specialized tube fly tube we have designed for our Riffling Hitch and wake flies - Again we regard this as the best tube on the market - nothing less.. The tube is strong but still soft enough to withstand anglers inserting hooks in the rear of the tube fly (our hitch fly design does not involve a hook-guard - the hook goes straight into the tube) - After use - take the hook out of the tube and the tube fly will regain its form.
2012 New fly tying material Zebra Goat ™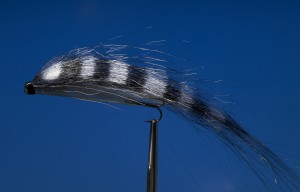 In 2012 we designed a new material for wings on salmon flies. It is Himalayan Goat with stripes  - We needed the material for big Sunray Shadow flies, and took the time and effort to develop this product to be ready for fly tier's at salmon and steelhead rivers See Zebra Goat fly tying material in our shop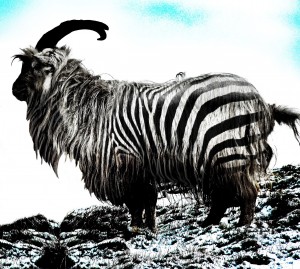 Zebra Goat ™ A new animal - And a new and interesting material to make a contrast filled tube fly pattern - See our page on the Sunray Shadow fly to see how to work with this exclusive material
            Why tie dry flies on tube ?

1


Big feather-light flies that sit perfect in the surface.

Big hooks make heavy flies ! There is no doubt that a dry fly tied on tube weigh less and floats much better.

2


No problems with leverage

The problem with leverage is a major issue in the world of fly fishing - A big long shank hook will very easily be pulled from the mouth of a salmon or trout when the fish use the hook as a lever. Use a tube fly and a small short shank hook instead - this solves the problem. Read more

3


Our flies make less damage on fish

Using a big long shank hook often means big flesh wounds in the mouth of the fish. Do like we do: use small short shank hooks in a tub fly - These hooks are easy to remove and inflict less damage on the fish. Read more


4


A fly that gives you multiple choice of hook and hook positioning

Chose a hook that will fit your water or size of fish. A hook you chose early in the season when the river is strong and you might put your hand on the brake to stop a fish - may not be the same hook you would choose to use on your tube fly when the river is low and slow
Top water creativity - From our shop
Fishmadman has a big range of super designed flies that will give you new possibilities in your fishing. We have the best people in the business tying flies with us - Why ? Because top water flies has to perfect to perform well on the surface

To the shop 
 Highlights from the shop
Our Team
Share