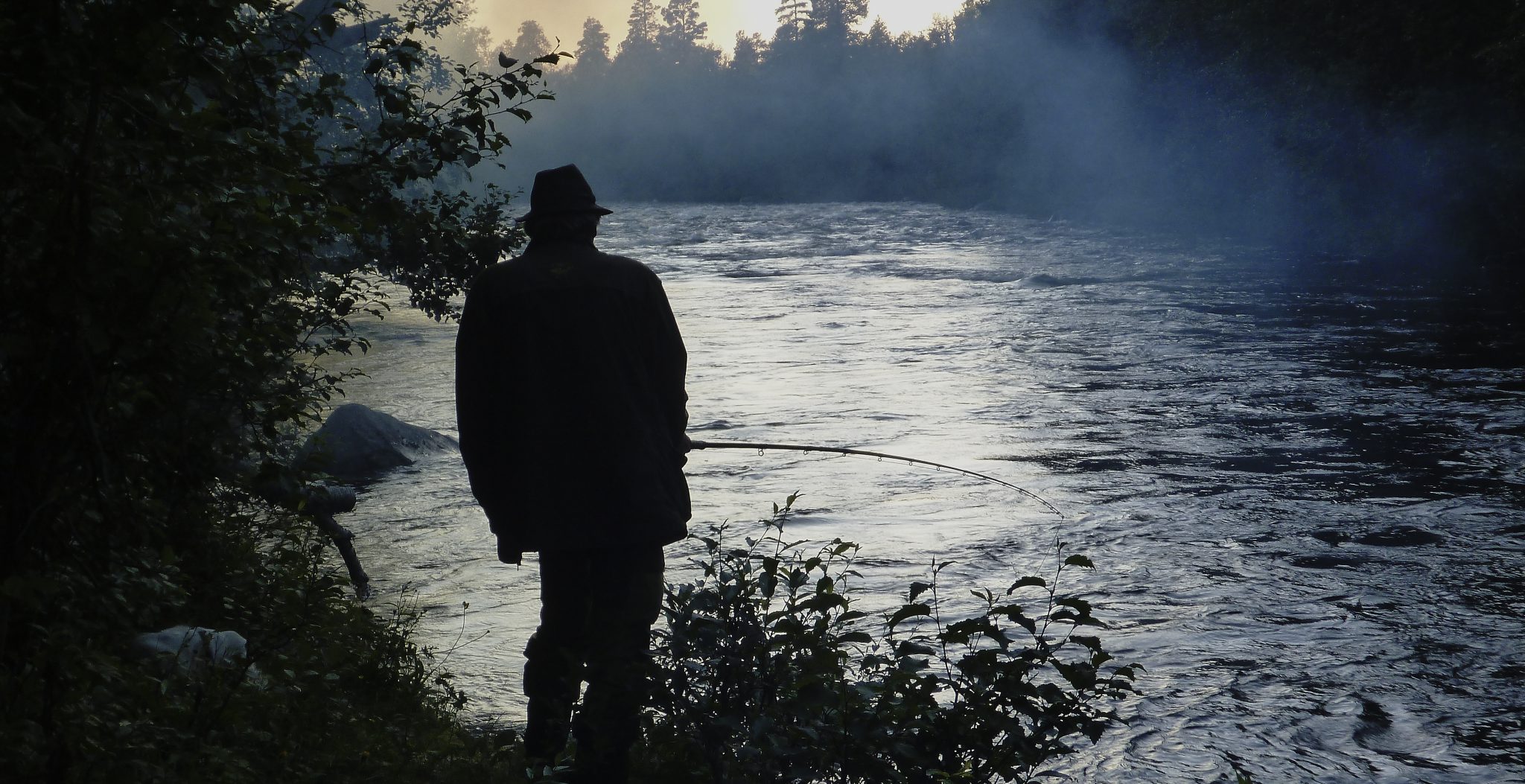 August: My favorite month for fishing – Salmon is starting to settle in the pools – Afternoon turning into evening – Winters waiting in the hills.
Tubes & Waddington Shank – another Ace on your hand
The Fishmadman 2013 competition
New things in the FISHMADMAN shop
The Waddington Shank – An ace in your hand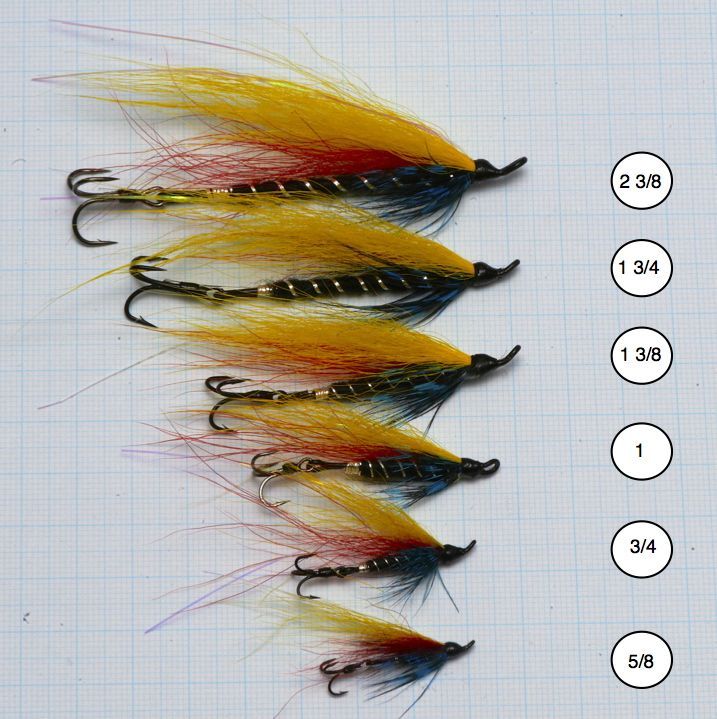 The Waddington shank is a hook design made by late British angler Mr. Richard Waddington in the 1950´s – The Waddington Shank is a lure system made of parallel wires with a hook hinged at the rear. Mr. Waddington designed this system to give anglers an opportunity to make large flies that would sit well in the water and not instigate problems with leverage when hooking up with fish – Problems with leverage was certainly an issue with anglers before the 1950´s Where anglers would use big single hooks – as big as 10/0 and even bigger! –
read more
Don't miss out on the action – Tie on a Waddington shank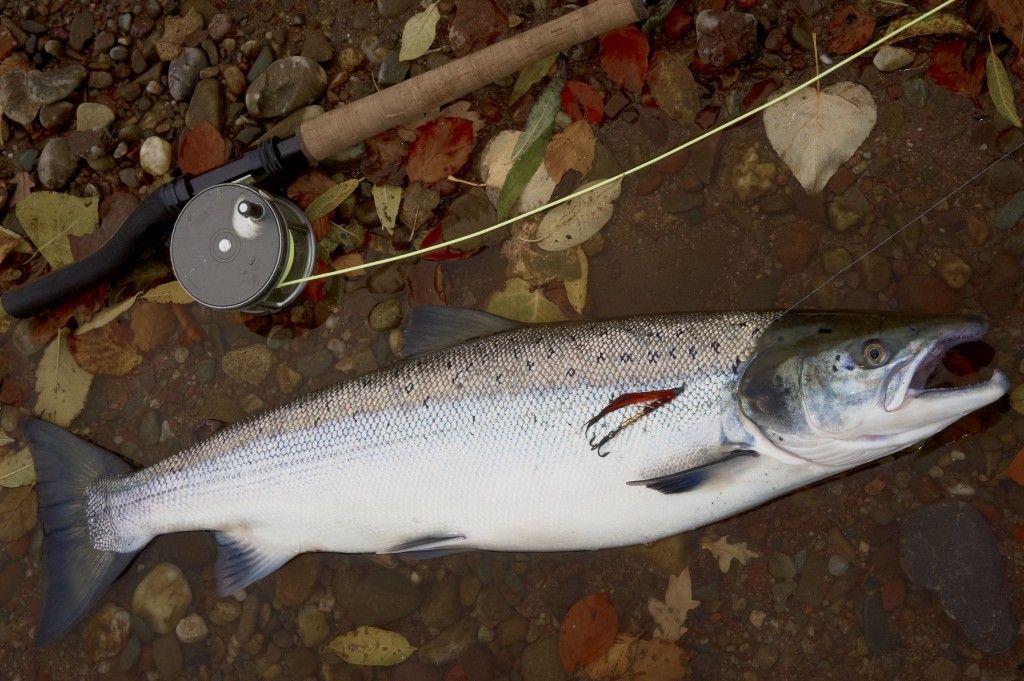 Late season salmon caught on big 1 ¾ inch Black & Orange Waddington Shank
Many anglers will avoid the Waddington Shanks simply because they find the setup a bit to intricate – that´s a shame as the Waddington Shank offers the river angler yet another instrument to fish salmon or trout, and the fly tied on a Waddington Shank will behave differenty from tube flies or conventional flies – Personally I would not want to part with my range of Waddington Shanks during a salmon season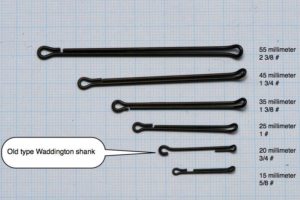 Size scale for Waddington Shanks
The size scale for tube flies and Waddington Shanks does not follow the hook system, and size is often given in inches. I will in the following try to show this scale in a way that might give you an idea on the different physical aspects and how you might make comparisons with a normal hook size

NB. Mustad 80500 BL Used as example (* is not made bigger than 5/0)
Rigging a Waddington Shank
Here's a simple system where a piece of tube is keeping the hook in position. When using this system..make sure to allow the Waddington fly to dry up after each fishing session – otherwise the hook and shank may rust behind the tubing
Here We have set a 2 ¼ inch Waddington Shank up with a # 6 Mustad treble hook…Note how I have put in a split ring between hook and shank. This will enable me to change the hook in a easier way than had I placed the hook directly in the rear of the shank. Additionally I have added a piece of 0.55 millimeter nylon (tied down on hook and shank) – This will keep the hook pointing straight behind the shank
I have also tied a piece of mono to the shank and fixed the mono to this single hook – so the hook sits in a straight line out from the fly.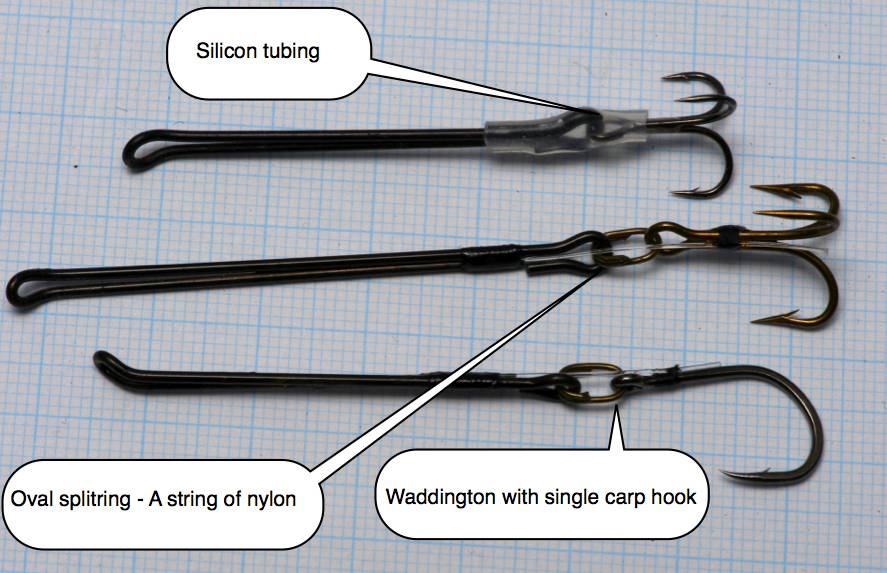 UP-SIDE-DOWN Waddington Shank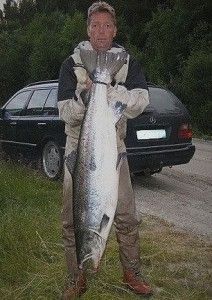 Mr. Hotho Vestergaard is the only salmon angler we know – that has caught 3 salmon in the 20-kilo range (+ 44 lb.) –
You might want to check out his fly tying style on Waddington Shanks.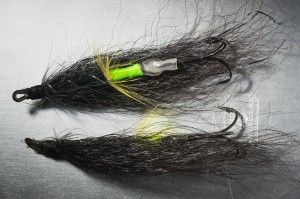 This salmon + 21-kilo (+ 46 lbs.)
Fishmadman friend and salmon-angler-Jedi Mr. Hotho Vestergaard is a great believer in the Waddington Shank system. Hotho makes his Waddington flies upside-down, or rather: he turns the eye of the shank facing downwards – This will make the shank work in new ways – with a slightly diving motion that Hotho prefers on specific types of fast water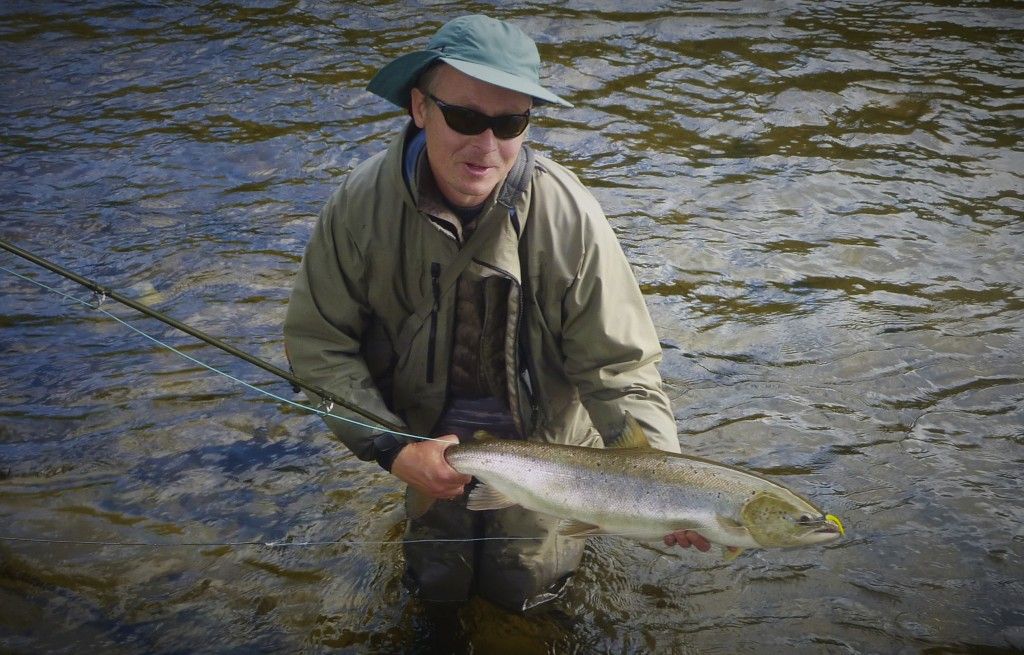 When a spate runs through the river – then those two first days after the spate will be ideal for a big fly like this 1 3/4 # Waddington Shank Garry Dog…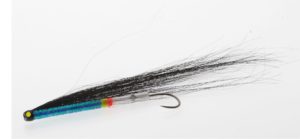 Size scale for tube flies
Just like the Waddington Shank, the tube fly offers the river angler unique ways to present the fly – some so exclusive that we had to design a place on the web dedicated to the world of tube flies. In Europa and particularly in Scandinavia the tube fly crowd the fly box – some may say it is a matter of fashion trends but the success of the tube fly is by far attributed to the great versatility and adjustability in the tube fly system.
10 inches below the surface is a hot area to present the fly to Atlantic salmon during summer and many anglers will tie tube flies specifically to target this area using either floating or slow sinking fly lines
Read more about the first Tube flies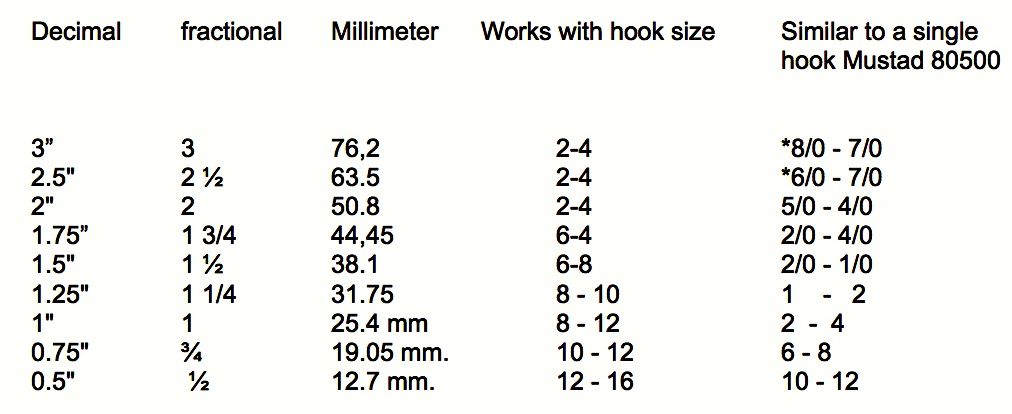 NB. Mustad 80500 BL Used as example (* is not made bigger than 5/0)
The FISHMADMAN 2013 Competition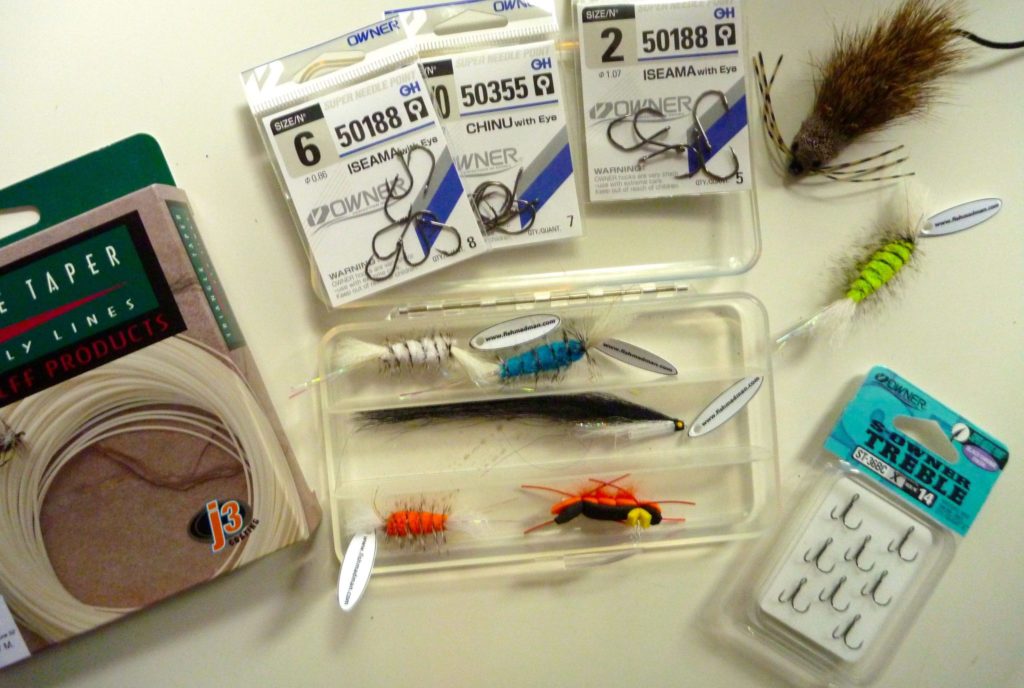 We hope you will join us for yet another sporting event – We will make sure that it is worth your while in the prize department – And everyone participating will get fine gifts – That's the deal. Catch a fish on a Fishmadman product or pattern – fill out the form – and start being part of 2013 most sporting event…
Dry fly regards The Fishmadman team
See the rules of the competition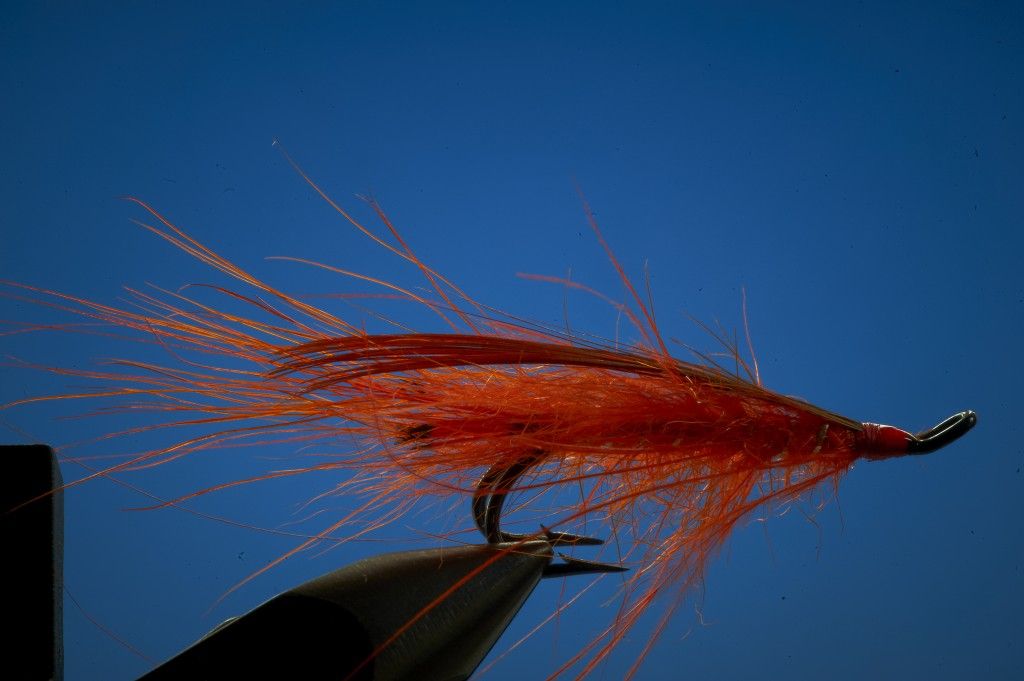 We did what many of you asked us to do and made a selection of High-end General Practitioner flies.
Using polar bear hair * seals fur and Whiting Spey hackle. Tied on superior Japan and Mustad hook, in two sizes # 4 and 6
Buy this superior August fly while stock last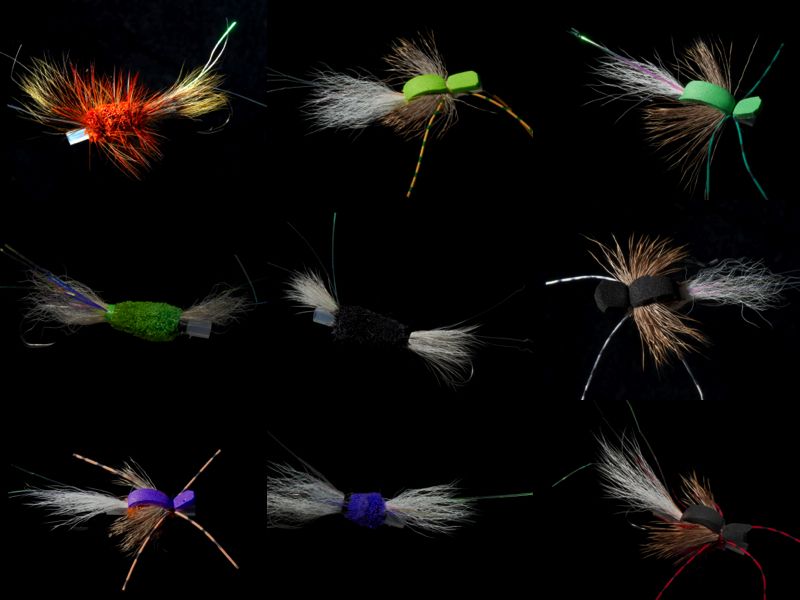 NEW We're absolutely proud to present our latest addition of wake flies to be added to our series of steelhead and char wake flies. Designed together with some of the best steelheaders in North America – Take a look in our shop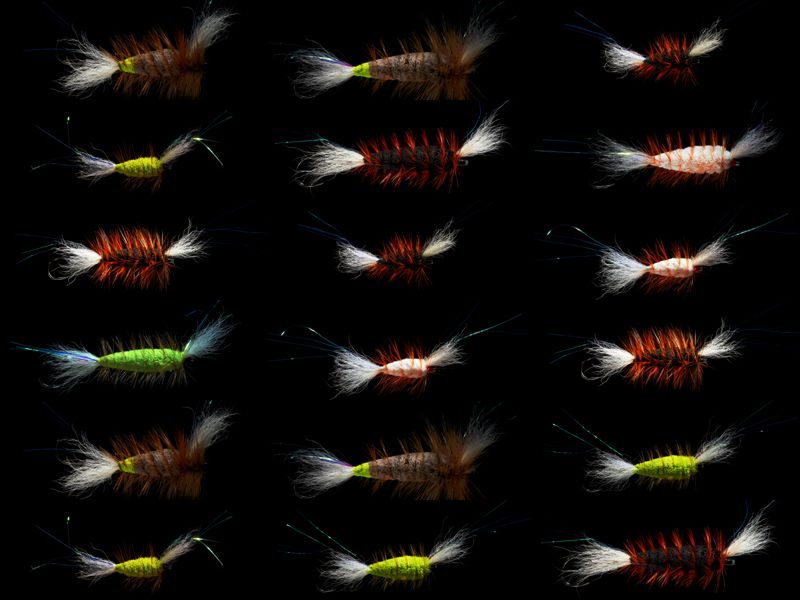 Better late than never ! We had hoped to present these NEW dry flies at the beginning of season 2013 – This was obviously not the case – But we are happy to show you this fine selection of flies added to our shop – Look here
.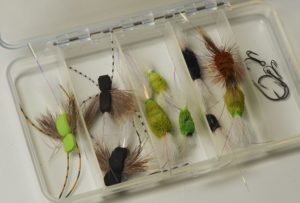 NEW ! – Small fly box for hooks and flies – with all the right dimensions – strong – and inexpensive. NB. Sold without the flies displayed – We and other anglers have used the Sunray Shadow – heavily – during this and last season – so we were happy to include this NEW box to our shop – We know you're gonna like it – See them in the shop