Dear topwater anglers…Spring is already here and I and many of you are locked down…iiikkkes
I personally look forward to the upcoming season and I am sure we will all be able to get out and enjoy fishing sometime very soon.
I have chosen to spice our newsletter up with a fishing-cartoon… just to get some smiles going in these Corona times.
Tight lines from us at Fishmadman – Jesper & Per
Newsletter this time
Soldier Palmer a true salmon fly classic
Burt Longcaster – A man on a mission
Selection of treble-hook flies
Bug´s on a heavy hook
New Frances flies
Lee Wulff Bombers
we got the Hitchman flies in the shop ?
A great knot for your shooting head shooting-line
The Soldier Palmer - an extraordinary trout & salmon fly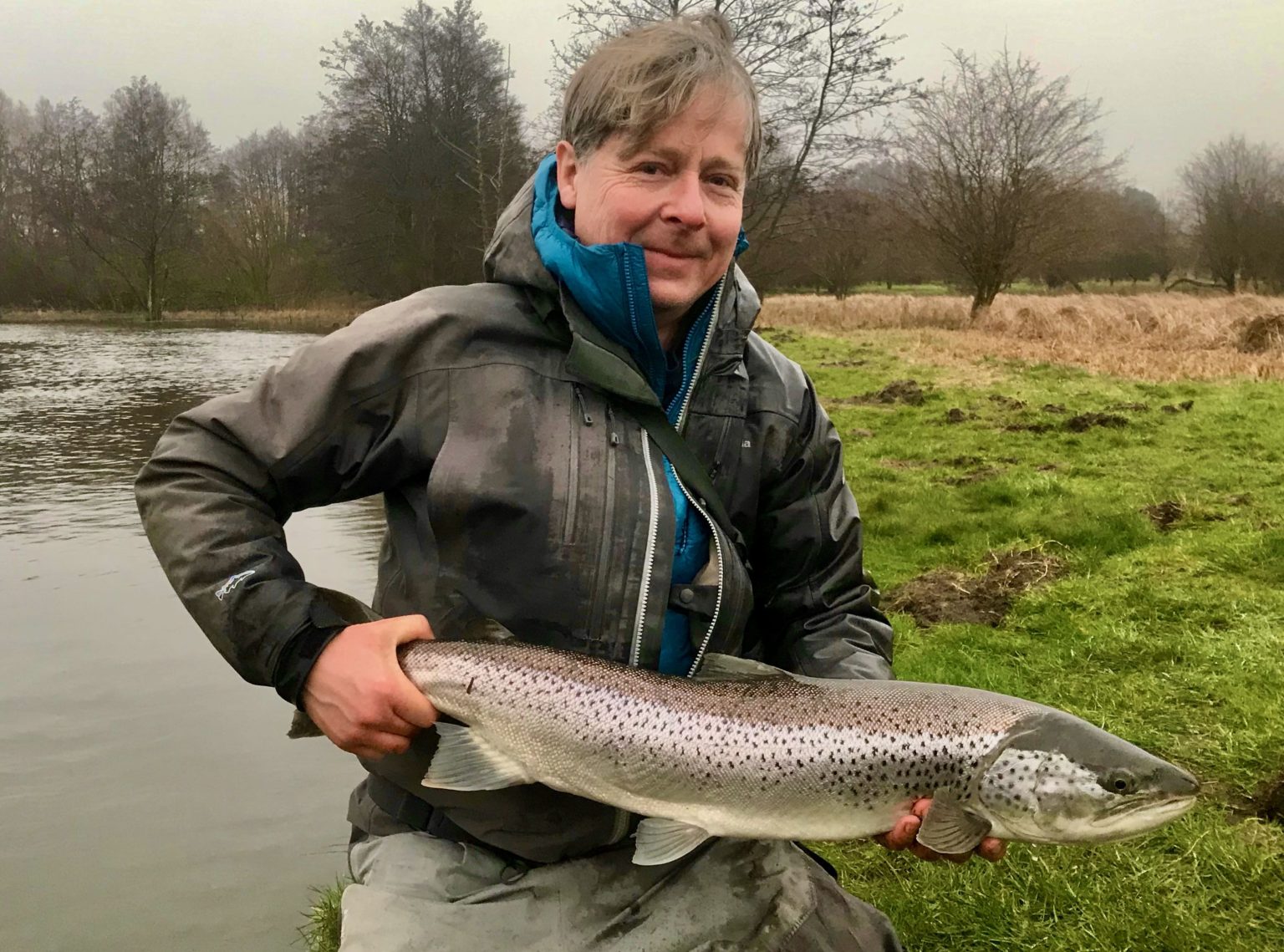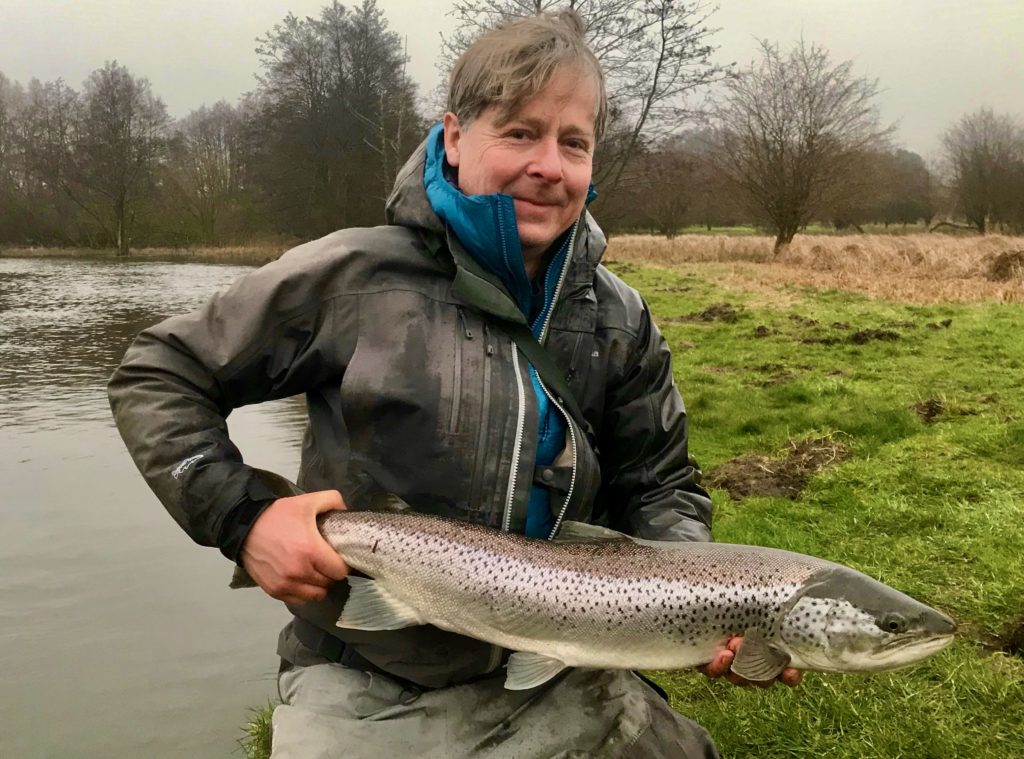 A sea trout I caught earlier this spring – fly was the Soldier Palmer – a fly I often use for stale sea trout… Fish was 79 centimers long (31 inches) and was caught in the Nybro River in the southern part of Sweden
Izaak Walton write about the Soldier Palmer in his book The Complet Angler from 1653 – It is thought that the fly derive back much earlier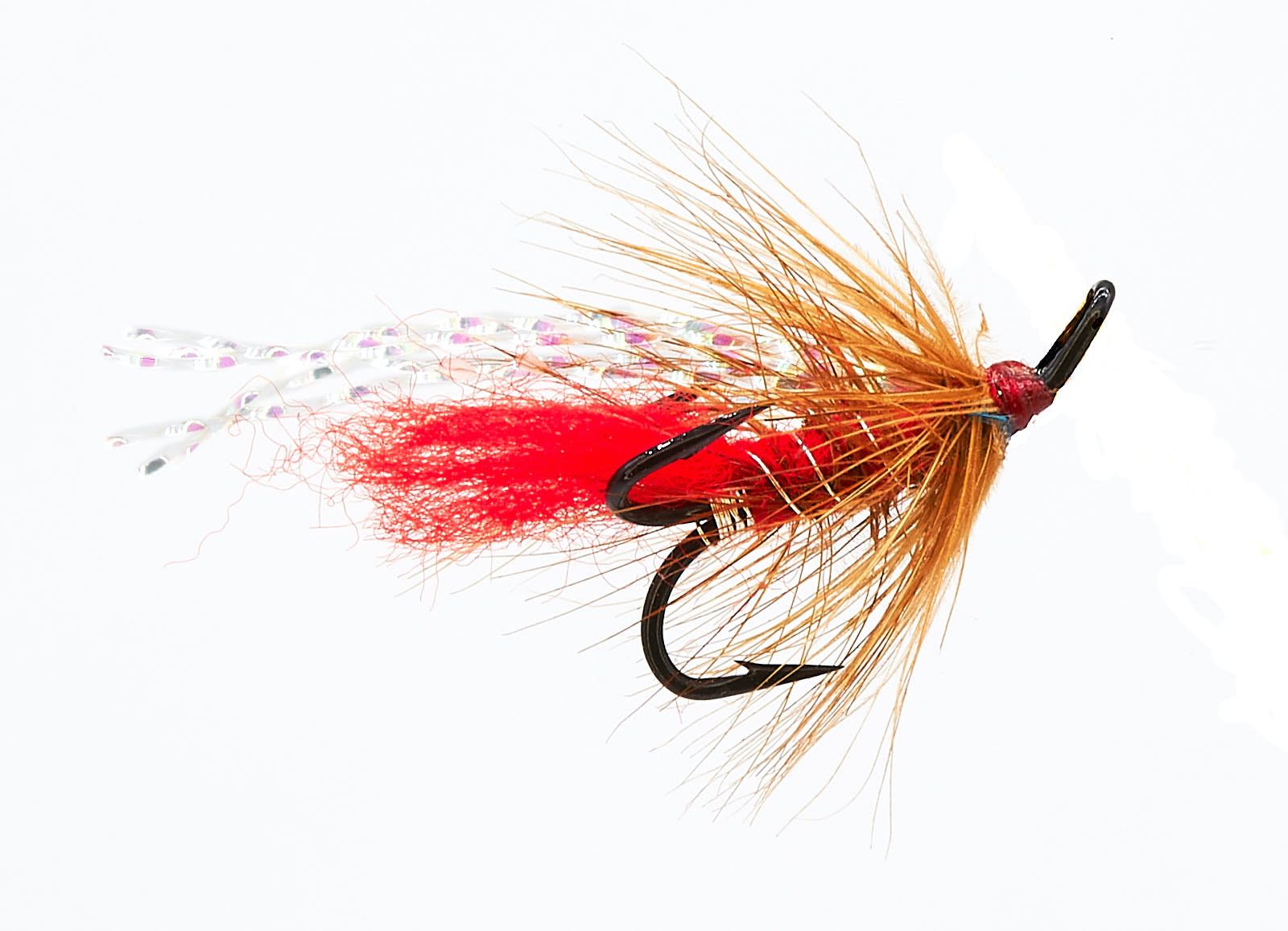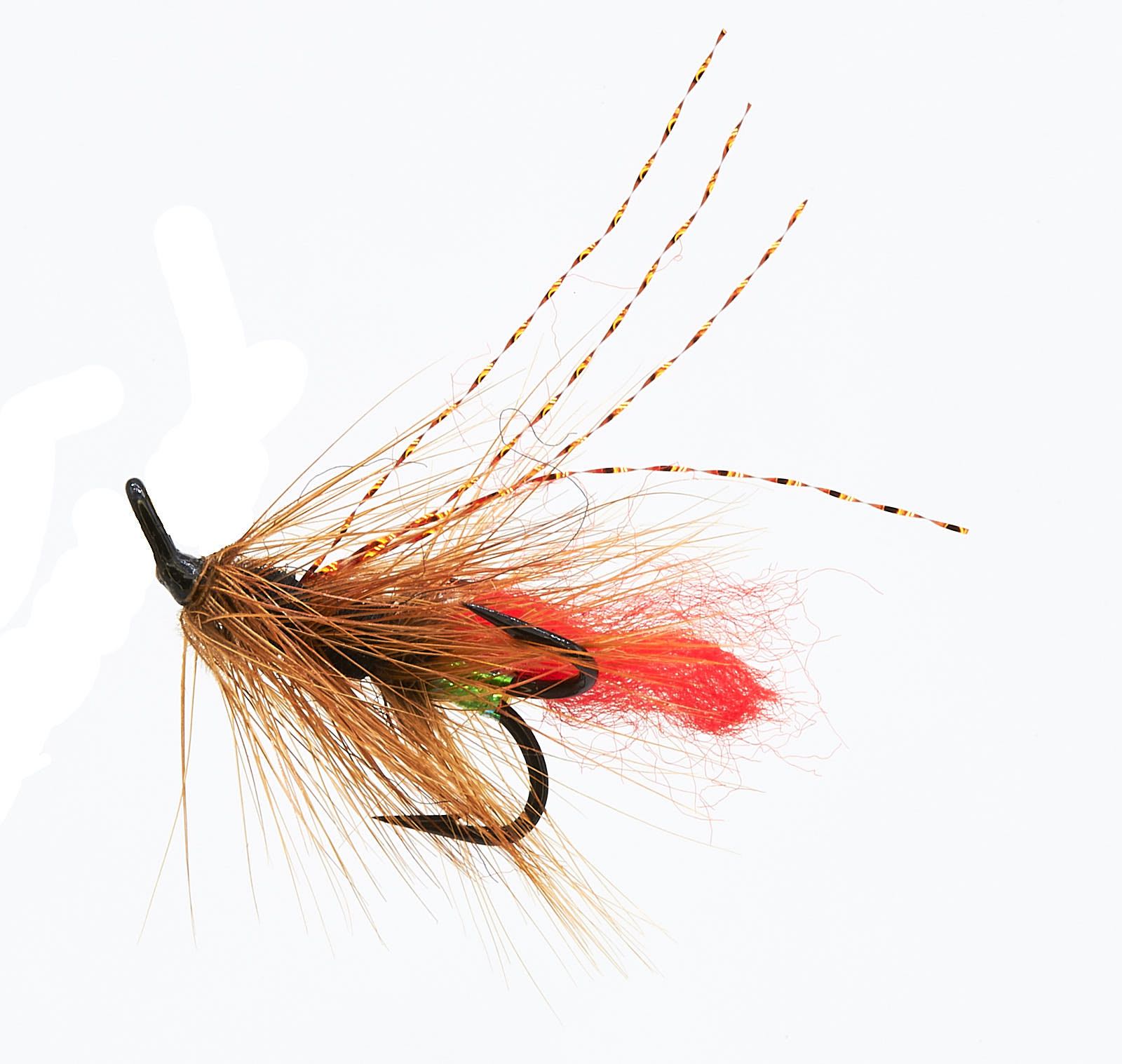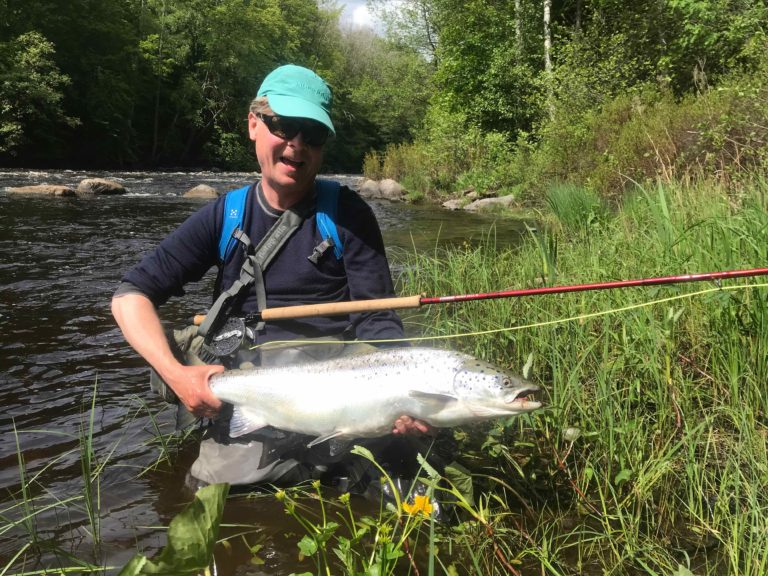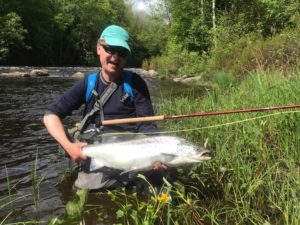 A nice May salmon from the Swedish river Morrum, also caught on the Soldier Palmer – Most anglers at the Morrum river fancy grub flies for their salmon and sea trout fishing. Smallish flies that stand in contrast to the Spratt,  herring, and sandell the baltic salmon feed on in the sea.
Read more about what the salmon eat at sea…Look here
Burt Longcaster a man on a mission
It's with great honour I introduce one of my favorit cartoon characters: Burt Longcaster. As the name describes an angler with immense casting abilities. This particular cartoon was published in the mid-'90s in the Danish fishing magazine Fisk & Fri…In a later edition, Burt Longcaster throws a stray puddle-dog around the globe to mainland China… where it is eaten…sadly that adventure never made it to the funny pages…due to editorial ding-dong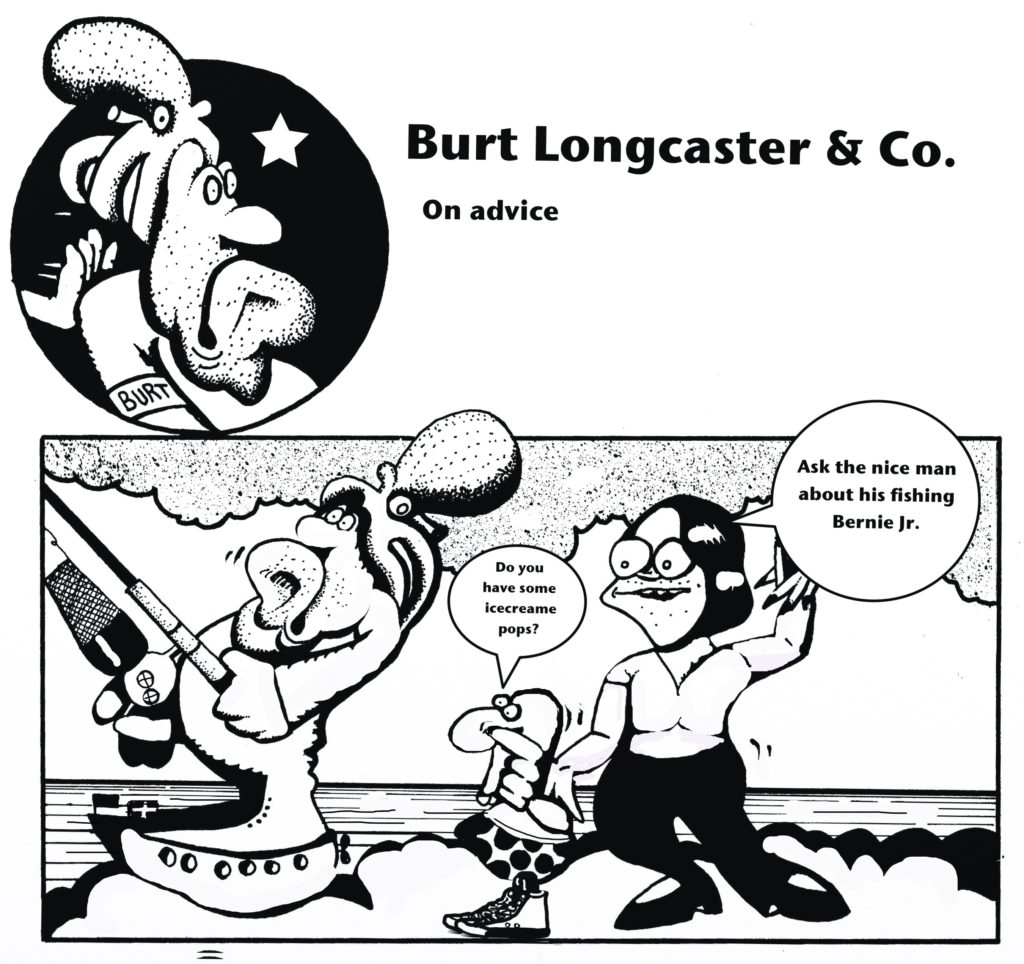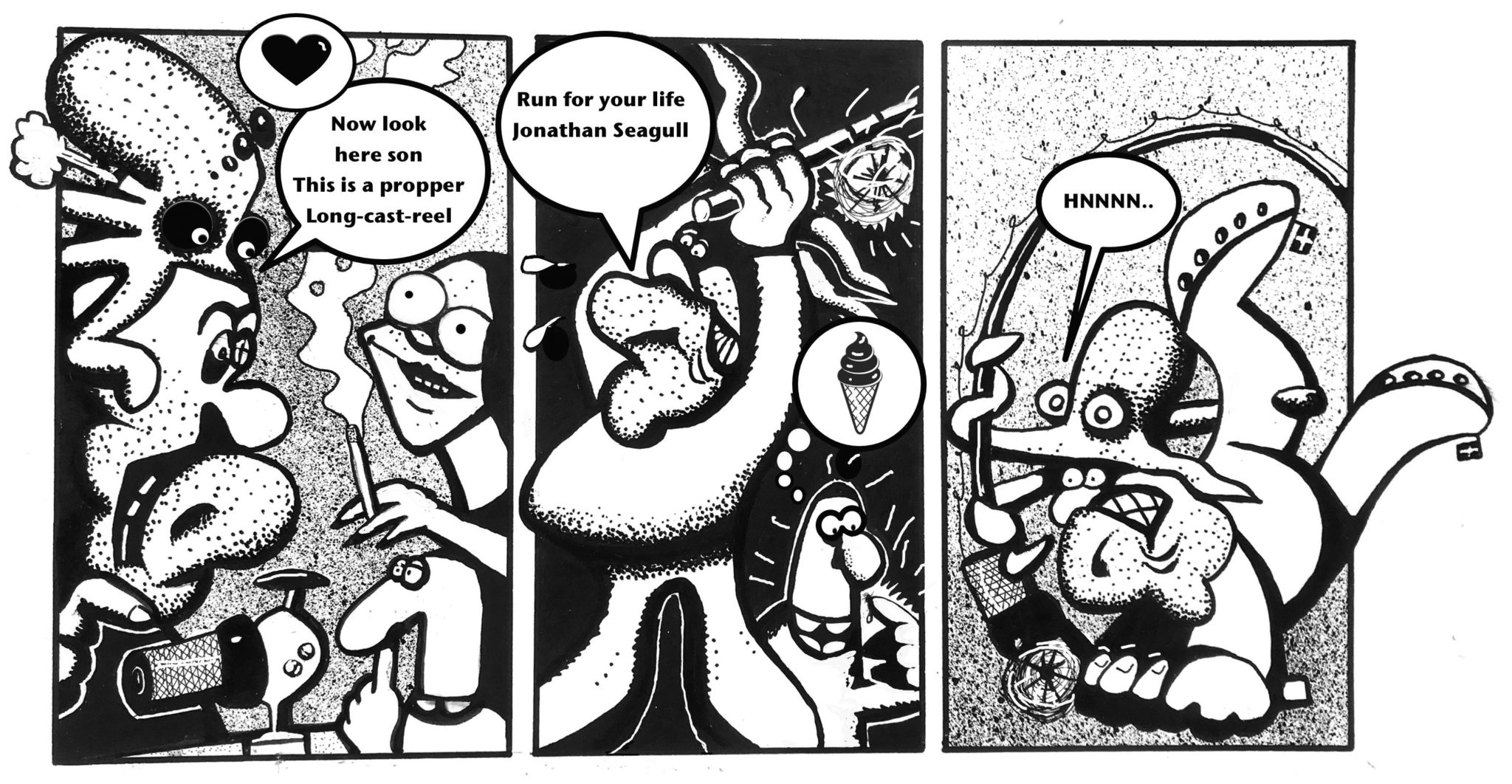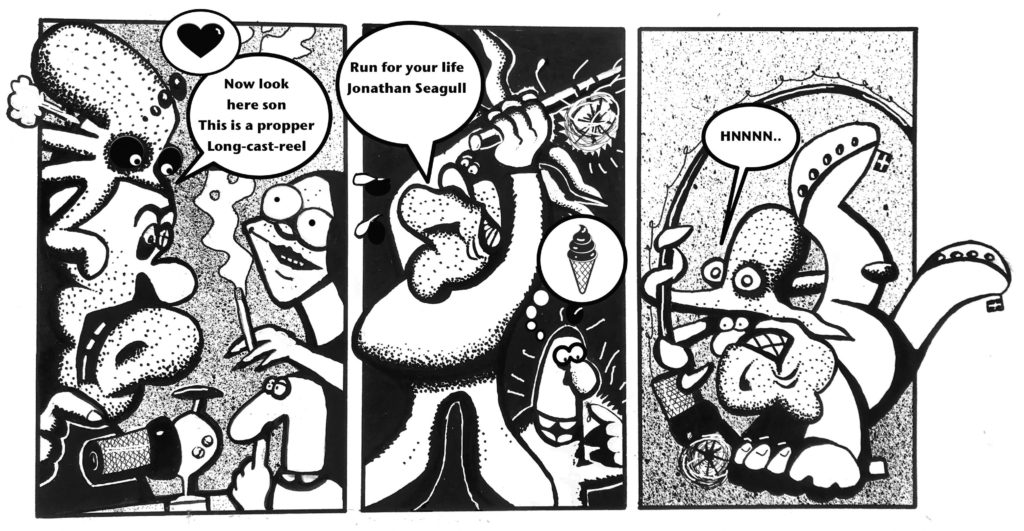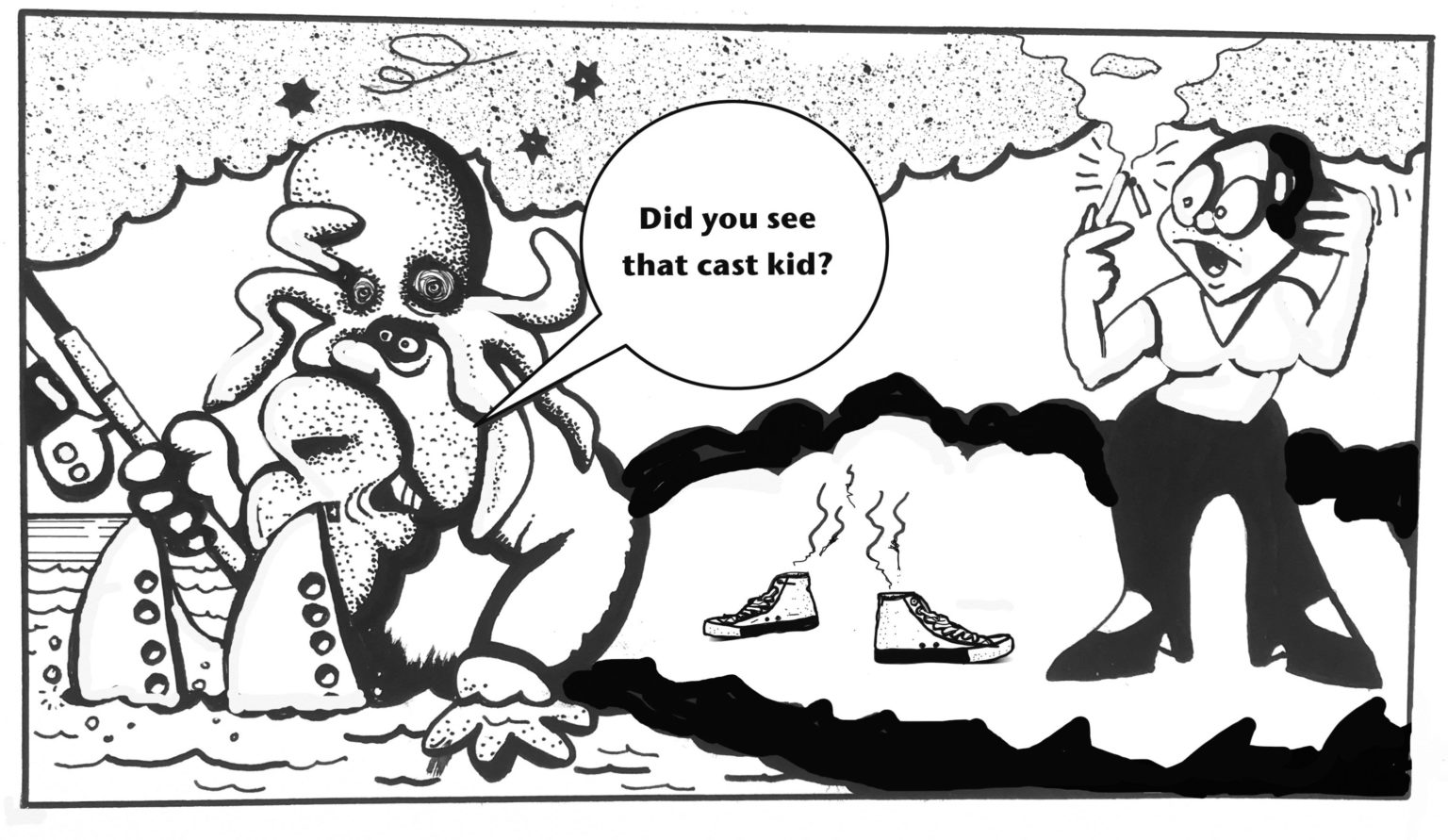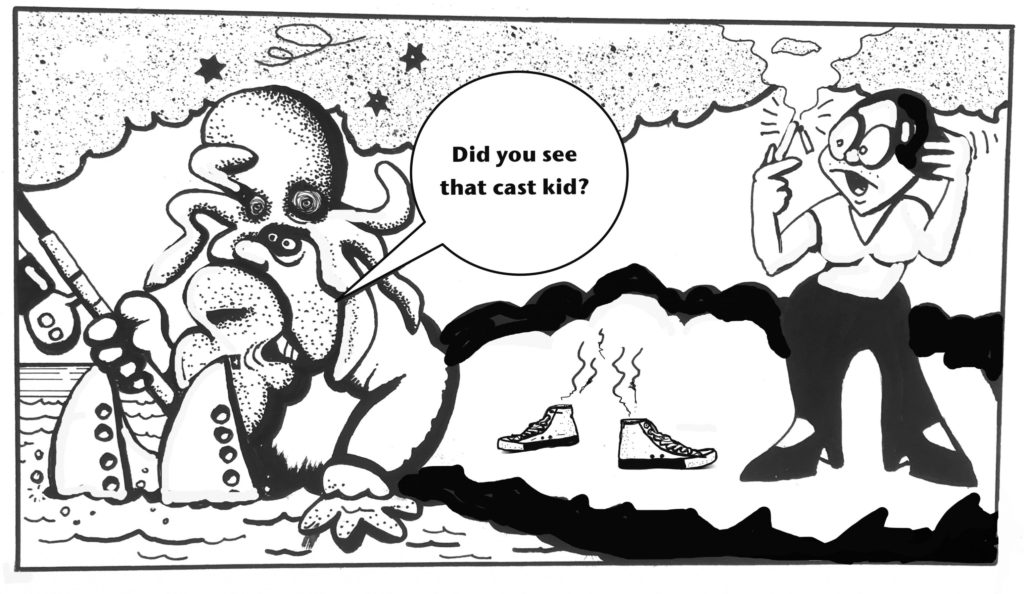 More efficient treble hook flies from our 2020 series
We chose to make some treble hook flies for season 2020 – all tied on the fabulous Partridge Esmond Drury treble hook …all tied to perfection …dressed just like we want them – Found in two sizes: # 12 and # 6 See all flies from the series here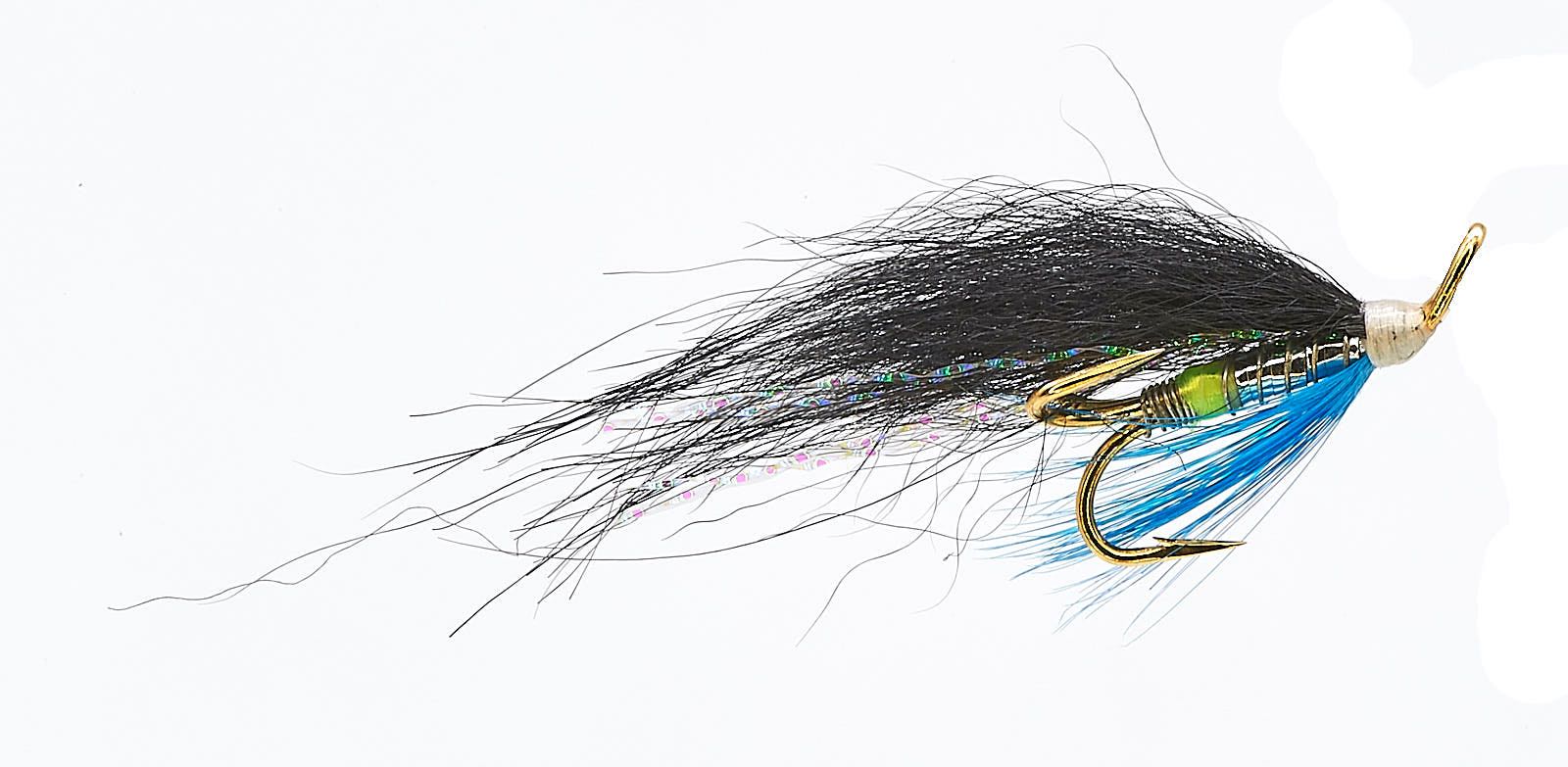 A fantastic fly – Modern material and perfect styling for those clear water salmon rivers in the North of Norway and Russia. We have tied it exactly how we think it should be made. Superior Partridge Esmond Drury gold plated treble hook.
If your persuing salmon in Northern Norway or Russia …this is one of the flies to bring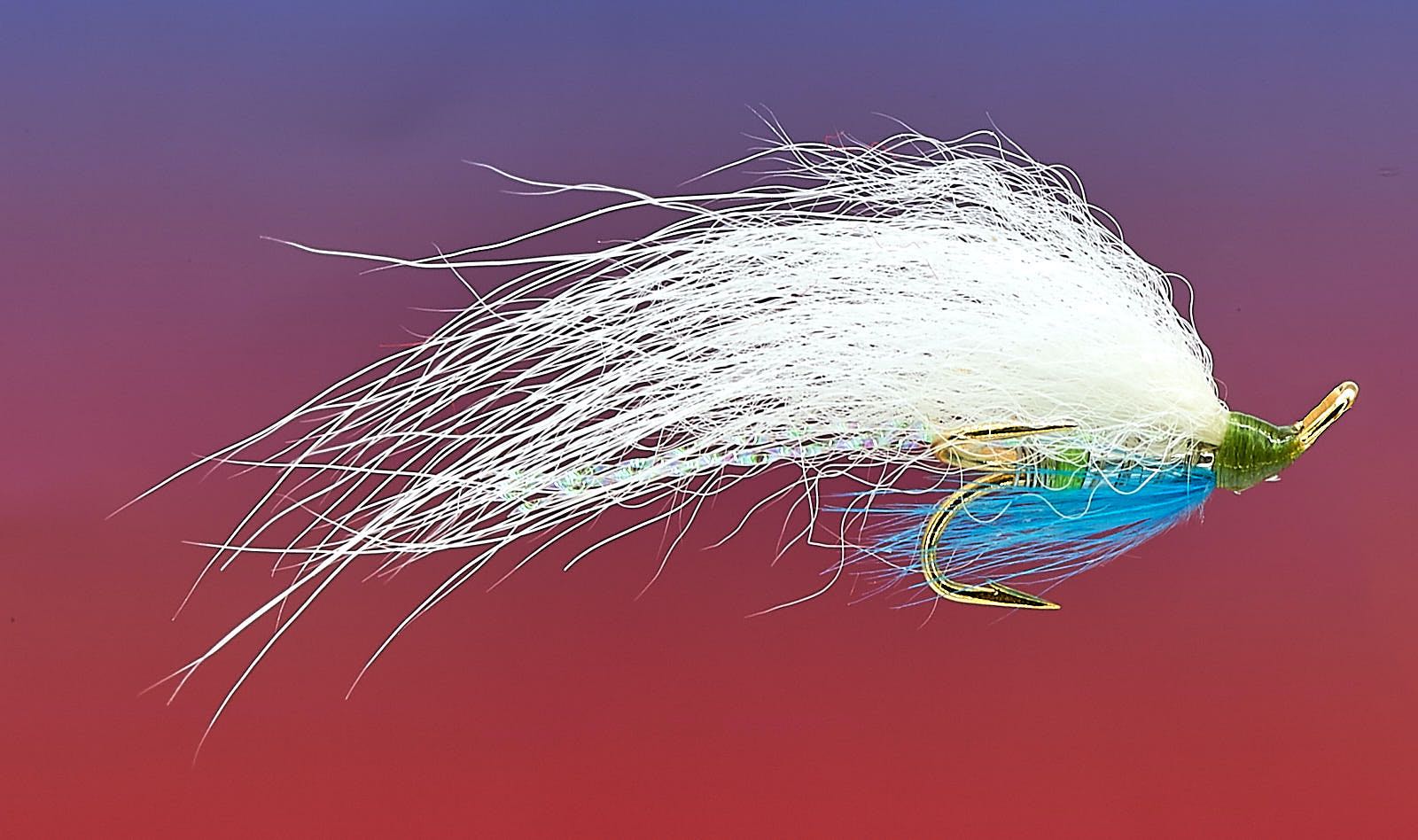 Whitney Houston is the most awarded female artist of all time.. The late Mrs Houston has a very good salmon fly named after her. Every Scandinavian salmon angler I know has this fly in her or his fly box, some anglers also refer to this fly as The White Ponoi. We have tied it exactly how we think it should be made. Superior Partridge Esmond Drury gold plated treble hooks is the fundament for this fly.
If your persuing salmon in Northern Norway or Russia …this is one of the flies to bring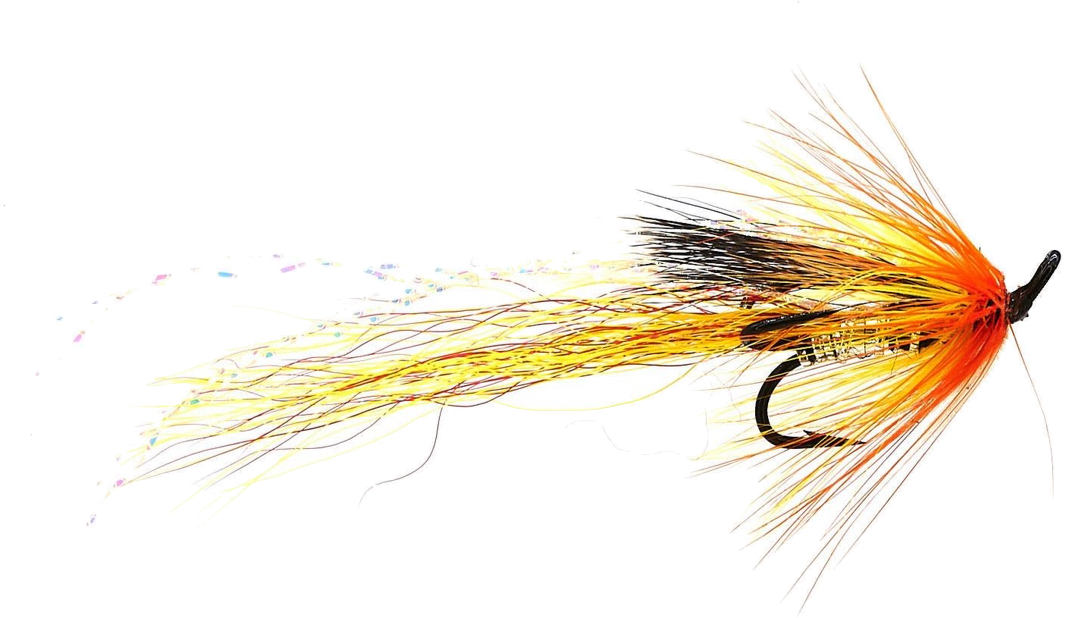 A fantastic fly – devised by Mr Alastair (Ally) Gowans from Pitlochry in Scotland – A modern classic that is a must on many rivers in Nothern Europa- Here tied on Partridge version of the famous Esmond Drury hook
If your persuing salmon in Northern Norway or Russia …this is one of the flies to bring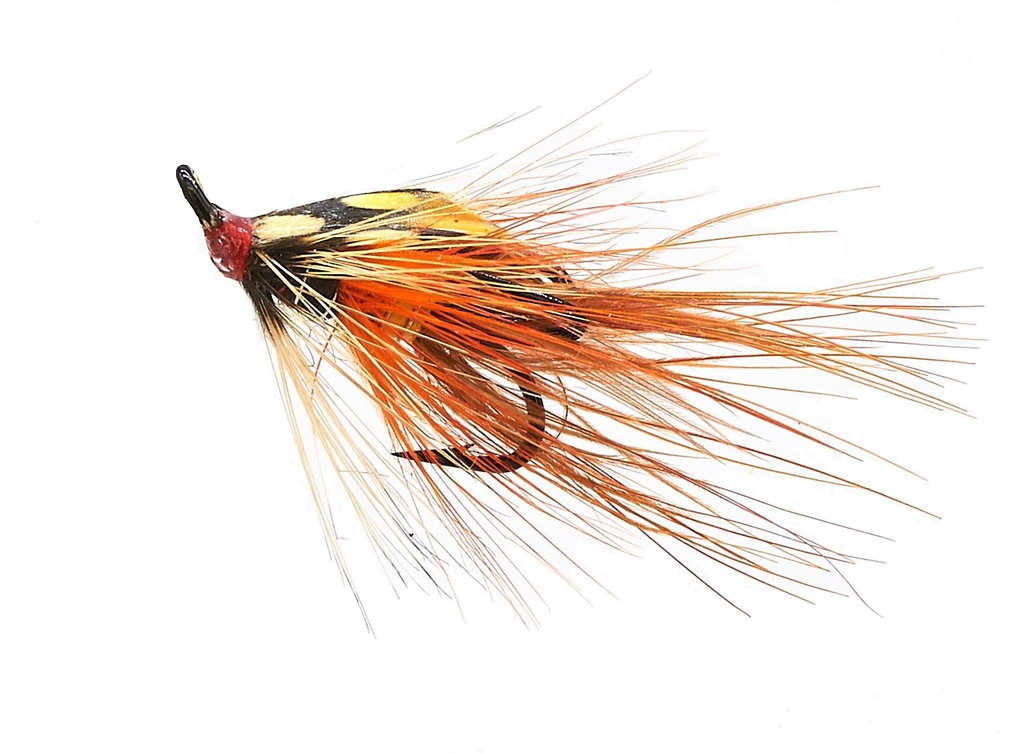 The Bann Special Shrimp salmon fly is one of the best-known shrimp flies from the British Isles – Its origin is as the name indicates from the Irish river Bann, with 129 kilometres the longest river in Northern Ireland. It's a fly that workes well in both fast and slow water and it is also known as a great pattern for coastal sea trout. This is our cut on this famed pattern..with a body of wool, checks of well-made jungle cock imitations made by guinea Fowle feathers all tied on a good Partridge Esmond Drury treble hook
A few you asked us for in 2019
THE EKSTRA STRONG BUG´S
You asked for them and we made them for you… Bug´s made specifically to be fished both wet and dry. A slightly stronger salmon hook enables this fly to be fished just below the surface in fast glides – A missing link pattern in our great collection of small dry flies for steelhead and Atlantic salmon generally termed: bugs. See all the bugs here 
THE SMALL DENS FRANCES FLIES…You got to try them…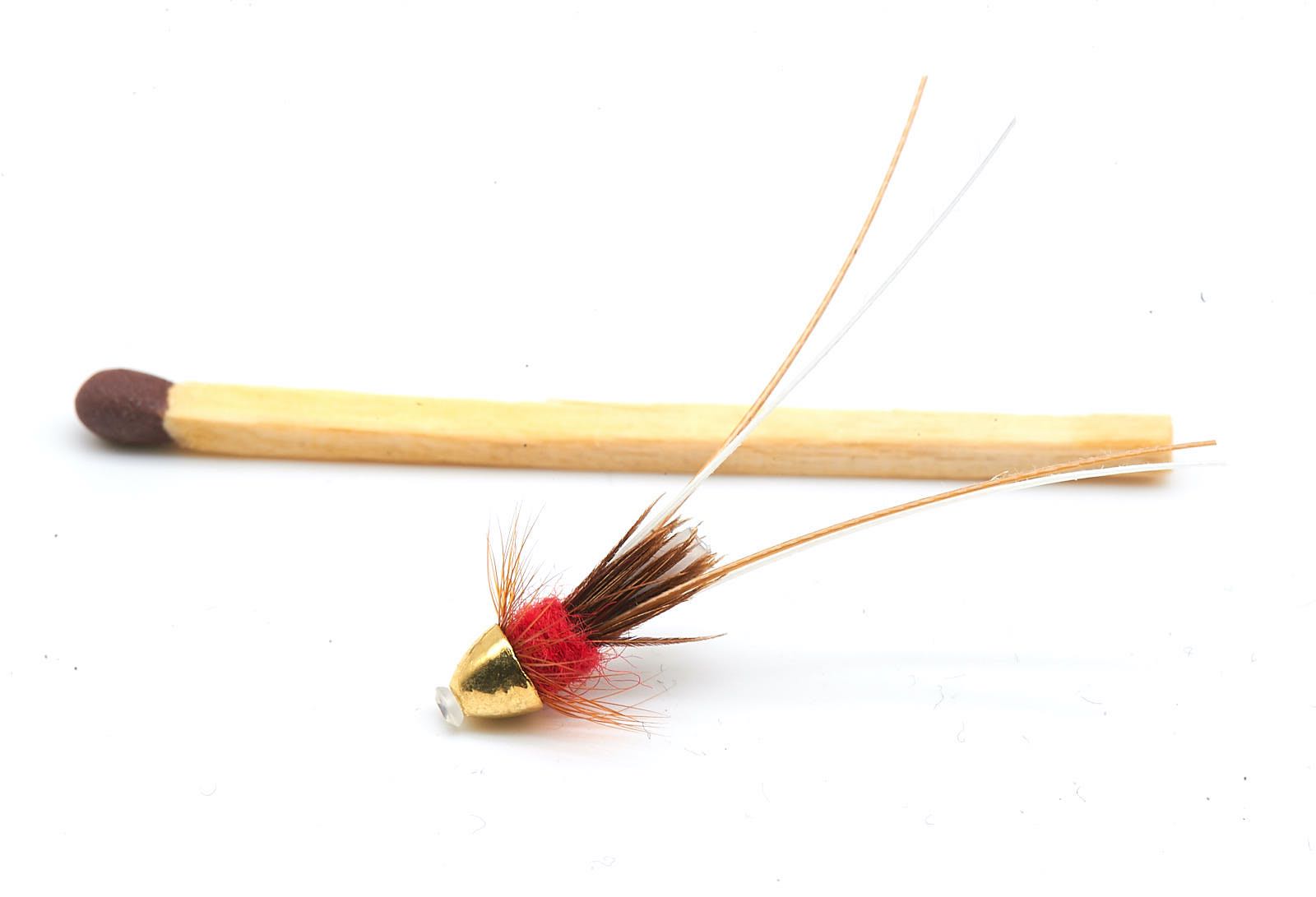 Frances Tungsten Coneheads Tube fly – Red 10 millimetres – Another phenomenal version of the Frances fly – Tied on a diminutive plastic tube – Fitted with a micro brass conehead. A micro conehead Frances fly for difficult fish under difficult circumstances See it here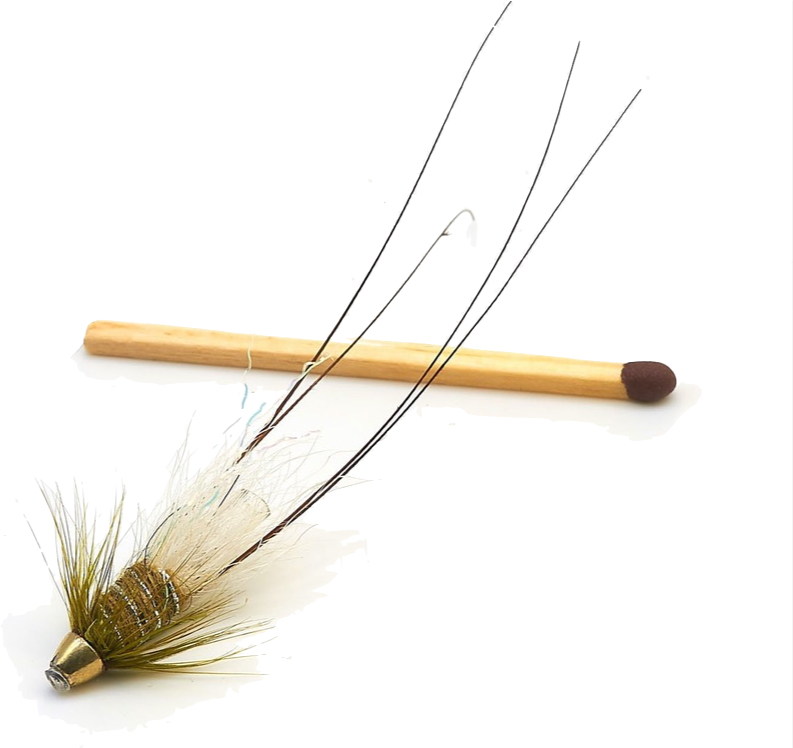 Frances Micro conehead Tube Fly – Olive 1/2″  – We have made this new and great version of the famed Frances shrimp fly. Tied on a light 1/2 aluminium tube, dark olive wool body and an olive hackle all finished off with a micro brass conehead – The fly also features our great hook guard See it here
LEE WULFF BOMBERS
Lee Wulff was the modern forefather of dry fly fishing for salmon and his influence on salmon dry fly fishing and the flies we use is visible on most rivers where salmon run. We have chosen to have a range of Lee Wulff style Bombers made in a way that resembles the style of flies Lee Wulff would use in his fishing…relatively short and bulky with a dens hackle…tied on strong chemically sharpened hooks
We now have the Hitchman series of hitch flie in our shop
A truly great way to make loops on your shooting line
If you use shooting lines like SlickShooter from Rio or Ken Sawada Flat Beam… then you're surely going to like this knot that I have used sins 2000 when my friend and topwater specialist; Mr Eric le Guyader learned me how to tie it.

The knot is called something like: le noeud du vieux pêcheur in French or:  The Old fisherman's knot. Eric did not know its origin but had used it in his own fishing with great success.

It's simple and easy to learn knot and it gives you a solution that both is slick and easy to pass through your guides and at the same time makes a loop that is dead-center on the shooting line …something that will balance your outfit better than other common loop knots…Try it and add a great new knot to your shooting head system.

If you have any questions in regards to this knot or shooting heads in general …I will be ready to answer any questions on jesper@fishmadman.com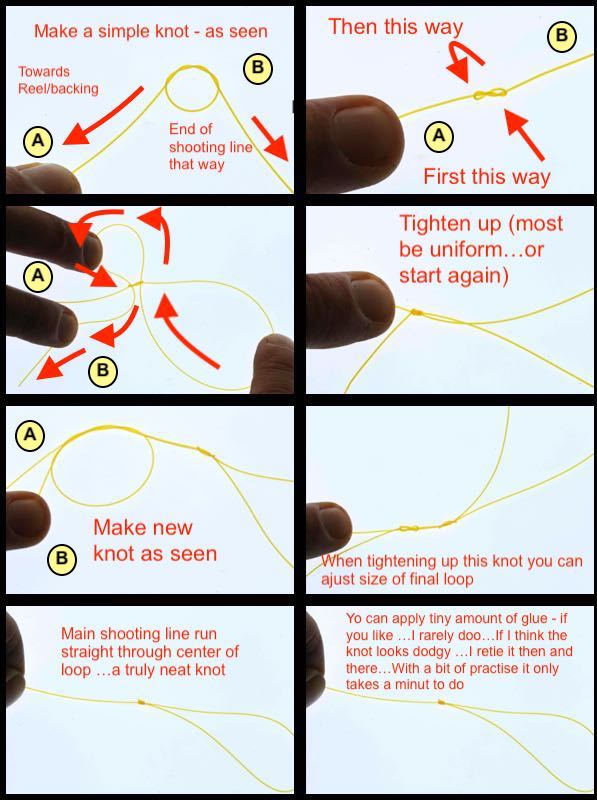 To all new and old costumes at Fishmadman… thank you for your support and great letters throughout the winter – We have now stocked most of our shelves with fresh flies and material and would like to tell you that we will ship flies from Fishmadman during most weekdays – The Corona lockdown may delay goods…but we know from those of you who have bought with us lately…that things do get through to your mailbox
Tight lines from Per & Jesper