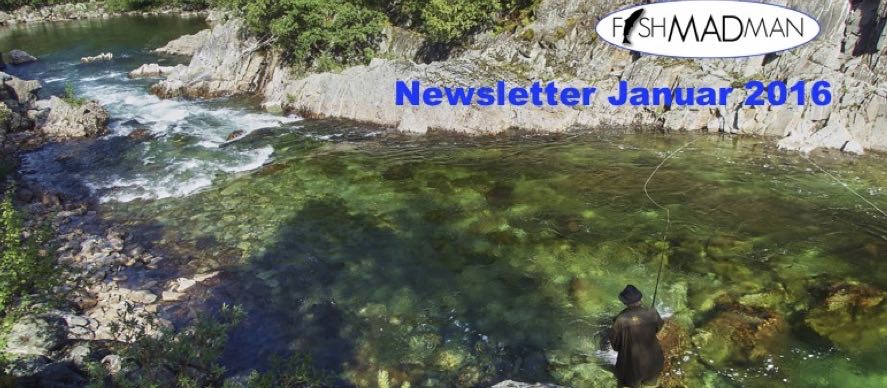 Soon summer will return and we can visit clear rivers with our friends
Hello Fly Fisherman and welcome to the first newsletter of 2016
In this issue of the newsletter
Some big fish from 2015
Fly tying kit´s from Fishmadman
Smurf Bomber – Finally we got them
A special fly tying video from Fishmadman
A few new things for 2016 (more to come)
Dry fly regards from Per & Jesper
Newsletter February 2016 – BIG FISH
Forty-three-inch giant…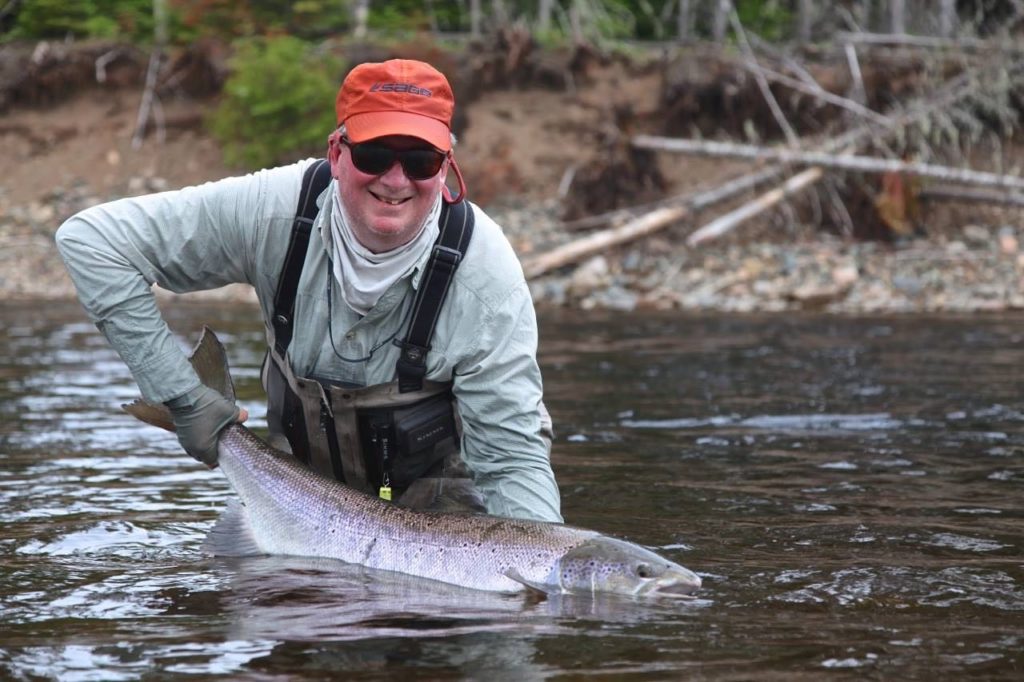 Mr. Ian Martin from Canada with his best ever dry fly salmon: Forty-three inches (109 cm) – about 36 pounds (16-kilo)
Mr. Ian Martin regularly contributes with words and photos to our pages here on Fishmadman – This time, he has emailed us this super photo of a giant Atlantic salmon caught on a Monster Tube Caddis # small.
Ian is a well-known angler in the Gaspesie region where he also runs the fishing lodge LES 4 SAISONS situated at the banks of the river Petit Cascapédia.
Read the whole story about the catch of the giant dry fly salmon and see if your next fishing holiday could be in the Gaspesie region at Ian´s lodge
Caught on Monster Tube Caddis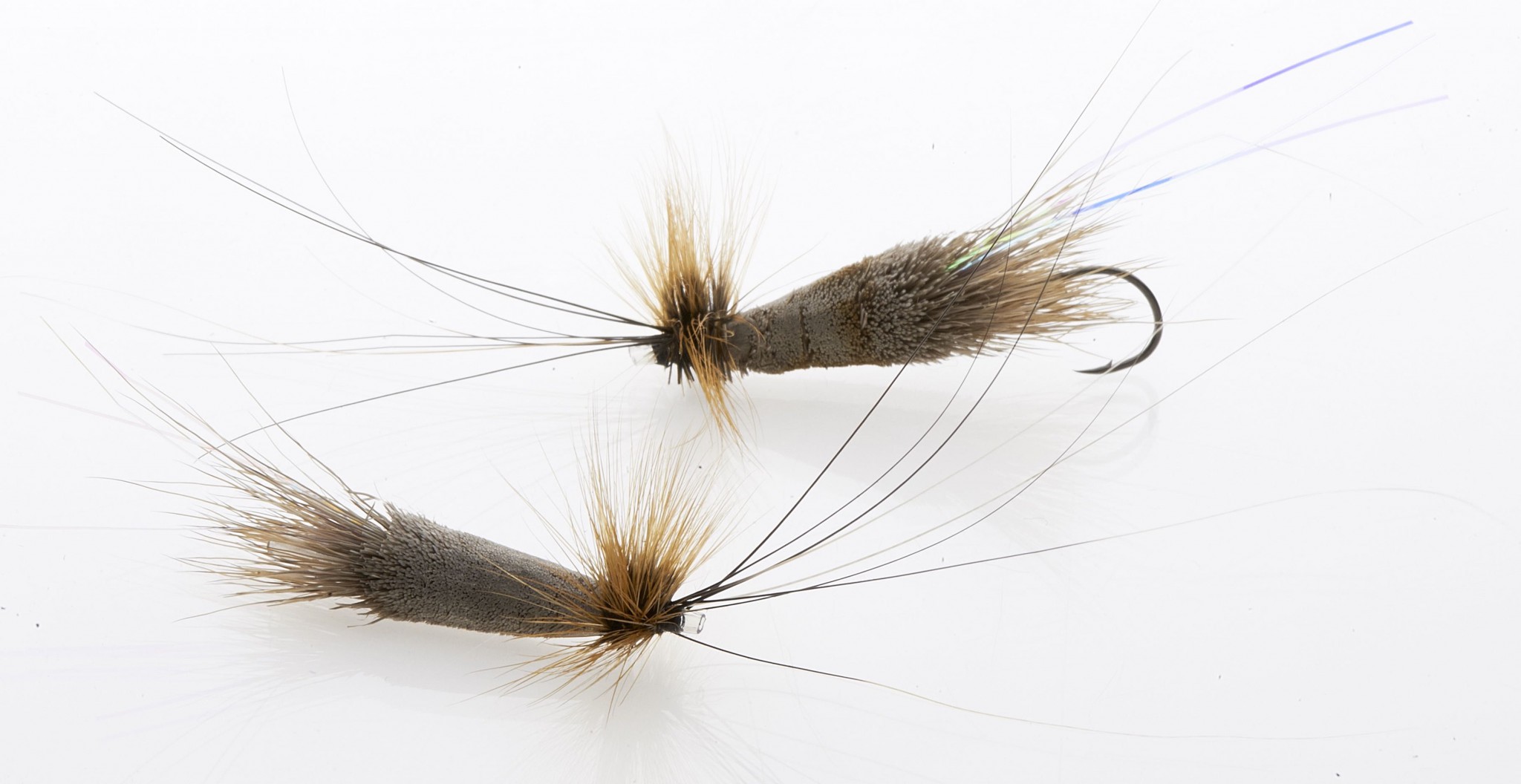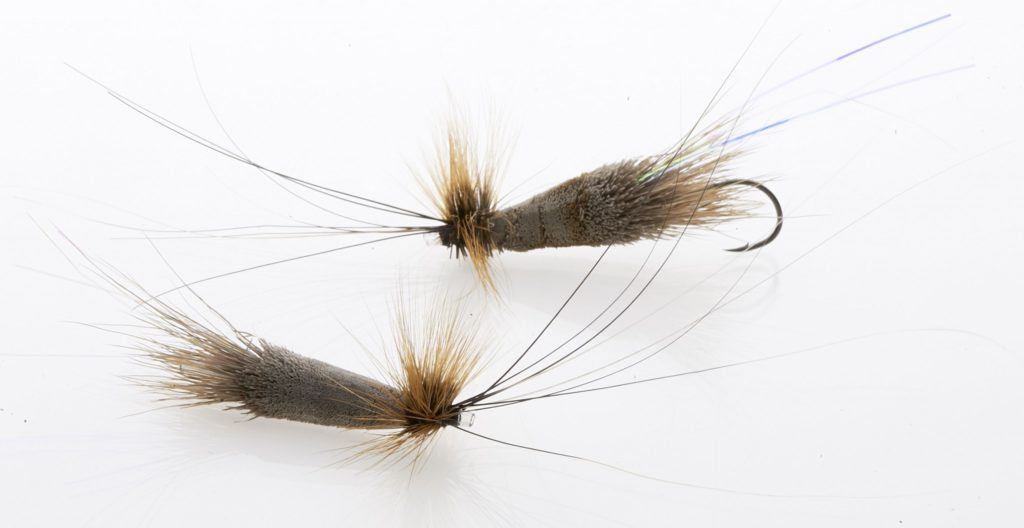 The Monster Tube Caddis – A super fly for big salmon on both side of the Atlantic – Our small and big version seems to have the great attraction on Scandinavian salmon – The XX-Large version seems to work especially good in Canada and Newfoundland.
Horns on the fly are whiskers from rabbit – a vibrant and very attractive fly tying material that we have great faith in
See our page on the Monster Tube Caddis
Monster Tube Caddis: A odd caddis imitation designed to be fished at dead-drift.
Six 20 lb`s salmon on dry fly…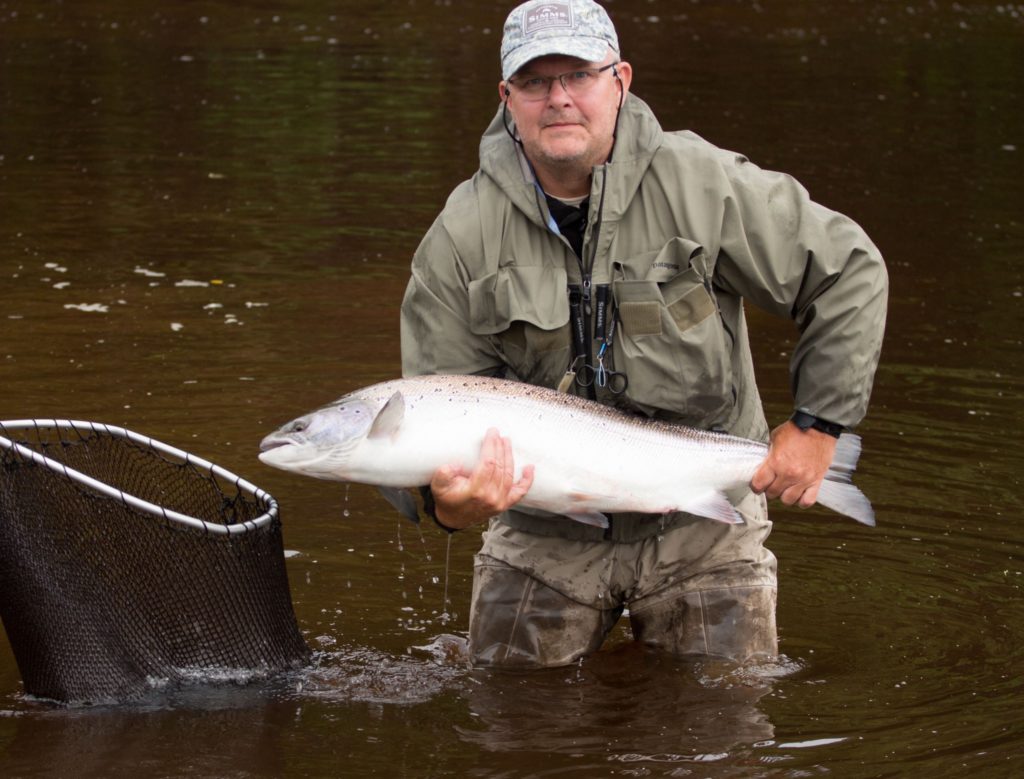 Don't let size fool you – both Mr. Ian Martin and Mr. Kim Nyborg (photo above) is big guys in the + 100-kilo range
Our own pro fly tier Mr. Kim Nyborg was in Newfoundland for the second time and got everything right in the summer of 2015 – with six salmon in the 20 lb´s range, with this giant estimated at + 30 lb´s as the biggest – Many of these fish were caught on the Monster Tube Caddis on the Humber River together with friend and renowned dry fly guide Mr. Bill Bryden.
See how to tie the Monster Tube Caddis or get the full Monty and buy our Monster Tube Caddis fly tying kit – See the offer below.
If you would like to fish the fantastic rivers of Newfoundland follow the link here
Fly tying kit`s from Fishmadman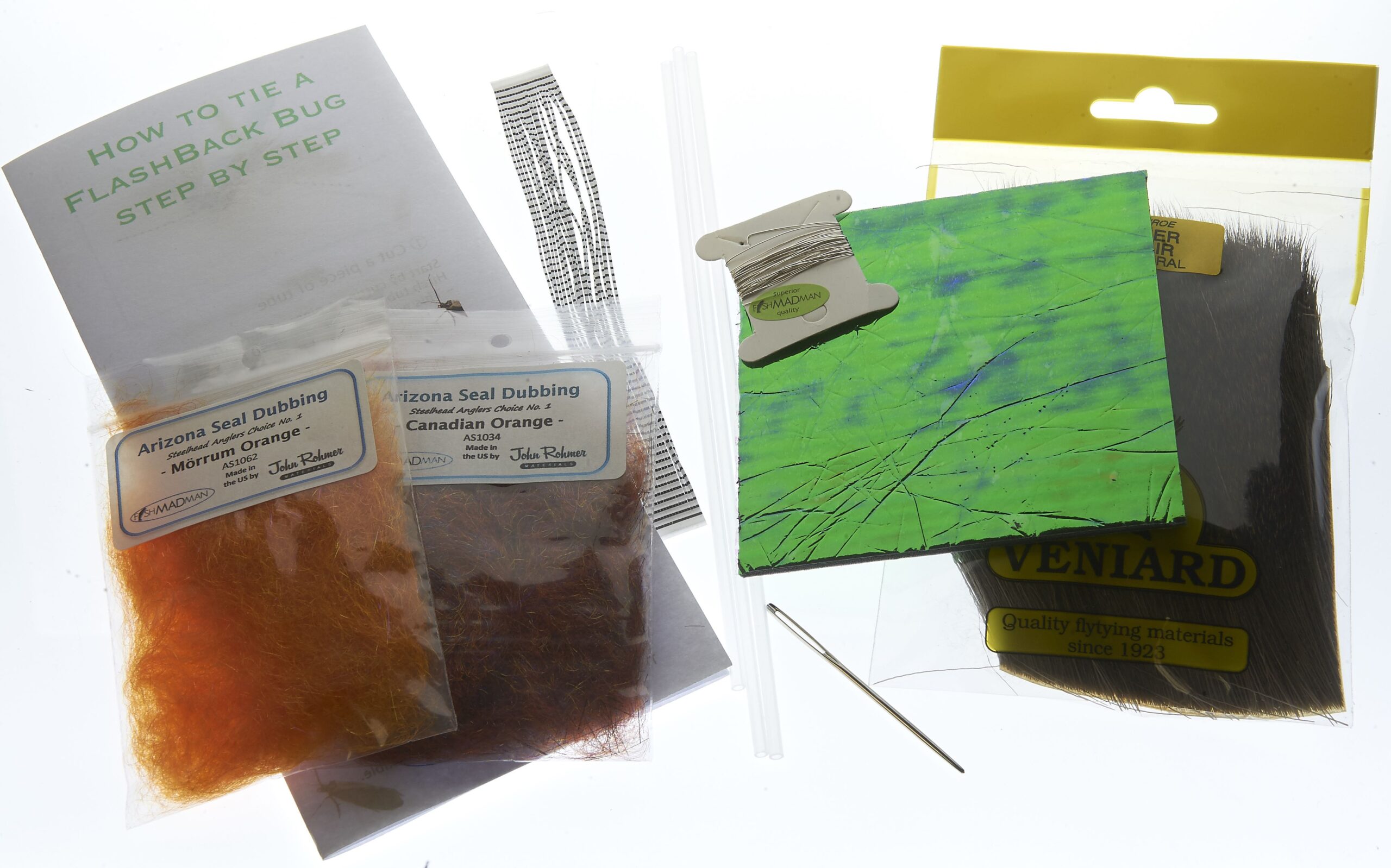 The perfect fly tying kit if you want to try your skills on steelhead wake flies – Enough to make 6 – 7 flies in various sizes –
Buy FlashBack Bug Kit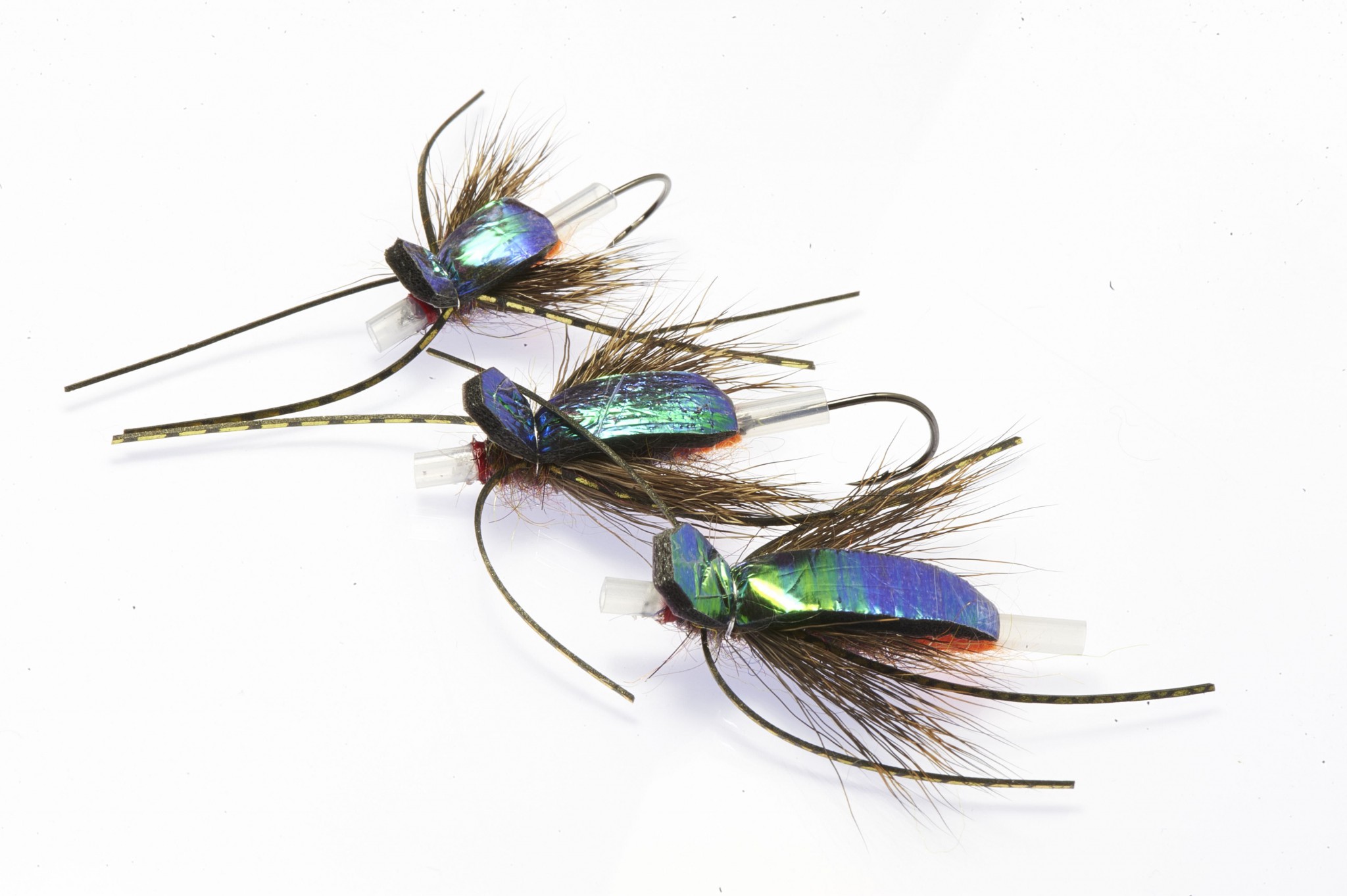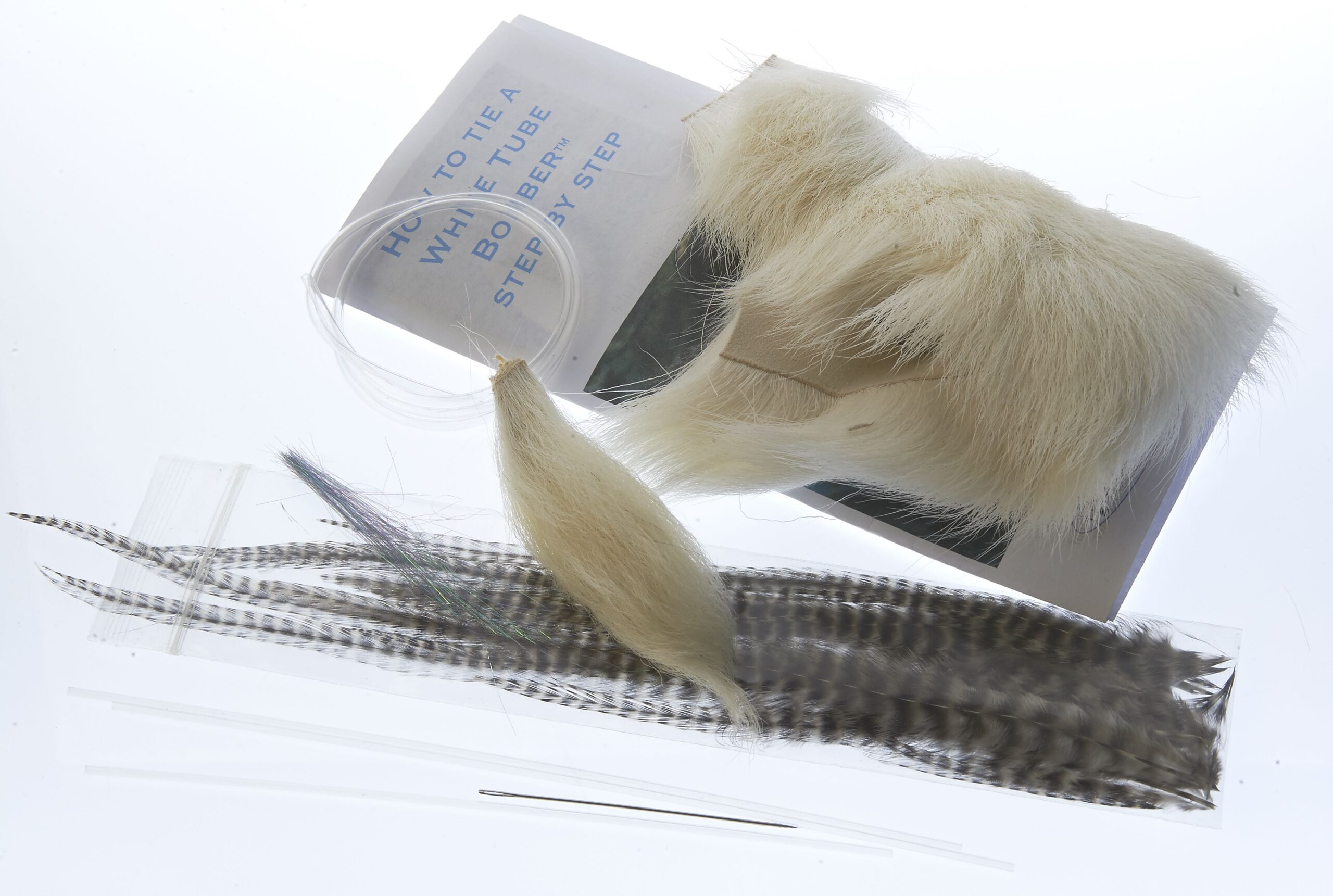 After endless trials getting the proper hackles to use in this kit – we finally got a break with these first class Metz hackles. Everything needed to tie Tube Bombers is included in this kit
Buy Tube Bomber Kit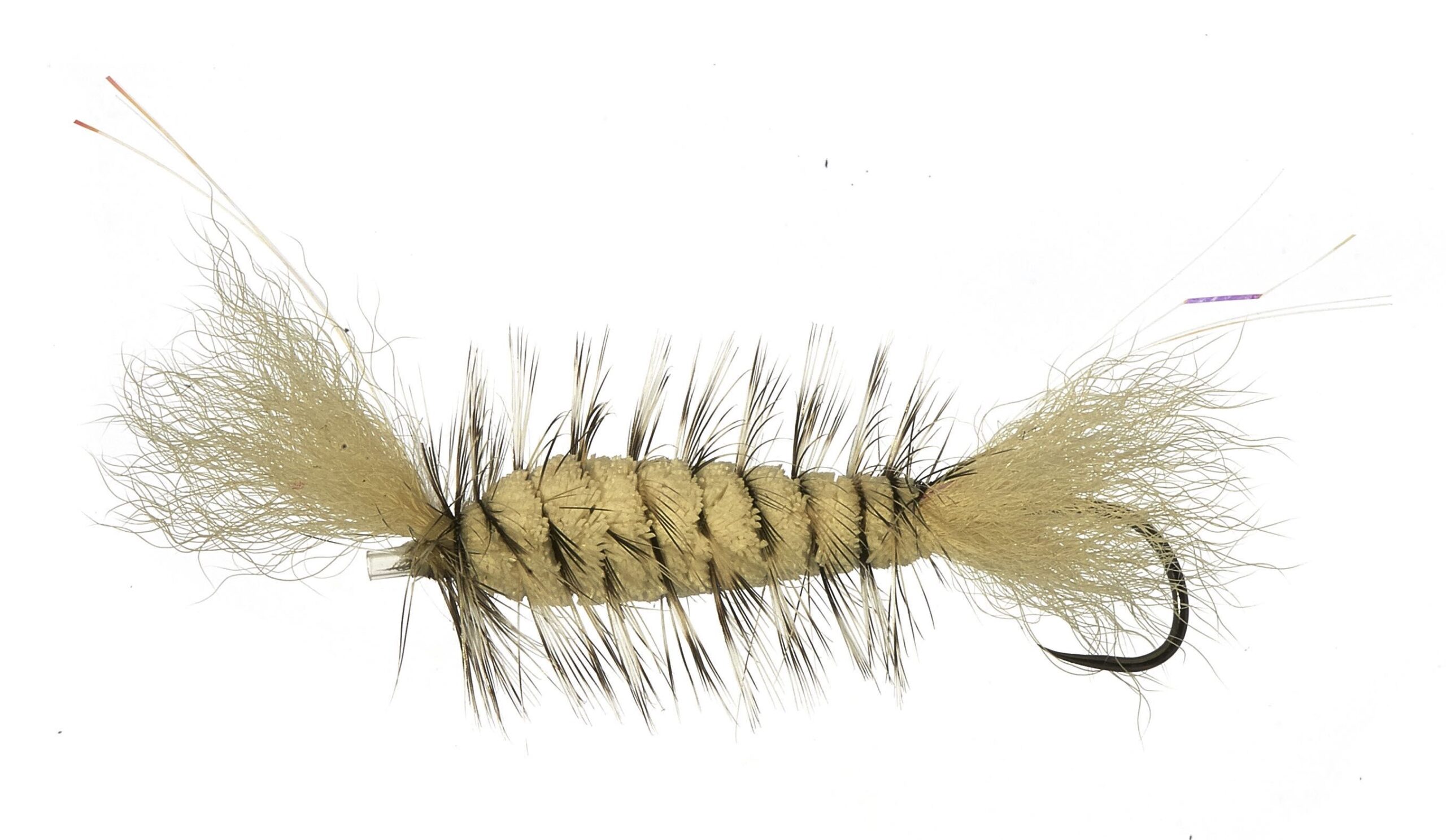 The Monster Tube Caddis kit…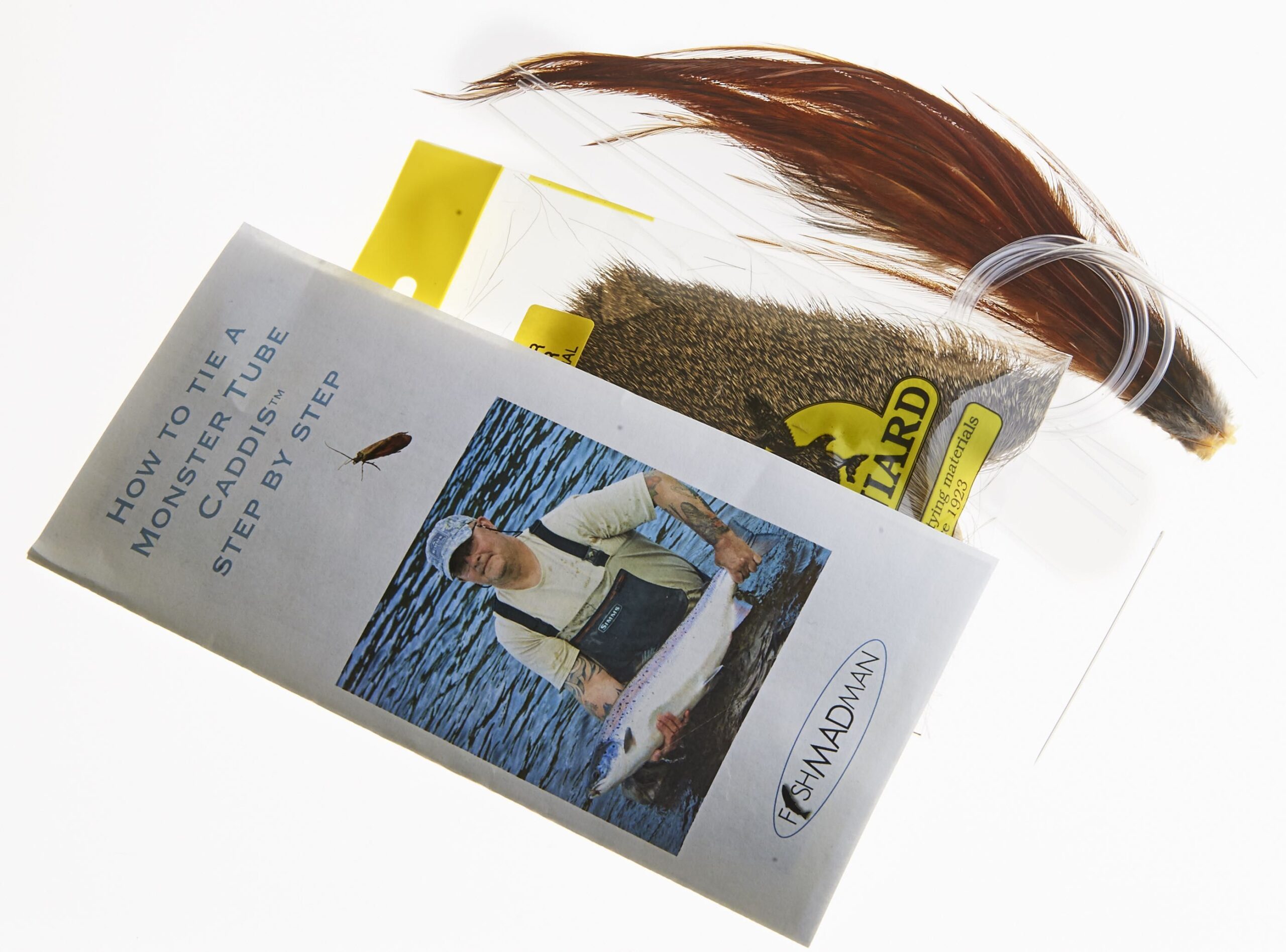 Getting proper hackles for this big caddisfly imitation has always been an issue for us – Now we proudly present our Monster Tube Caddis fly tying kit with super quality Metz hackles and everything else included to tie a selection of big dry flies
Buy Monster Tube Caddis Fly Tying kit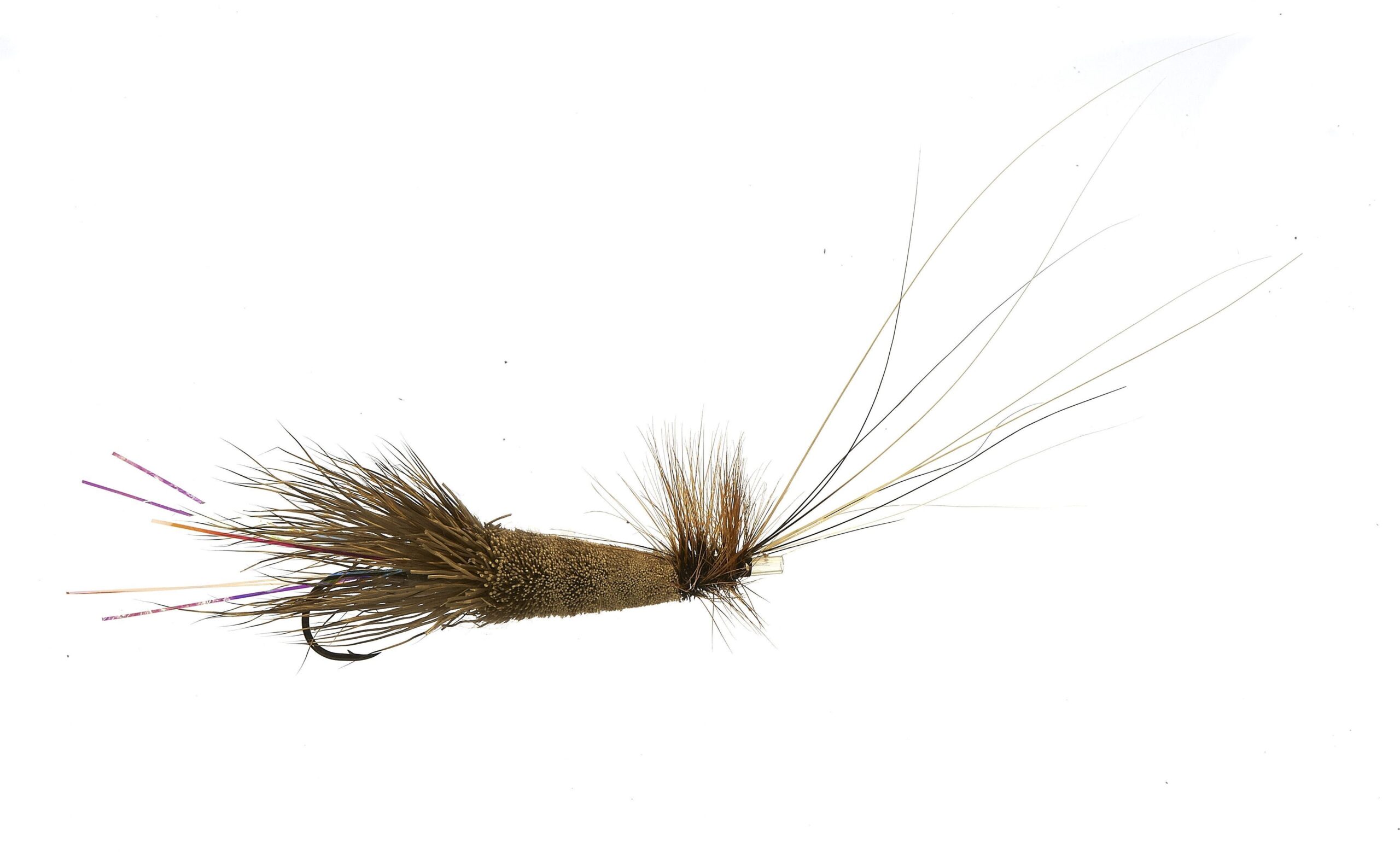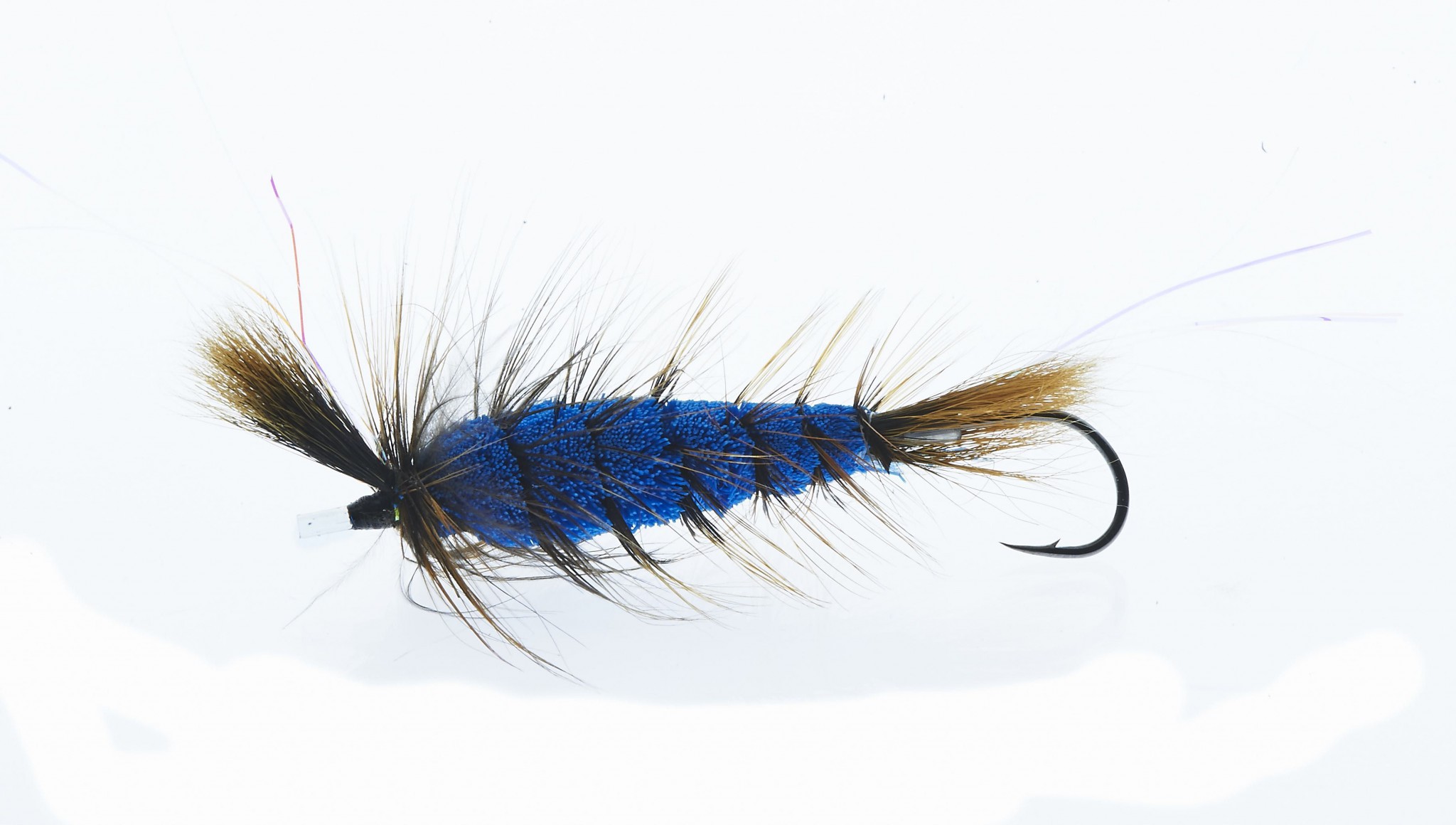 The Smurf Bomber: A fine Bomber pattern from Newfoundland with the right blue tone of deer-hair combined with tail, wing and hackle in brown.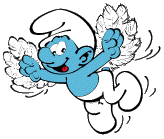 Getting the right colour on the white-tail deer we use for the body on our Bombers proved to be more difficult than we first thought – but we finally got all the details right and we are proud to include yet another Bomber in our family of 14 variations – Look them up here
The Smurf is a Belgian comic character  created by cartoonist Peyo These blue skinned creatures was first seen in comics in the early 60´s C & R Peyo

A new Youtube video from us
Quite in line with our FlashBack Bug fly tying kit – We have made a Youtube video showing how to tie this efficient wake fly – We hope you enjoy it and would welcome your comments on Youtube
Do also look at our other videos on our humble Fishmadman Youtube channel
New things with Fishmadman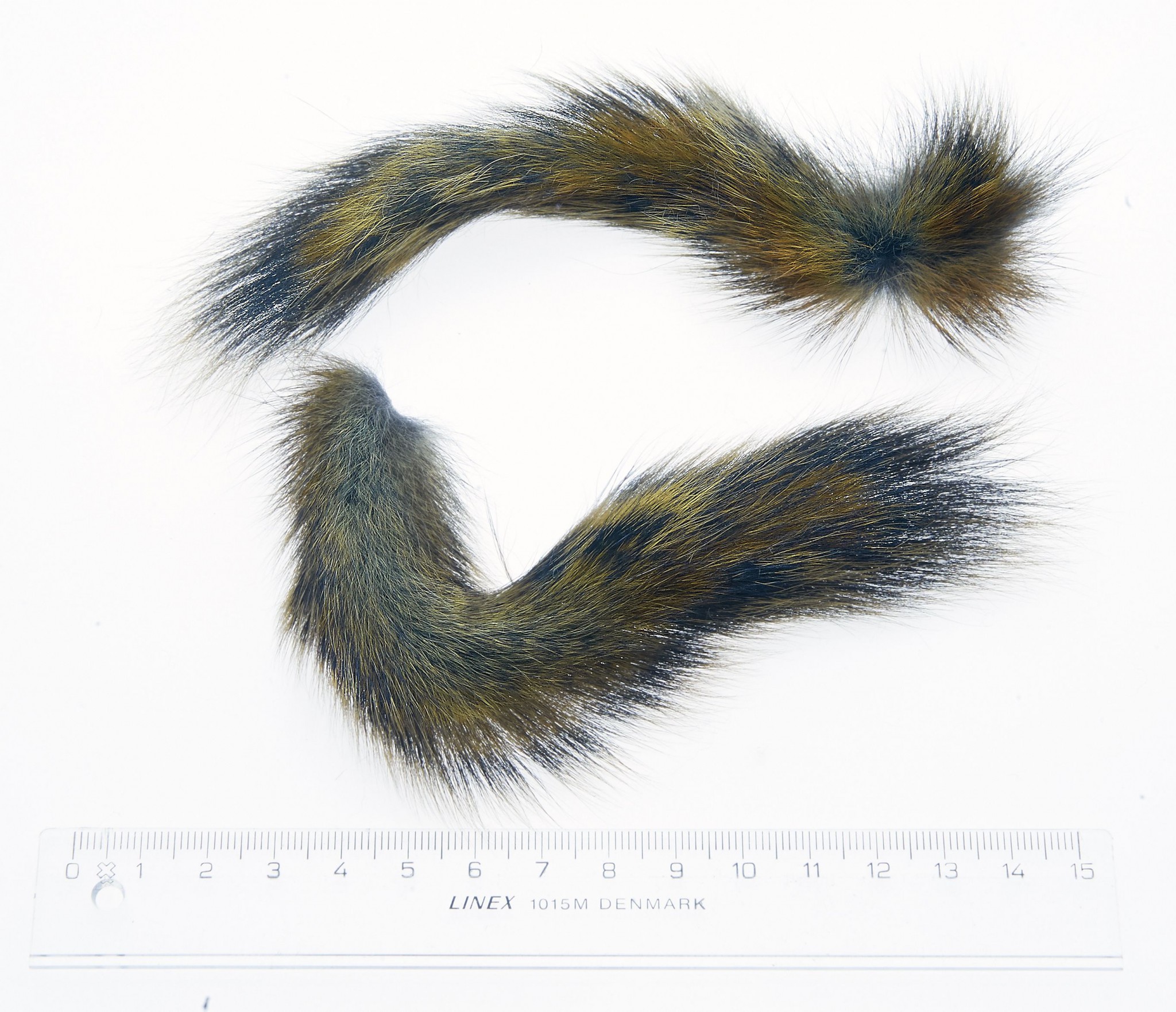 A rare opportunity – to get a Barred Brown Mini squirrel tail for your small wet flies or tube riffling hitch flies… We bought some for production and additional tails for our newsletter readers… absolutely small and soft tails…
buy them while you can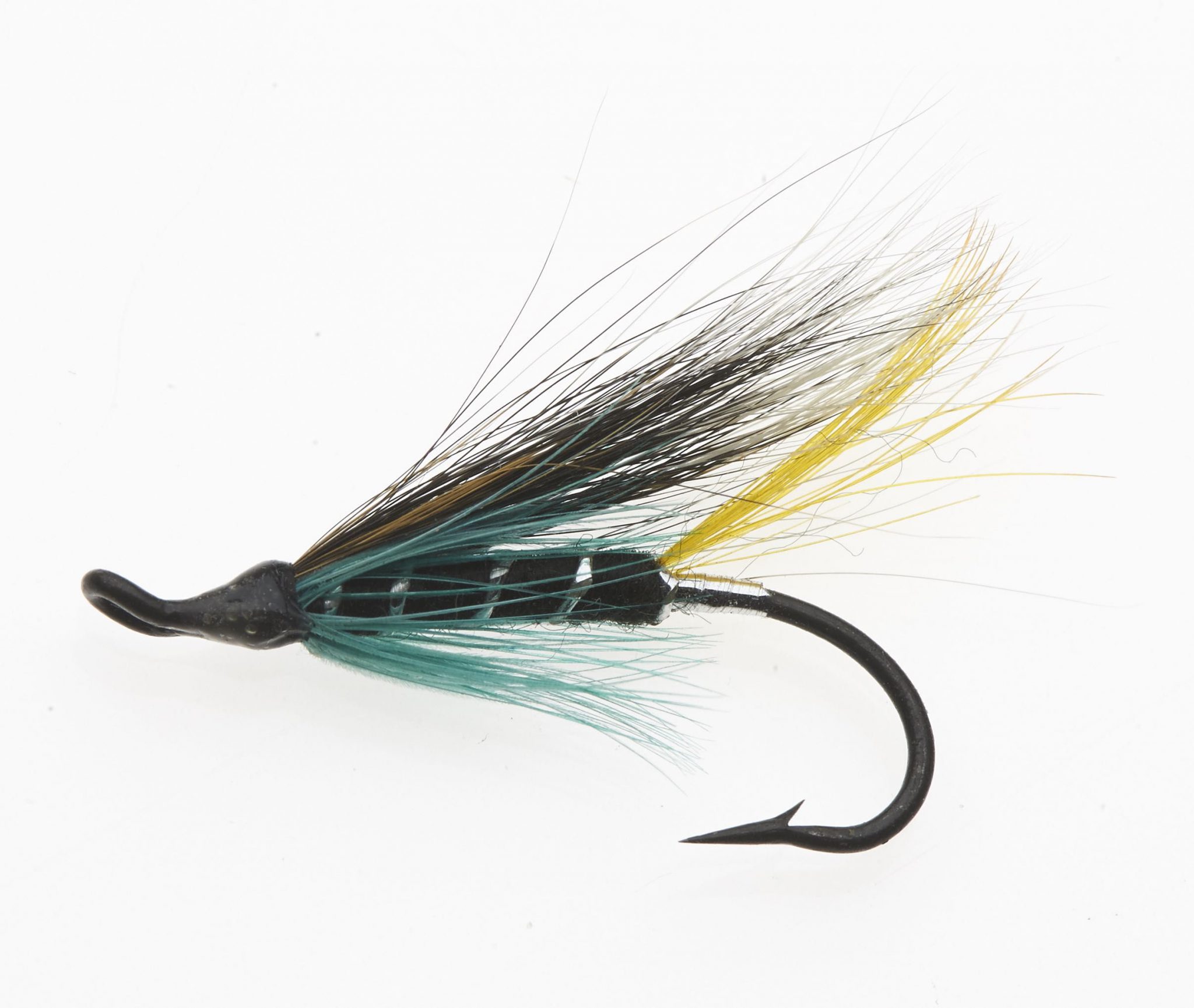 We have a new batch of this slim style riffling hitch version of the mandatory Blue Charm – Made with extra room in front of the head to enable you to make your Portland Hitch The flies is also styled just like we want our wet-fly Blue Charm