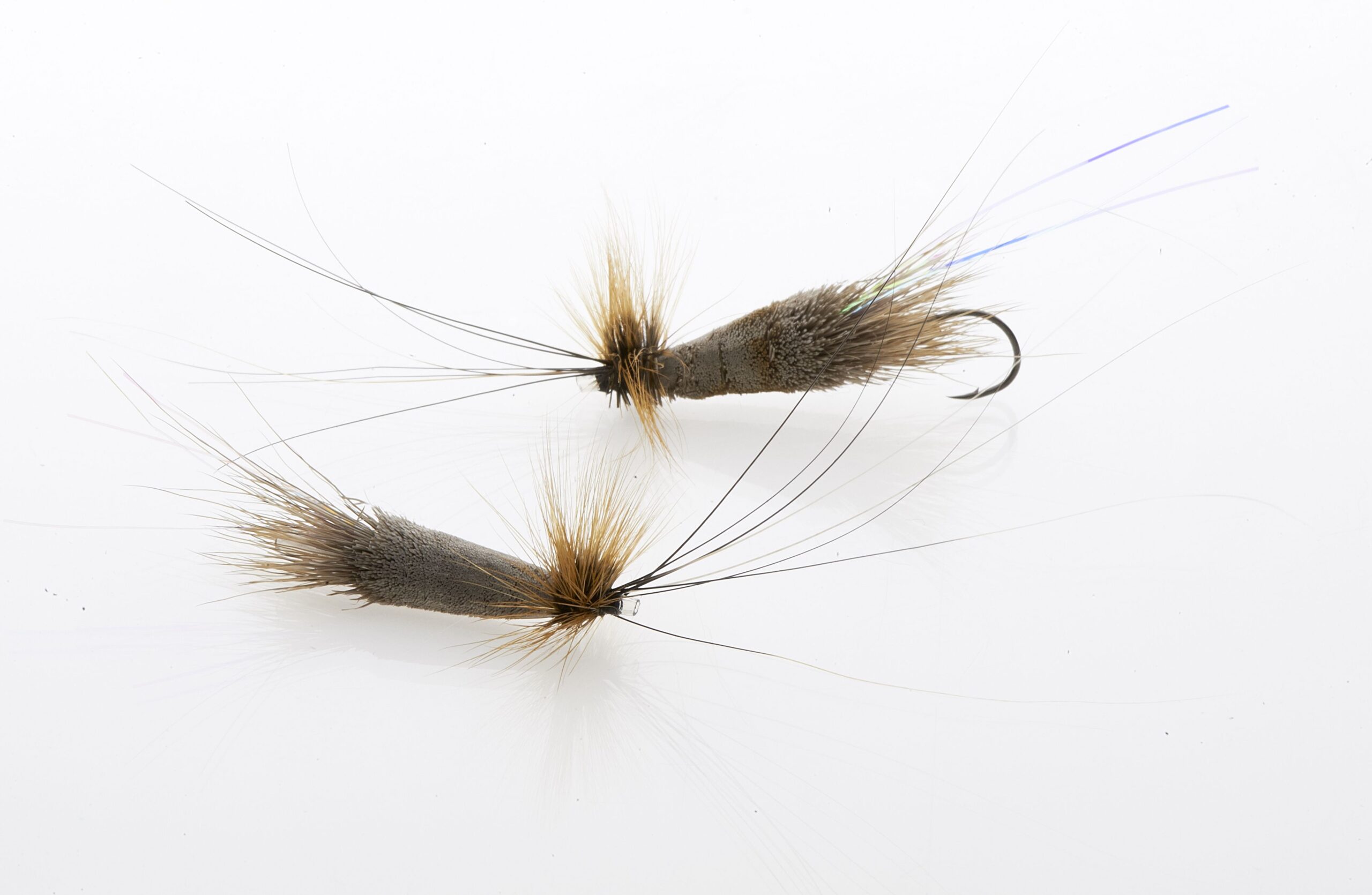 Monster Tube Caddis - A caddisfly imitation
Monster Tube Caddis ™ we tie them in three sizes: Small, large and X-Large..and then we do some costume flies for a guy in Canada… They are absolutely big: 80 millimetre (3 inches)  – Without the horns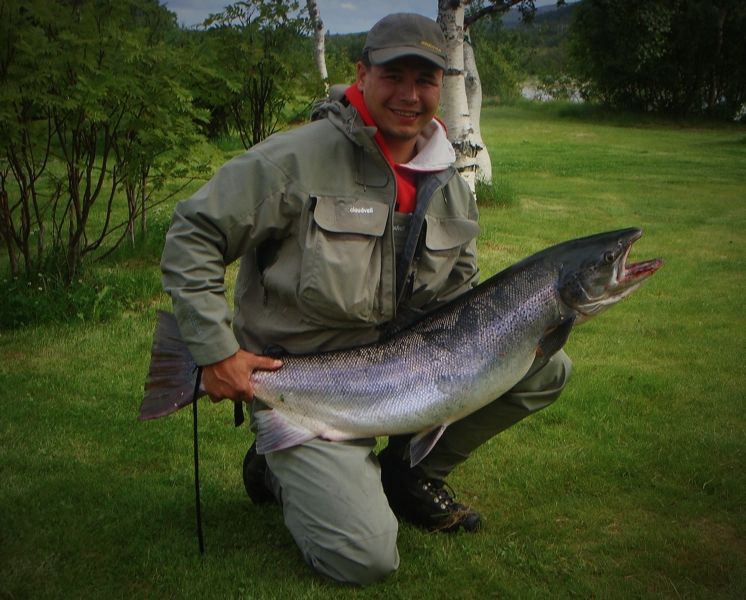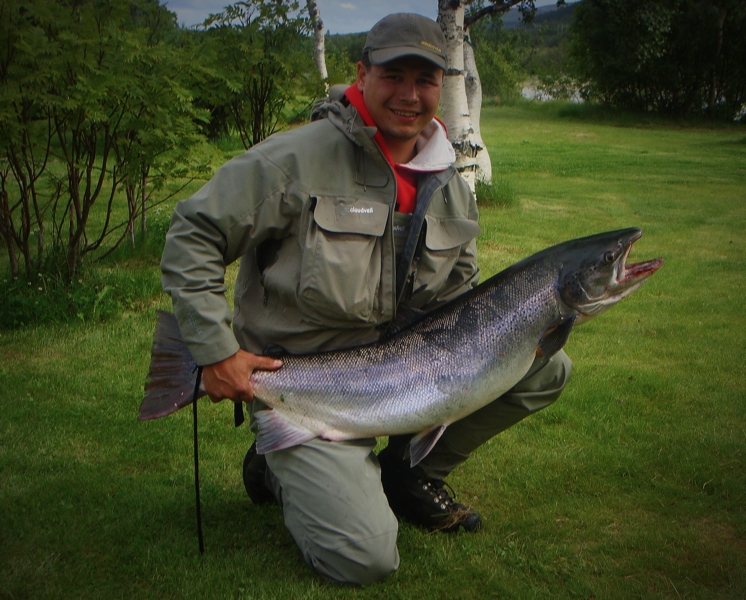 Absolutely stunning 17,1 kilo (37,7 Lb.) Salmon caught on Monster Tube Caddis ™ in Northern Norway 2010. Picture with courtesy of the Haugen family.
Tying the Monster Tube Caddis ™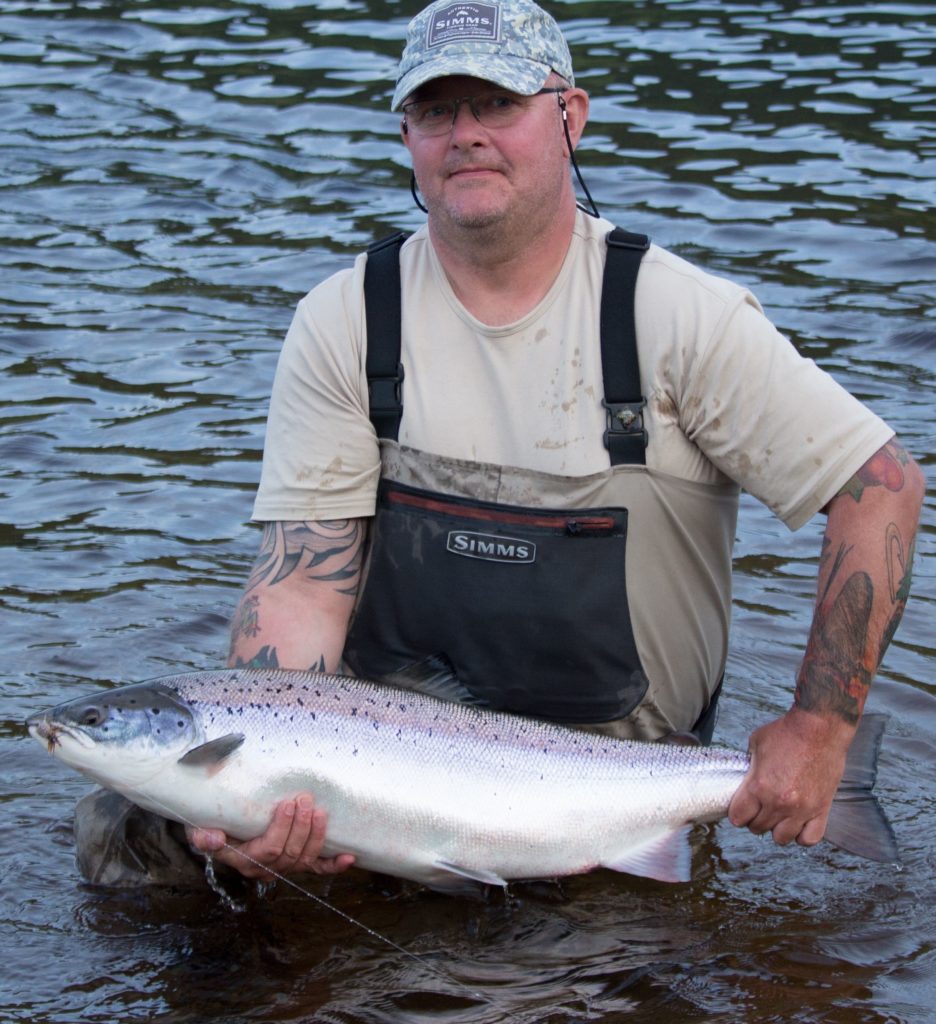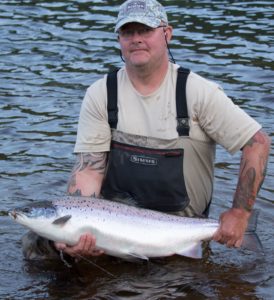 In this next lines of photos we will show you how to dress a: Monster Tube Caddis ™ a pattern popular for big salmon sitting in slow holding pools. Particularly big salmon is slow takers and angler must keep this in mind when presenting a fly to them. A bigger fish might decide to come top the top on the  8  or 10`th  cast- sometimes following the fly downstream for many meters.
Photo: The late Mr. Kim Nyborg with one of 6 + 20 lb salmon from the Lower Humber in Newfoundland. All fish caught on medium size Monster Tube Caddis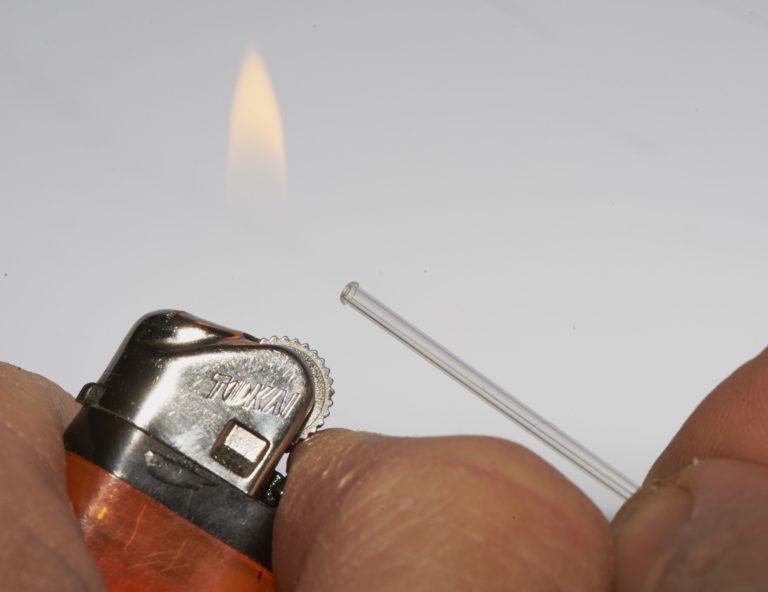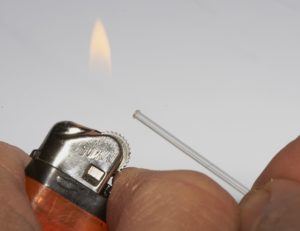 Start by heating the end of the tube near a naked flame  hereby creating a small collar on the tube – This collar will prevent the hook-guard from coming of during  energetic casting. Note of warning ! Not all types of tube will melt and form a collar when heated – most tubing will catch fire etc. – It is the melting point of the material that is of importance. Save your self a lot of problems: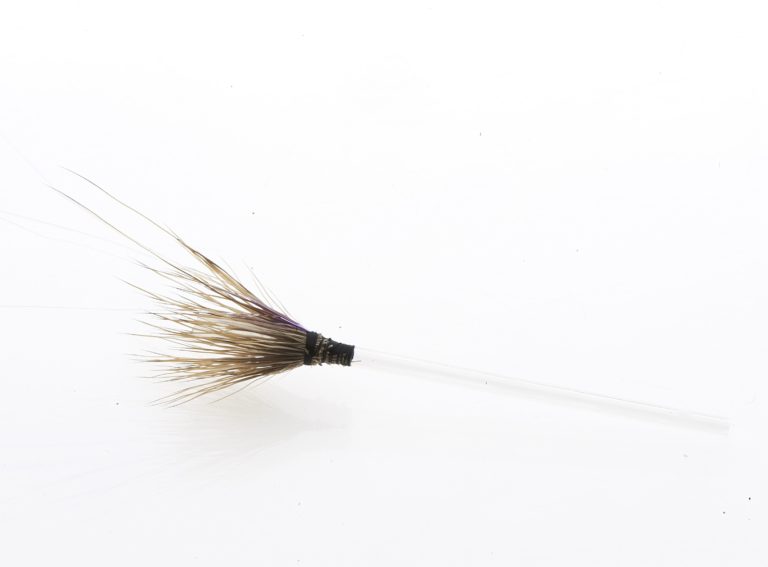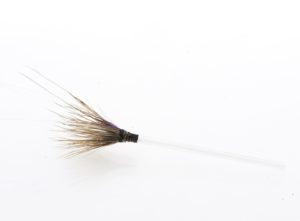 Tie in hair as tail (Length: 1/5 of the fly body) Different types of hair can be used : Buck tail, badger, moss, squirrel or as here: Deer body hair. Trim down the hair and add strands of mylar. Here we have used Veniard Mirror Flash. Add tiny drop of super glue to fix. point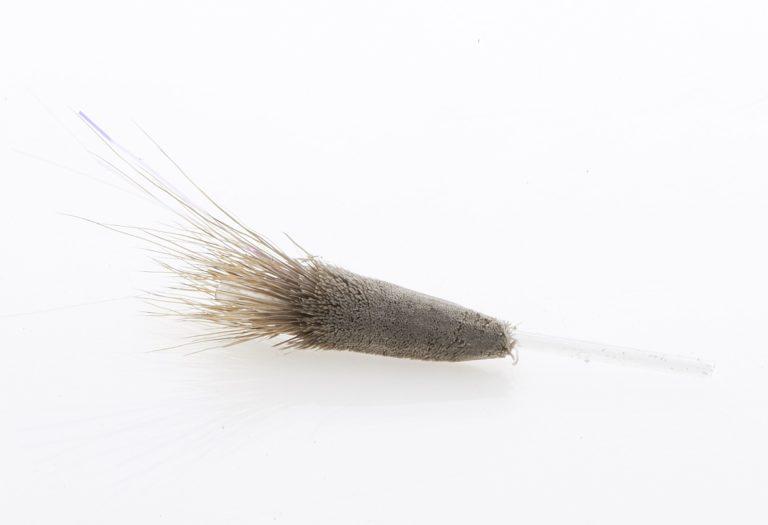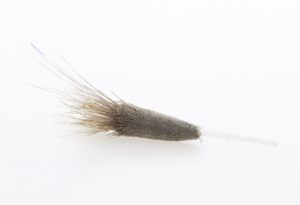 Start the shaping process by cutting the body into a rectangular shape. Then trim the deer hair body into a V-shaped style.. Cut the belly flat using a razor blade. The flat belly is a crucial part of this pattern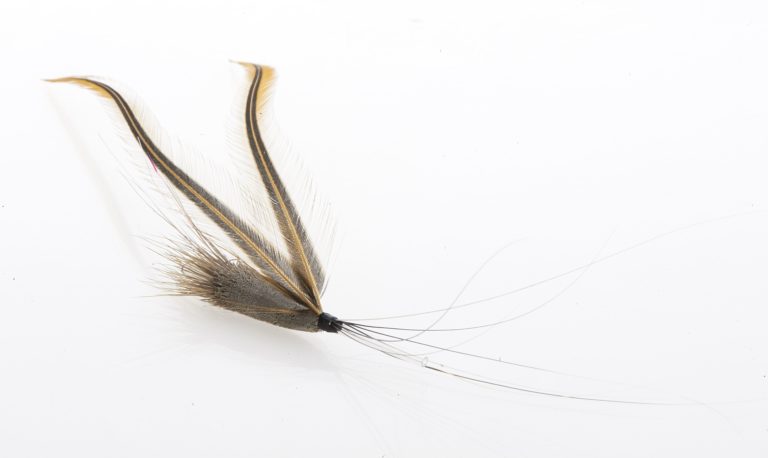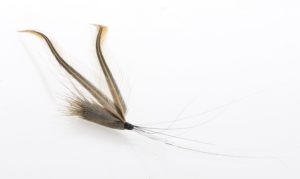 Tie in one or two quality hackles in brown or ginger.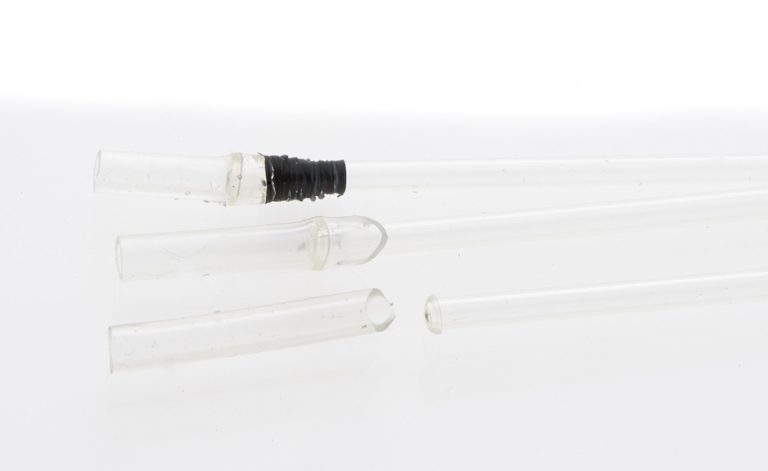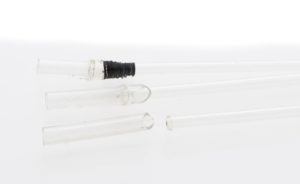 Cut the hook-guard on an 45 degree angle and tie in the hook guard tube for. By cutting the hook-guard on a angle you minimize the size of the tie-down. We use Fishmadman medical grade soft tubing…The only tubing that doesn't sponge up water (Silicone tube may sponge up 10 – 15 % of its weight in water)
Buy needle for tying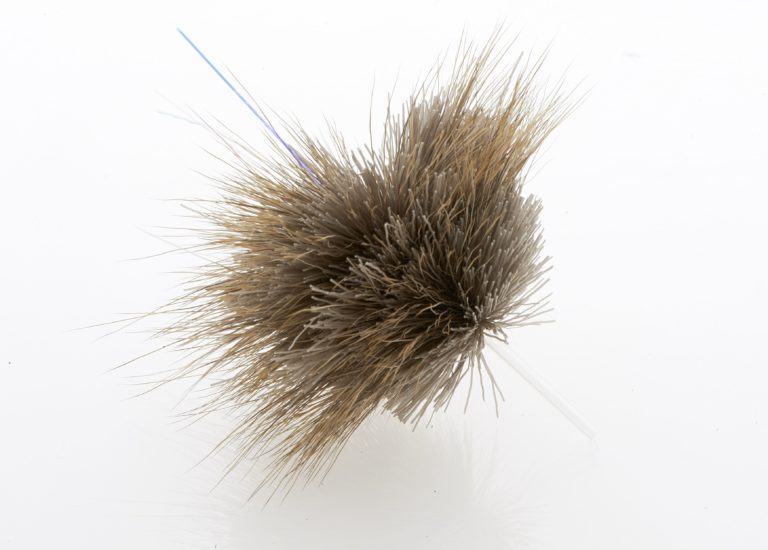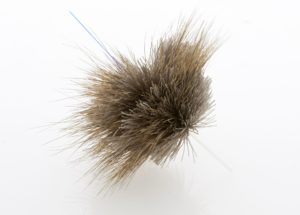 Tie down sections of deer body hair. Make sure to tighten each section securely. We preferably use PE lines for this job. In this case 0.04 Fireline (# 2 or 4 Lb. test) until 3/4 of the tube is covered. The Berkley Fireline Crystal Competition Braid # 2 and 4 lb is superior fly tying thread with all the right abilities for this project and not expensive compared to alternative fly tying treads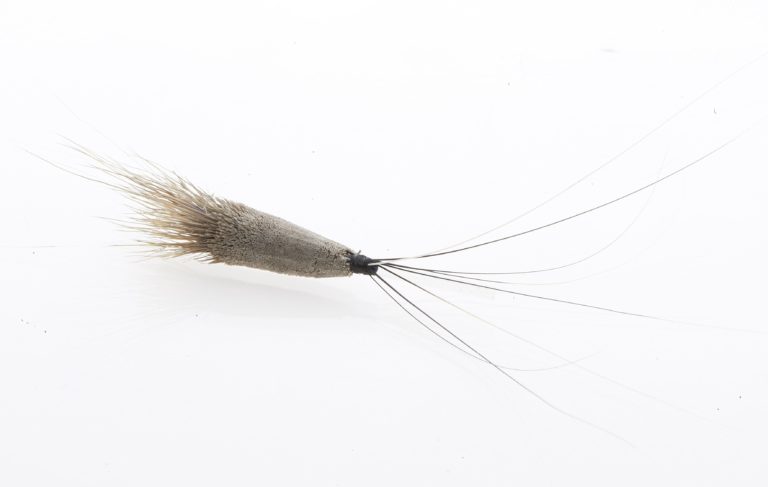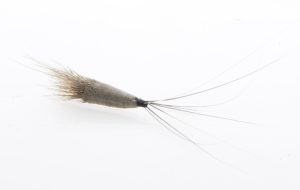 Tie in two equal sections of whiskers from rabbit mask – Split them up like shown on illustration. Whiskers should work as horns on the fly and could be double the length of the fly body.  Add tiny drop of super glue to the point of tie-down. Rabbit whiskers is a super resilient and very lively product that we recommend highly for this particular salmon dry fly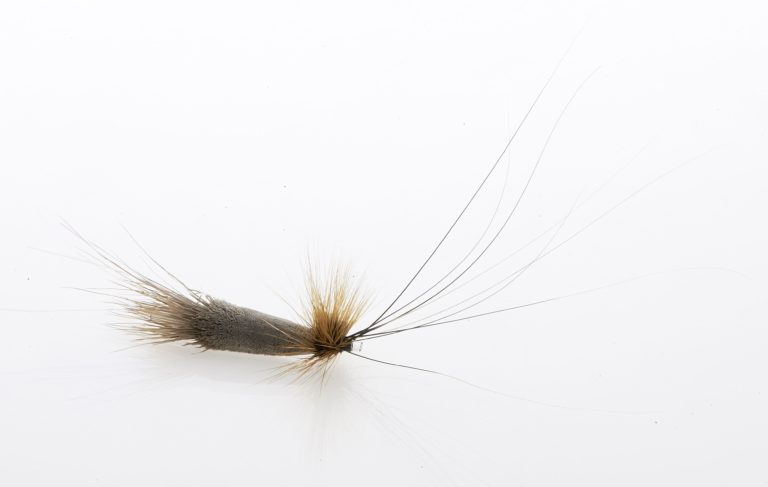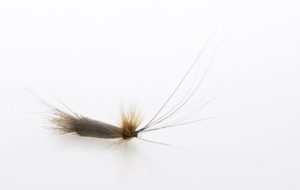 Ready spawned Monster Tube Caddis ™
Wind hackles secure and cut away excess tube and the hackle in the bottom part of the fly – so it is aligned with the flat-cut belly. Apply flotation material while fly still is clean and dry
A special tube fly tying needle for the job...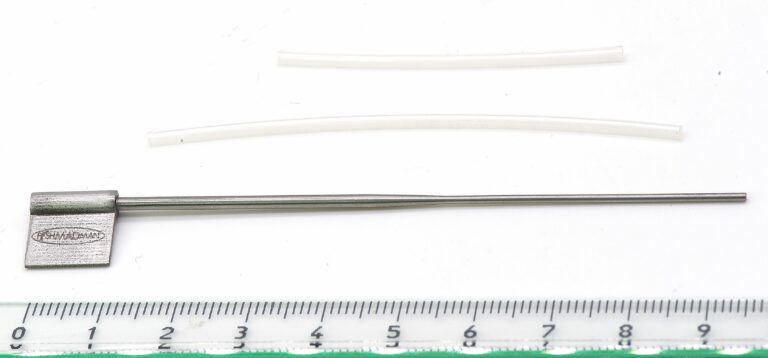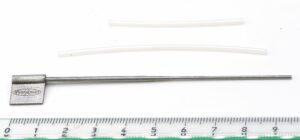 For small/medium diameter tube flies or metal tubes with inner-lining tubing – Bottle tubes, but more than anything big and small tube dry flies like the Monster Tube Caddis. Shaped to fit our 1.8 mm. tube with an inside diameter (Ø) of 1.1 mm. The total length is 97 mm. A needle that will enable you to tie big tube dry flies. See the special needle in our shop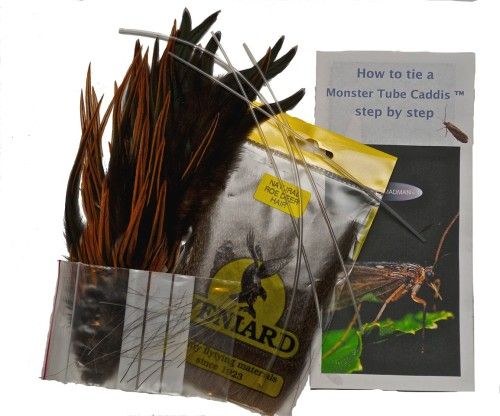 Buy a kit to tie the Monster Tube Caddis
On demand from many fly tying readers we have put a kit together with everything you need to tie the Monster Tube Caddis