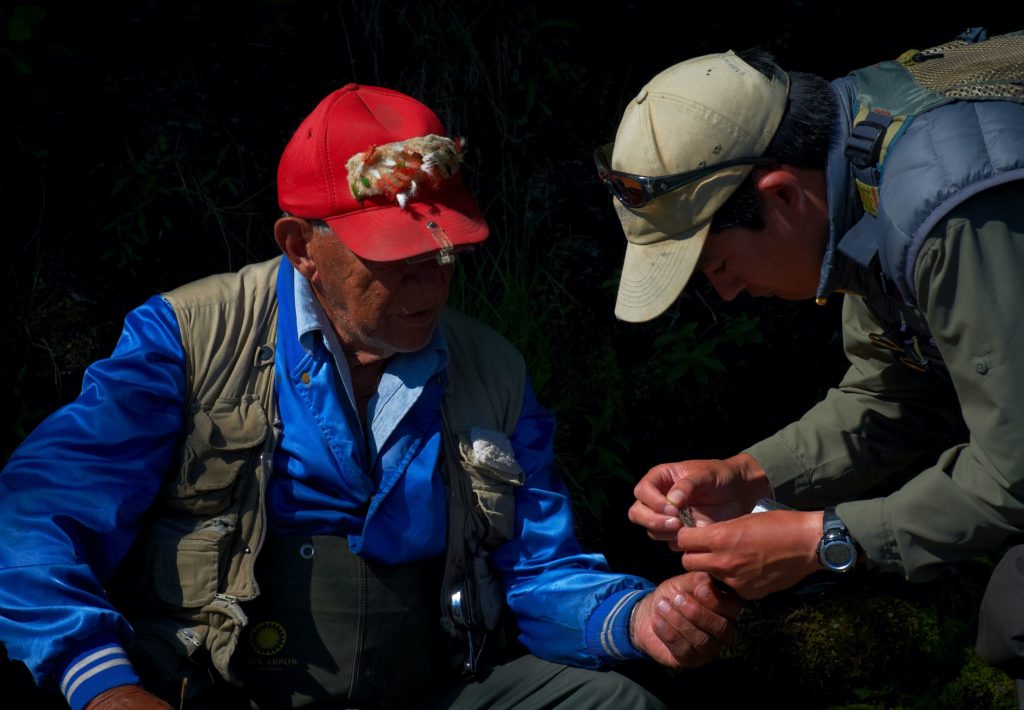 Take advice from the old hand on the river – He knows the hurls and swirls of the water and will also know what style of Bombers to use that particular day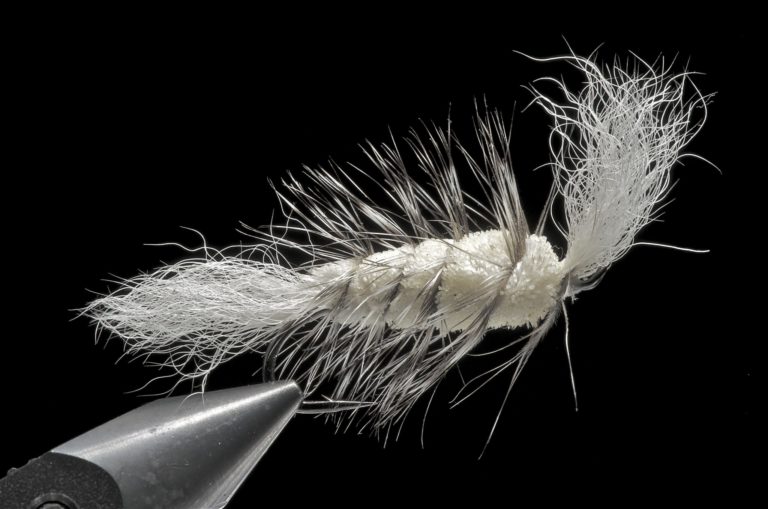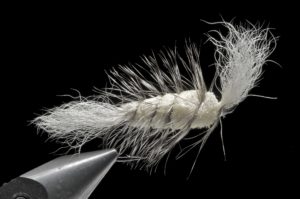 The Bomber Story
The Bomber was originally designed as a commotion fly for fishing in the headwaters of the Miramichi River in New Brunswick. It is a Mr Elmer Smith that takes the credit for the first Bomber – Initially, Mr Smith intended the Bomber to be fished sub-surface, he later thought it to be well suited for dry fly fishing and had various versions of the fly made. Today the Bomber is the number one dry fly for most salmon anglers and it is tied in multiple colours and size.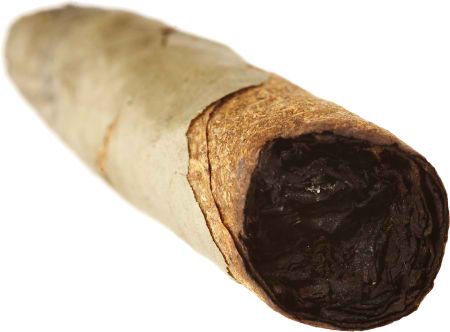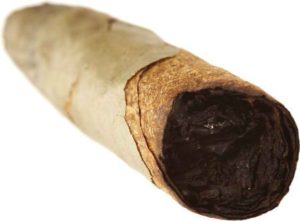 The story goes: that Mr Smith got his initial inspiration for the Bomber fly after seeing a salmon rise to the cigar-butt he had just thrown in the river…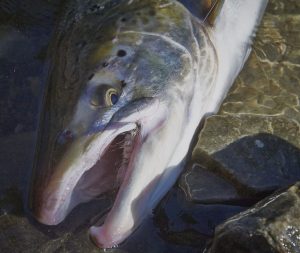 The Bomber style
Every river I have been to has had its own fashion of flies – Patterns cut into shape by local anglers adjusted to suit the hurls and swirls of their river – Obviously It is well worth looking into such aspects like; pattern designs and choice of colours – Sometimes it is very small details that make all the difference between failure or success.
Styles and colour on Bomber flies wary much across Canada and in between rivers – Anglers will obviously also carry different versions of their Bomber to suit the specific hight of water – a specific pool
West & East
The Bomber is very popular with both steelhead anglers in the West and Atlantic salmon anglers on the East coast of North America. Whereas the East coast anglers use the Bomber how it was designed and intended – Anglers fishing Steelhead have changed the overall design to enable it to wake better. Some will even shape their Bomber to work with a dive-and pop-up motion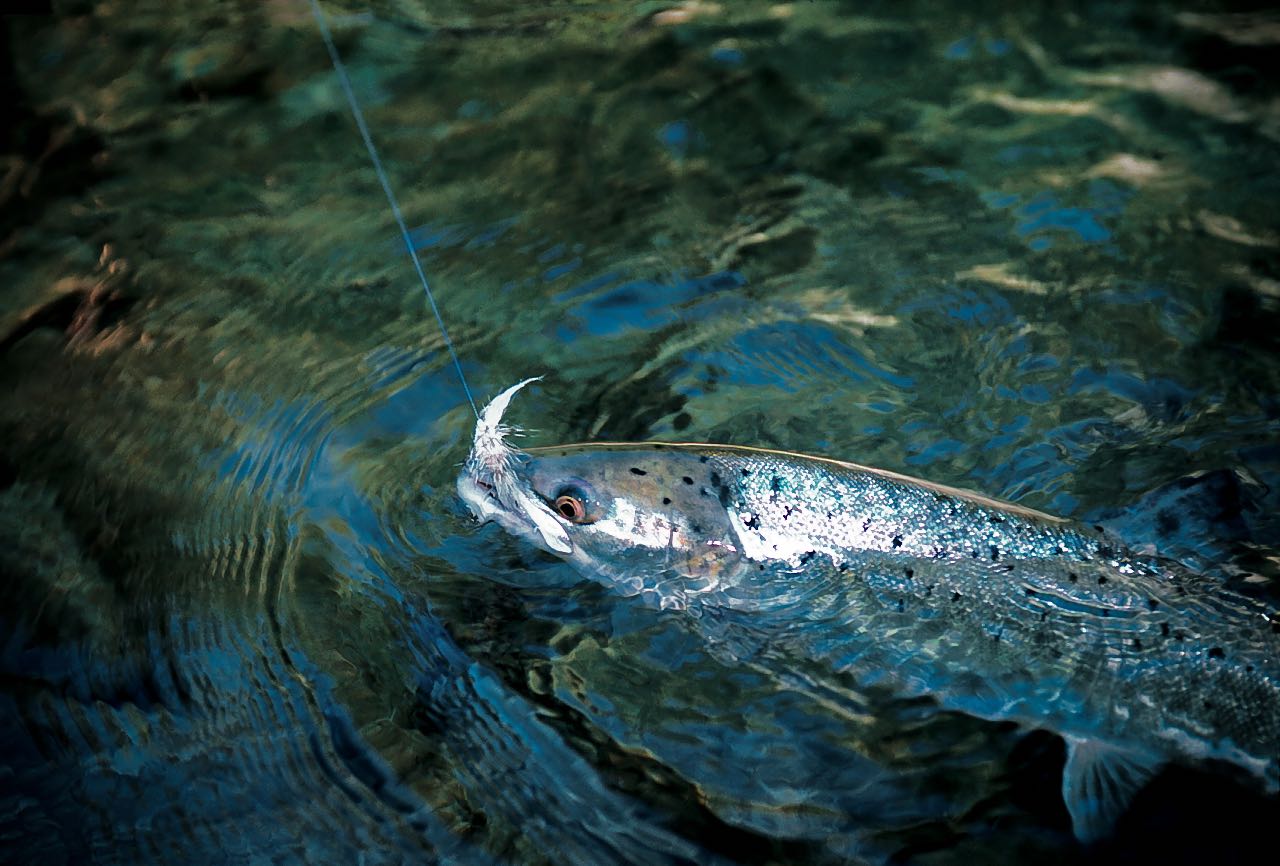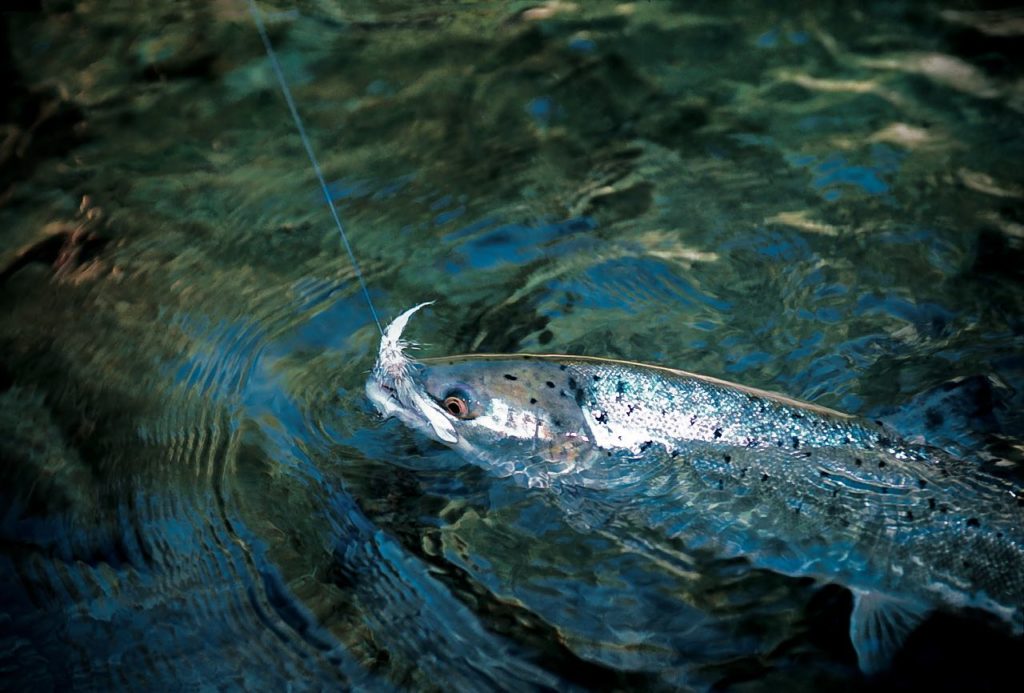 Above: Caught on a Tube Bomber ™ – A modern lightweight version of the famous Bomber patter from the '60s.
Wake style Bombers
Right: A Rusty Brown Bomber (done the tube way)
A traditional styled commotion Bomber from the West coast of Canada devised by steelhead guide John Hazel in 1979 Read more
Note the strands of Mylar we have put into the wing and tail. We integrate this material on most of our surface flies – it helps us detect the flies out on the turbulent river – and aid us to find the fly in low light and even direct sunlight.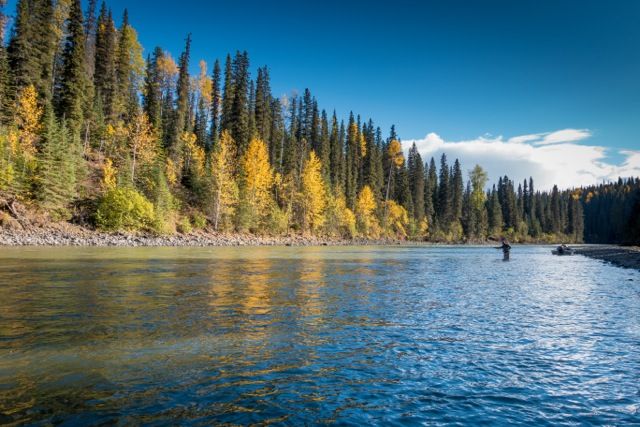 Tribute to the mighty Skena River in BC – The holy grail for steelhead wake fly fishing – Photo by Mr. Loren Irving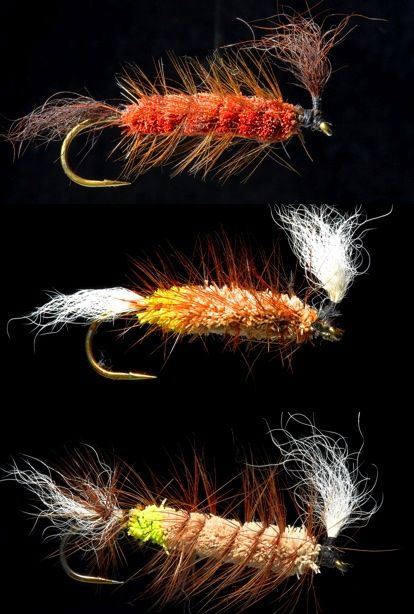 Babine River style
These 3 sizes 6 – 4 Bombers come from the fly box of Loren Irving from Bend, Oregon and were some of the first he tied some 20 years ago. They were inspired by his fishing partners Frank Cammack and Jim Bussard, two veteran steelheaders from Bend as well. According to Loren, these flies were used in Northern BC Rivers: Bulkely, Skeena, Kispiox and The Babine.
Right: These flies were used in a documentary film produced in the mid 90″s by Pierce Clegg who then owned the Babine Norlakes Lodge to show the tendency of BC Steelhead to very actively come to the surface to Bombers and waking flies.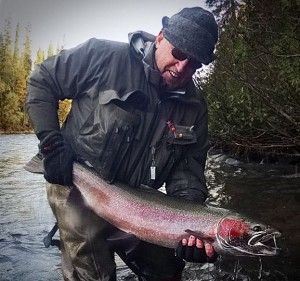 Mr Irving favours the Green Butt Bomber and switches to a Brown Bomber as a follow-up fly as suggested by his friend Jim Bussard.
These are Bombers styled to be fished as wake flies – or swinging bombers – fished across the river on a tight line, making them drag in the surface
If you want to learn more about the steelhead fishing and flies from this famous region – we recommend you buy the Babine Book from Frank Amato Publication
Fishmadman Wake style Bombers
This type of wake fly will wake effortlessly. It is tied on tube and the leader goes through a hole in the belly of the fly – Great action on the water. Use any hook or hook setting you like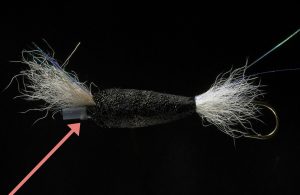 Here the famous Moose Turd Bomber by Bill McMillan – done the Fishmadman way on our Riffling Hitch Tube 
The Moose Turd Bomber is a good example of the transition the Bomber has taken through the world of wake flies
Doing the Moose Turd Bomber on tube the Fishmadman way – with the entrance hole for the leader down on the throat of the fly is a very dependable way of getting a fly pattern to pull to the surface and wake –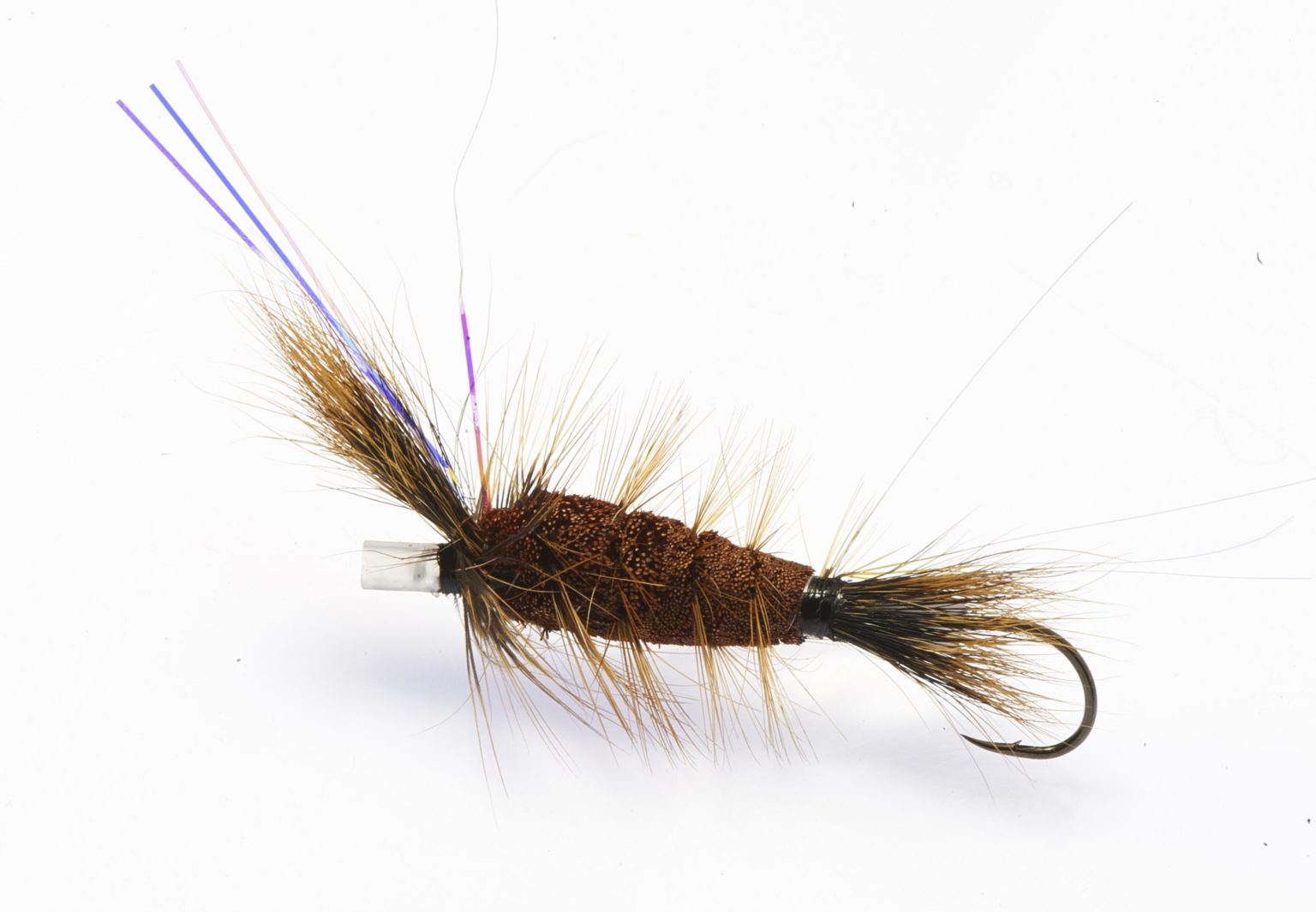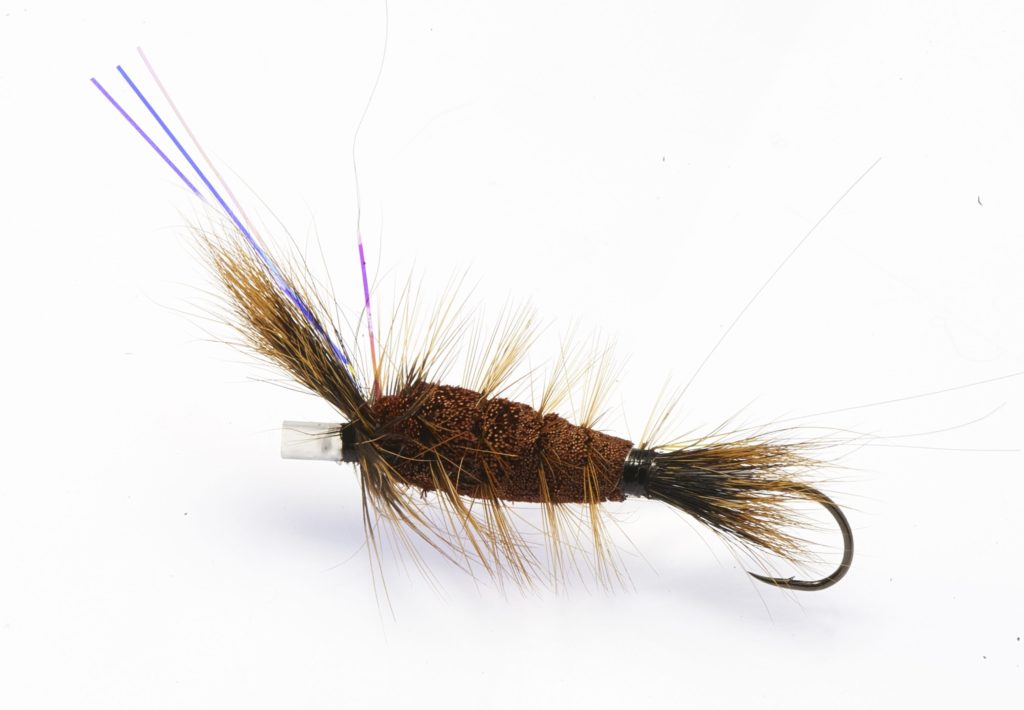 These flies are lighter than traditional wake flies tied on long shank hooks the fly will act differently than normal hook-tied wake flies
The usage of tubes and short shank hooks will also stop problems with leverage – so often seen with conventional long-shank hooks
The small hooks used on these flies inflict less damage to fish jaws than that of big long shank hooks – With these flies, we do not aim to set the hook in the structure of the jaw – we want the hook to connect with the strong skin in the mouth of the fish.
Above right: Here we have done the Rusty Brown Bomber in the Fishmadman Riffling Hitch Tube way – A simple way of making different flies wake without the aid of buoyancy
Buy these special Wake-Bombers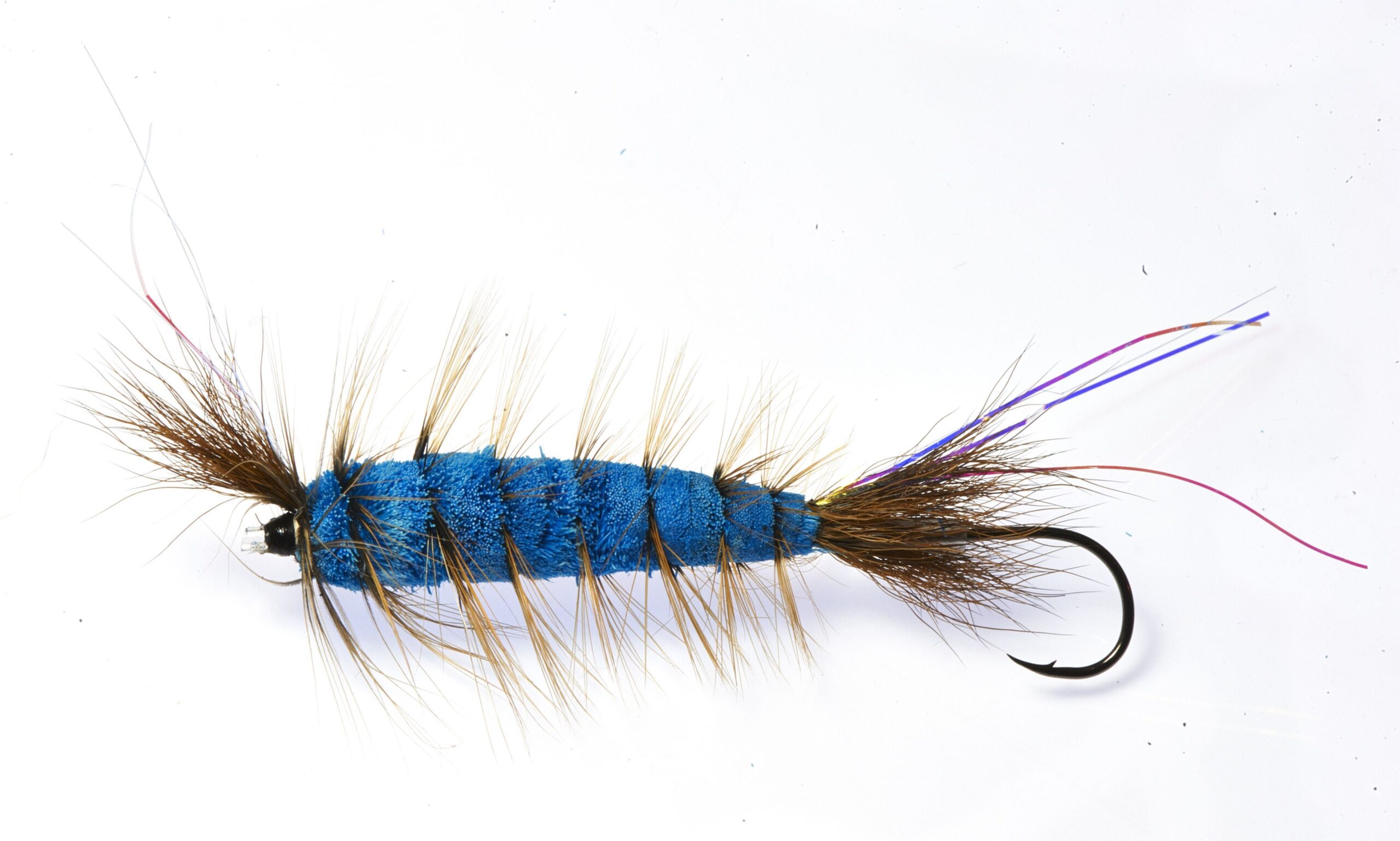 Tube Bombers made for dead drift
Dead-drifting is the morbid name for a dry-fly fishing technique that is anchored in trout fishing traditions where the fly is left motionless drifting over known lies.
A very efficient way to connect with Atlantic salmon
Above: The Smurf Tube Bomber ™ This particular blue is a favourite colour for several dry fly rivers in the very Northern Norway Buy the flies 
Fishmadman made the first tube salmon dry in 1995 we tied the classical Bomber patterns and other salmon dry flies on very thin tubes. With this approach we created light dry flies with a very different hook-hold than that of the traditional salmon dry fly. The conversion from traditional Bombers tied on hook to tube is 20 – 33 % decrease in weight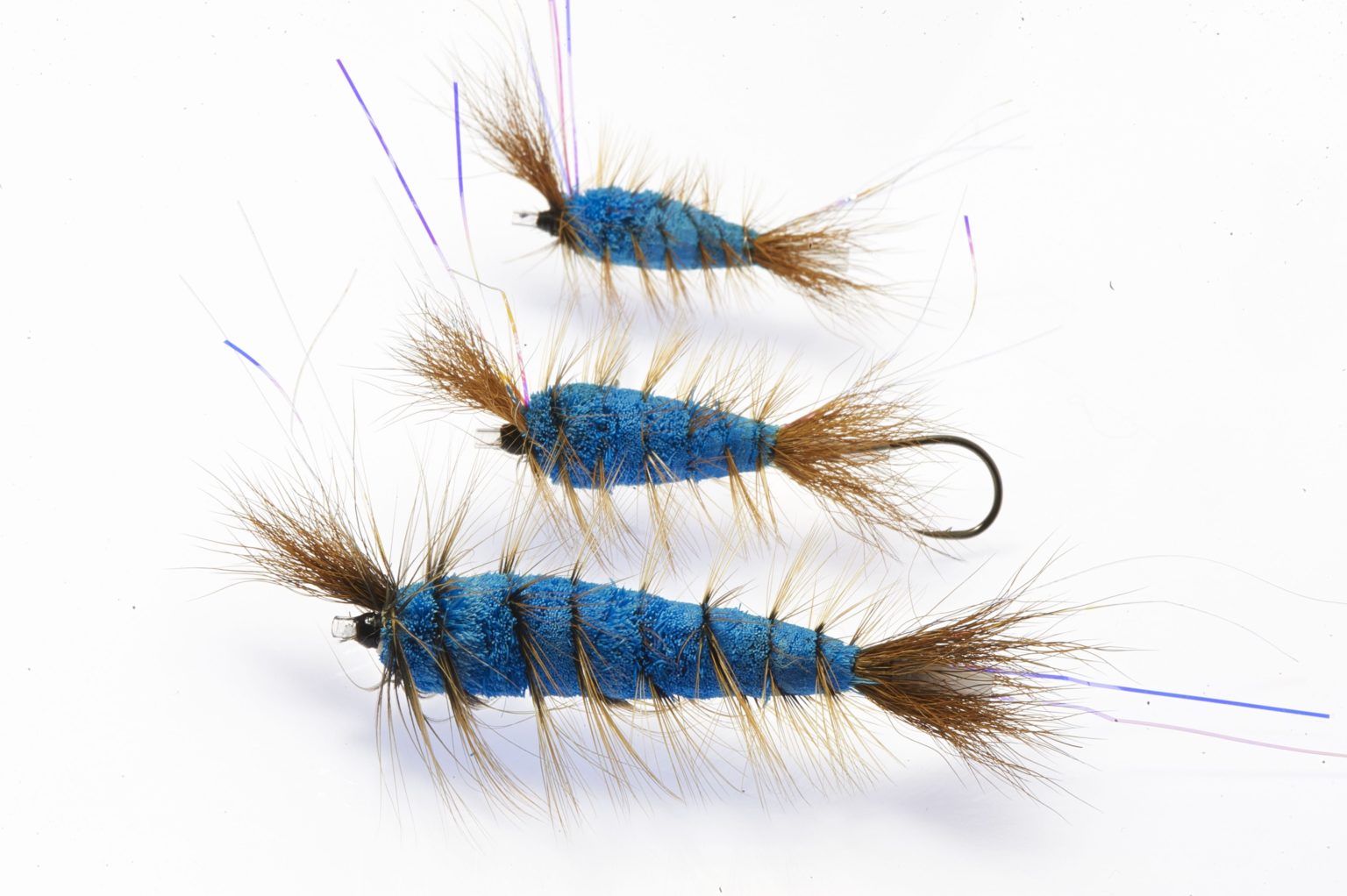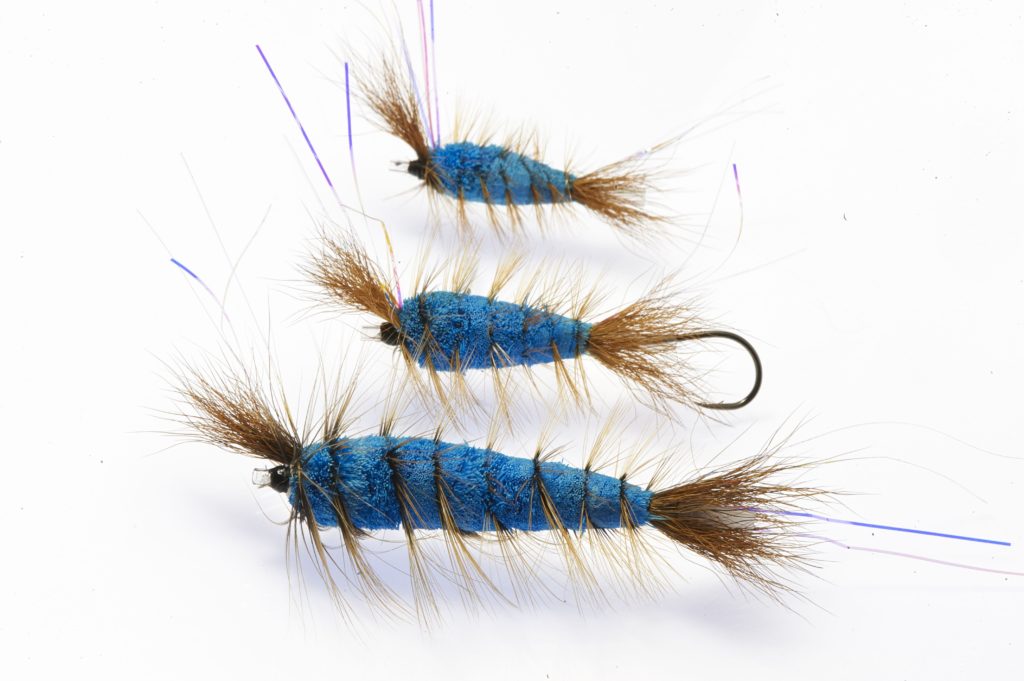 Colours
Left: 3 Smurf Bombers: This distinct blue coloured Bomber is a sought after fly-pattern by Atlantic Salmon and anglers from Canada and Northern Norway.  One could only guess why the colour combination on the Smurf Bomber works especially good on some rivers: Maybe it is the blue skyline that often dominates when fishing during summer Maybe it is because the salmon is able to focus on light with short wavelength like; green and bluish colours… when it enters the sea. It could also be that the contrast colour of the Smurf Bomber stick out like other contrast Bombers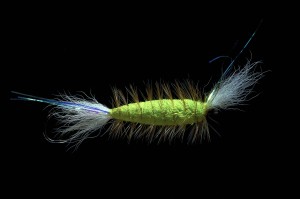 Smurf, Green and White Bombers blends right into the landscape
This HIG-VIZ Green Bomber ™ has proven effective to us the last seasons – As it is with the colour of the Smurf Bomber it does not mimic any particular insect, but it blends right into the background at the river. The river we fish is lined in with green birch trees. Branches hanging over the water.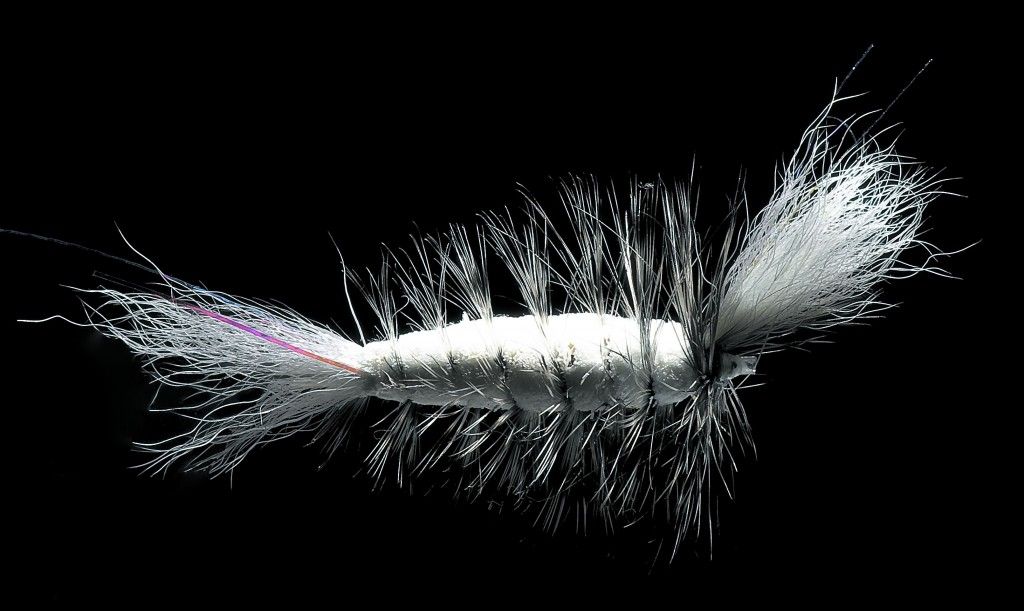 No. 1 Nordic Bomber
There is no doubt that the white Bomber either with Grizzle or all white hackle is the favoured salmon dry fly among Atlantic salmon anglers in the North of Scandinavia – Wide open landscape – Broad shallow rivers with clear water is the perfect element for the light-coloured White Bomber.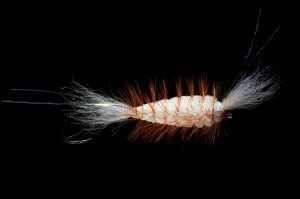 The White & Orange Bombers
Yet another colour variation of the Bomber is the White & Orange Bomber. Well suited for rivers with lots of foam cloths where a White Bomber might disappear into. Here tied the Tube Bomber way.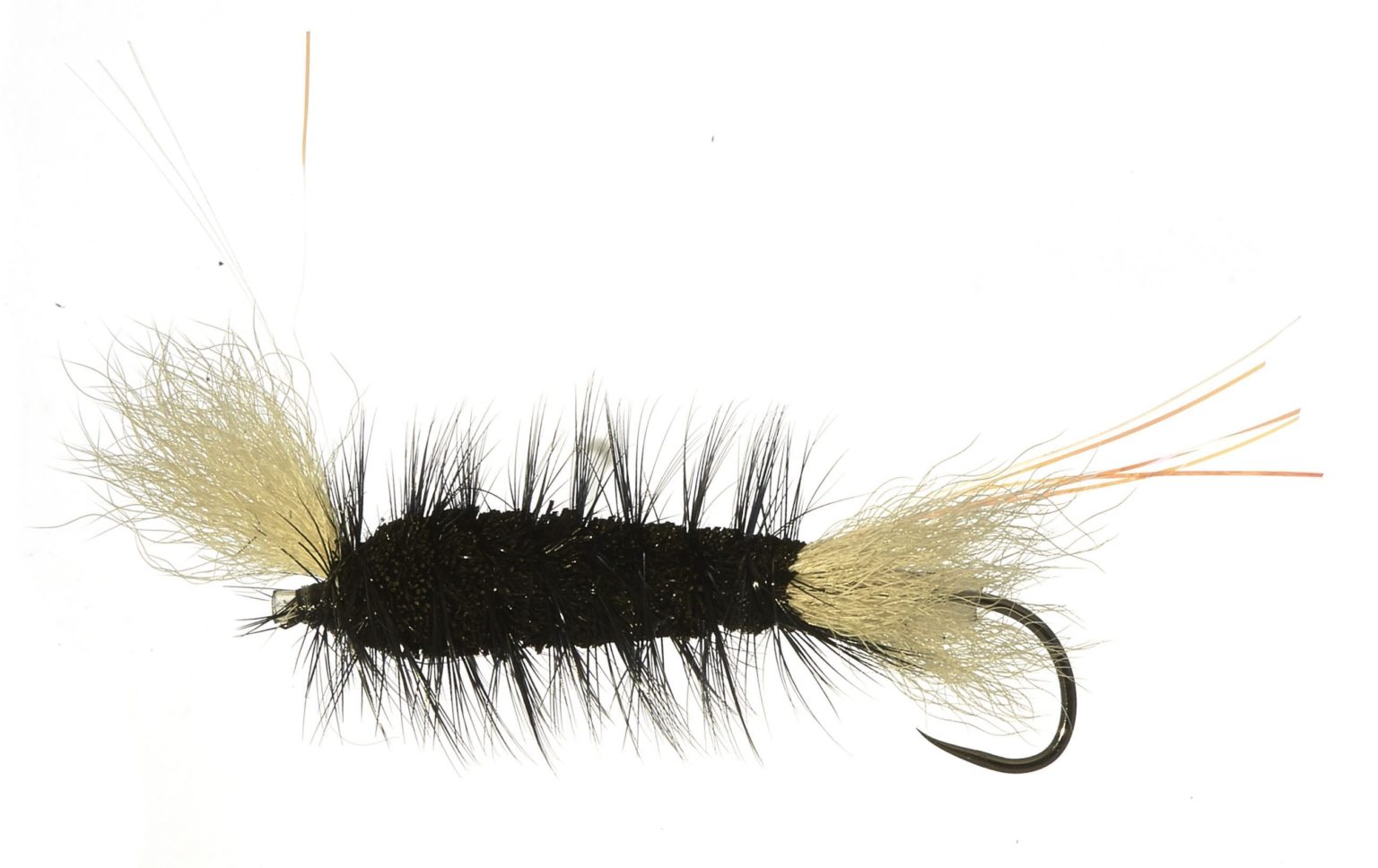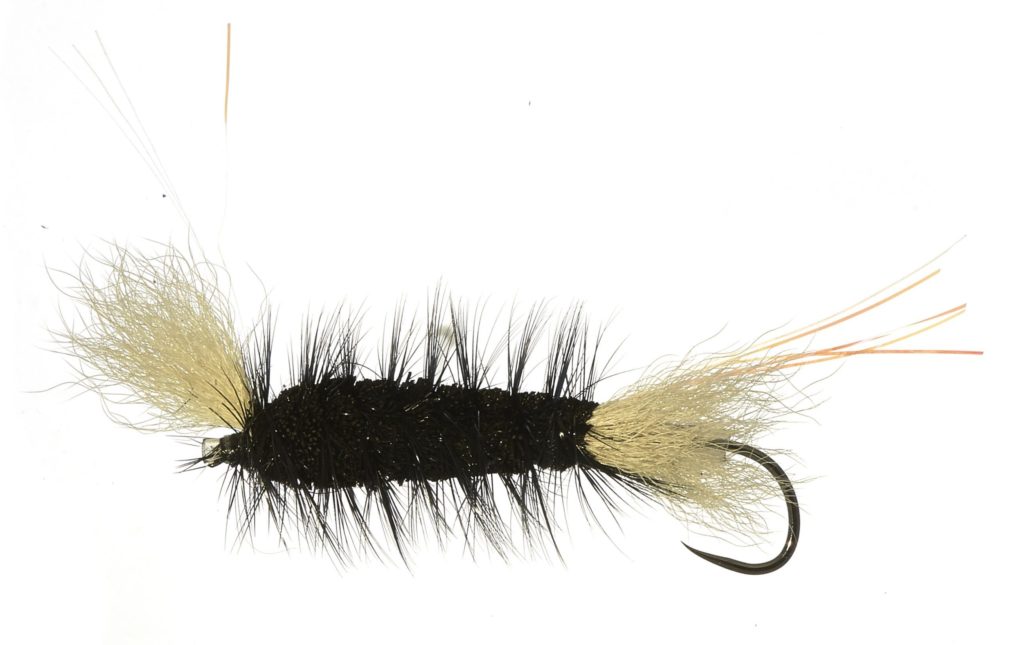 Black Bomber
A must-have Bomber in your collection – Like many other black flies, the Black Bomber will work during bright weather and a cloudy day.
The material to use
The Body on the Bomber is often tied with hairs from White Tail deer, some with Caribou hair – others use even more coarse hair from Elk. The hackle is an integrated part of the fly pattern.  Some anglers prefer dens hackle others split the hackle to get a lighter appearance. Some bombers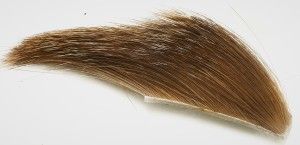 will be tied with the hackle pointed towards the head – others pointing backwards – Tail and wings is most often made from calf tail, but depending on fishing style and river, other hair from squirrel and deer hair could be used. The wing on the Bomber could be tied split or as one single wing pointing forward.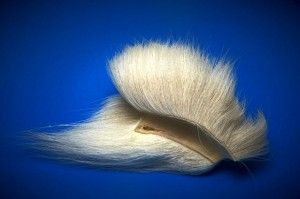 The iconic cigar-shaped body of the Bomber is obviously important and we strive to shape our flies with a well-defined insect look-alike body. We use White Tail Deer for our Tube Bomber flies – harvested in late fall to get big buoyant hairs.
When available we use caribou belly hair – We get this extraordinary material from Finnish caribou – Animals are harvested when the hair is big and thick – Quality caribou hair is soft, spins easily, floats well and is easier to trim than White Tail deer hair – something very important when doing small bombers
We have been lucky to get a small stock of this fabulous material See it in our shop 
Large flies
The salmon in Northern Europe is not super-interested in very big versions of the Bomber – However, this is not always the case with salmon on Newfoundland and in particular the big salmon running the Humber River. We do various series of big deer hair flies for anglers fishing this river a.o the famous guide and angler Terry Byrne. Terry ones told us that he had seen Humber salmon rise and grab squirrels swimming across the river.
Above right: a regular beast of a Bomber with a 60 millimetre (2,3 inch) body tied on an → extremely long Carrie Stevens hook # 2/0 streamer hook – Probably the worst possible hook to put in a mouth of a jumping salmon.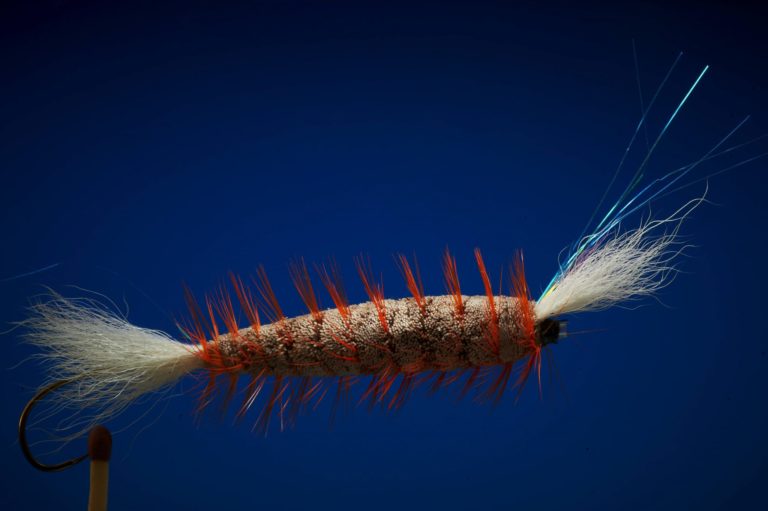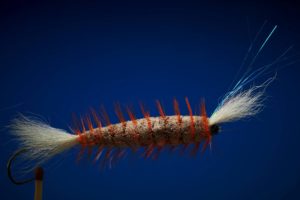 Left: In contrast with the earlier crowbar of a Bomber –  A XXXL Tube Bomber ™ made for big salmon on the Lower Humber. The body of fly 49 millimetres (1,9 inches) This fitted with a TMC/TRP Spearpoint hook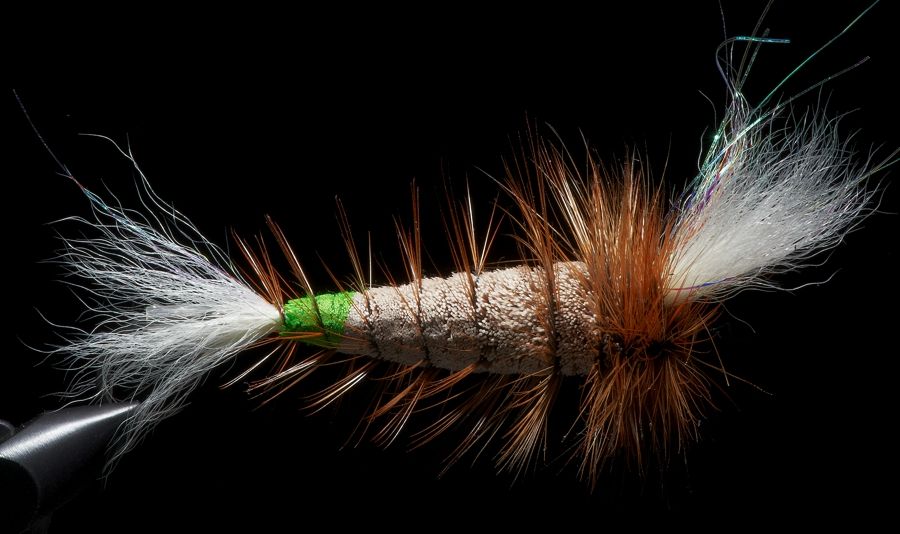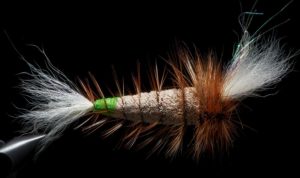 Killer Whisker
The Killer Whisker: a compact alternative to the Bomber pattern – Shares a lot of the features of the Bomber. An obvious dry fly to be tied on a tube.
See how to tie the Killer Whisker
Small flies
During summer salmon turn into versions of trout – and often just as picky when it comes to details and size of flies. Small and micro versions of the Bomber can become very productive – As it is with medium and bigger Bombers, smaller Bombers are also styled according to local code and even fine details can determiner if you hook-up or not.
Left: a grills size Bomber tied with caribou – The styling and colour that this particular fly has is favoured by many anglers fishing Newfoundland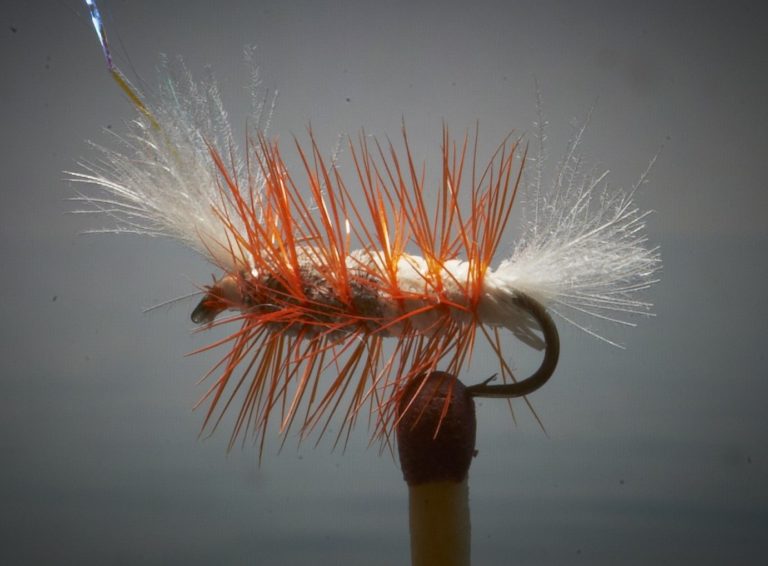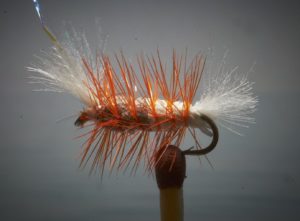 Right: A Miniature # 14 CDC Bomber (10 millimetres) from Fishmadman a tiny Bomber when the situation demands small flies fished with stealth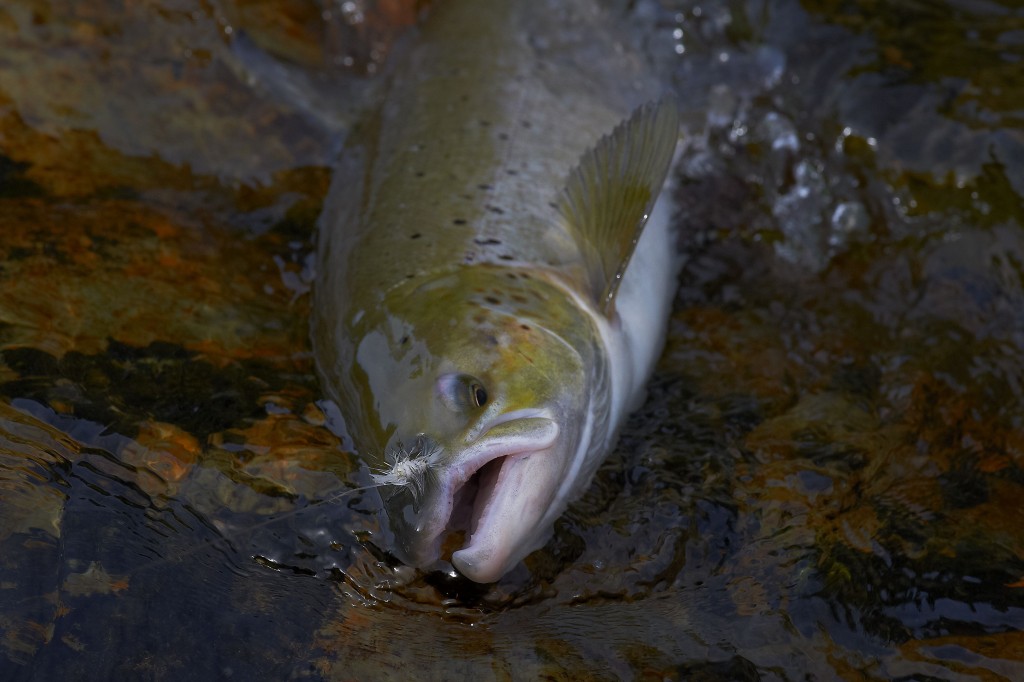 August salmon caught on Micro CDC Bomber. The cigar-shaped profile of the Bomber fly is definitely a central point in this fly pattern and well worth putting time and effort into shaping – Our solution using little bundles of CDC for wing and tail makes a dry fly with excellent float-ability Buy CDC Micro Bombers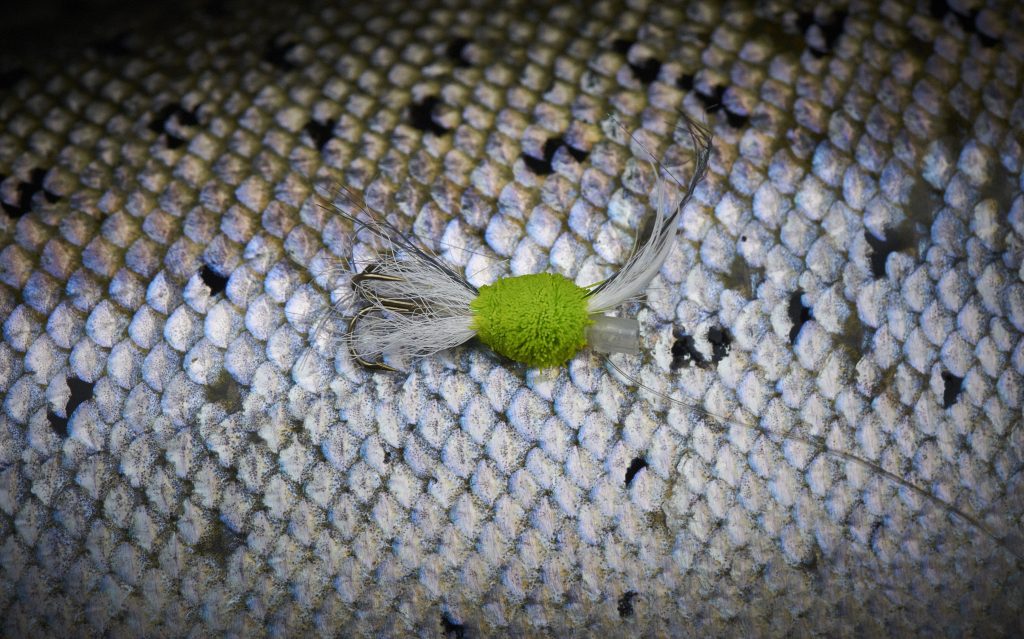 Micro Wake Moose Turd Bombers
Right : Anglers pursuing Atlantic Salmon with dry flies like Bombers will often fish the fly at dead-drift and not waking it as steelhead anglers do – But small patterns of the Bomber can be efficient when waked and we have designed miniature versions of the Moose Turd Bombers made by Mr Bill McMillan – done on our Riffling Hitch Tube 
See these miniature Moose Turd Bombers in the Fishmadman Shop
Read about the history of tube flies and problems with leverage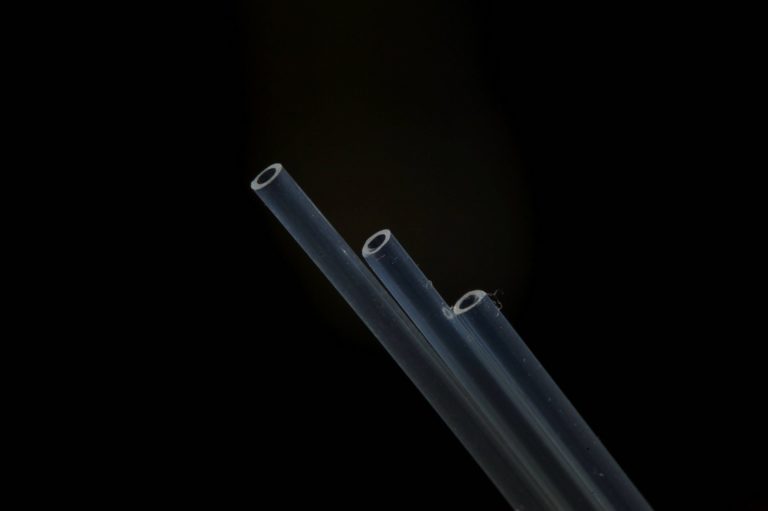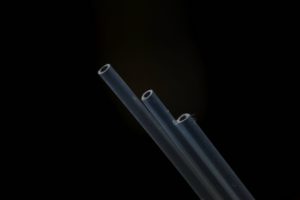 Material details
The tube
Dry flies on a tube is designed like most other tube flies with a nylon tube running through the fly and a hook guard situated at the rear of the fly.
The tube we used is produced to our standards – Straight (you don't want to tie a fly on a tube that has been coiled up on a spool) – Tubing has a low melting point and will easily form a collar when heated.
We use the tube in a 1,8-millimetre version for bigger flies and a 1,4  mm. for the smallest flies


The hook guard
The hook guard will function as support for the hook and has to be made from superior soft quality tubing.
We have had our own type of PVC free tubing produced. This tube is designed to withstand a lot of mechanical wear. It is also a tube with very low memory so it can be used over time without losing its hold on the hook.
Last but not least the tubing we use on our flies is made from a type of plastic that does not draw in water while submerged. Some tubing like silicone tubing could draw up to 15 % water – Not so important to the angler using wet flies – but quite important to the dry fly angler…
Buy tubing and the right needle 
Tinsel
Why use strands of Mylar in dry flies?  flashing sun on turbulent water –  often coated with white foam cloths does not make it easy to find and follow a dry fly on the river surface – You need all the help you can get…add strands of Mylar to wing and tail.
We use Peter Veniards Pearl Mylar in wing and tail section – We also learned that the Mylar strands made a significant difference to anglers fishing landlocked salmon with our Monster Tube Caddis ™ – The flies simply worked better when the Mylar still was attached to the flies.
Deer hair is deadly
People ask us why we don´t make our Bombers with foam or other floating material? In fact, we have tried with various material; Cork, Balsa-wood, Styrofoam, EVA foam and at some point I even did a fly with a small glass cylinder but none of it worked properly and we soon returned to flies made from deer hair… Their do not seem to be any shortcuts on this project…
Why is deer hair so special? Well, first of all, it seems like the deer hair (as most other hair material) has a natural ability to attract and deceive trout and salmon… It is like the concept of eating an animal with pelt isn't that disagreeable with fish.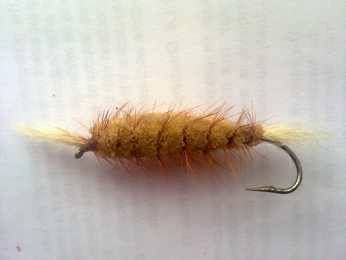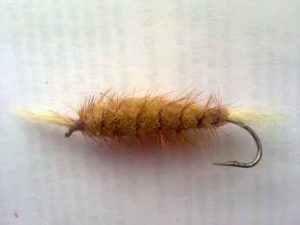 One very special Bomber Belonging to a UK angler I know – This fly has over time become better because of: Wear and tear and multiple coatings of Muslin – All adding up to a translucent appearance that seems attractive to salmon
You and I all have our favourite wet flies in the box. Flies that seem to fish much better than other flies. They might be torn up and dull looking but they will produce fish on the bank time after time… In fact, it is probably this ruggedness and dull looks that holds the secret to your success with this particular fly; If you take a close look you will find that the fly has become somewhat altered from usage. It could be little strands of wool coming undone – Hair splitting up from casting and fish teeth tearing at them – fading colours etc. All adding up to a more translucent appearance
Dry flies made with deer hair will also become better and better with time – It is if the deer hair become hollow ! when used over and over again – Something I will try to prove through a picture of detail – Detail section is from the picture above of the super-Bomber
Note the hollowness of the hairs that gives the fly this see-through appearance … as seen on the close up of the deer hair body…. By the way, anglers have offered our UK friend lots $ for this particular super-fly… It is not for sale…we have been informed…